Dallas Hospital to Open 4th COVID Ward, County Sees Most New Cases in One Day Since December
A hospital in Dallas is expected to open a fourth COVID-19 ward to treat a surge of new patients, as the county recorded its highest number of new cases in one day since December.
Parkland Memorial Hospital said Friday that it would likely need to expand its coronavirus treatment centers as infections continue to soar due to the highly contagious Delta variant.
Joseph Chang, the hospital's chief medical officer, warned NBC 5 that the hospital could soon run out of resources.
"I don't see that there's any way to avoid opening a fourth [ward]. The only question is am I going to have to open more? If we have to, we will," Chang told the news outlet. "We're going to do what we can. But at some point, we are going to run out of resources and that's going to be a very, very tough day."
Earlier this month, Parkland was forced to transfer some pregnant patients from the hospital in order to make room for more COVID patients. Chang said the situation is so severe that he wishes he could bring people into his coronavirus wards for 10 minutes just to witness patients fighting to breathe.
"Guys, this is for real. We're not making this stuff up," Chang said. "People are quite literally looking like a fish out of water in my COVID ward. No one would want to be that individual if they could see it just once."
Parkland Hospital is one of the largest in the country, with more than 1 million patient visits reported on average every year. According to Chang, coronavirus hospitalizations at Parkland jumped from 110 to 150 in just four days. A vast majority of current patients – or 90 percent – are unvaccinated.
"Out of all of the patients, the percentage of vaccinated patients is so low as to not even be mentioned. That's dramatic," Chang said Friday.
As the Delta variant continues to spread, Chang added that Parkland is seeing a rise in hospitalizations among younger people. Now 40 percent of current patients are younger than 50, while 20 percent are older than 65, marking a dramatic change from January when a majority of patients were older. Chang warned that the situation could soon worsen with the reopening of schools.
"Our parents of our students are all in the 30 to 40-year-old range," Chang said. "Those young children are also largely unvaccinated. They will bring it home and those 30 and 40-year-olds will get sick. We are in a situation now where if we don't pay attention it's going to be a real problem."
The rise in hospitalizations across Dallas comes as coronavirus infections skyrocket across both the county and state. According to a New York Times database, Dallas County recorded an average of 1,159 cases per day on Friday, a 37 percent increase from the average two weeks ago.
On Wednesday, the county reported over 4,400 new cases – marking the highest number of new cases in one day since December, when the county reported more than 6,000 cases, according to the database.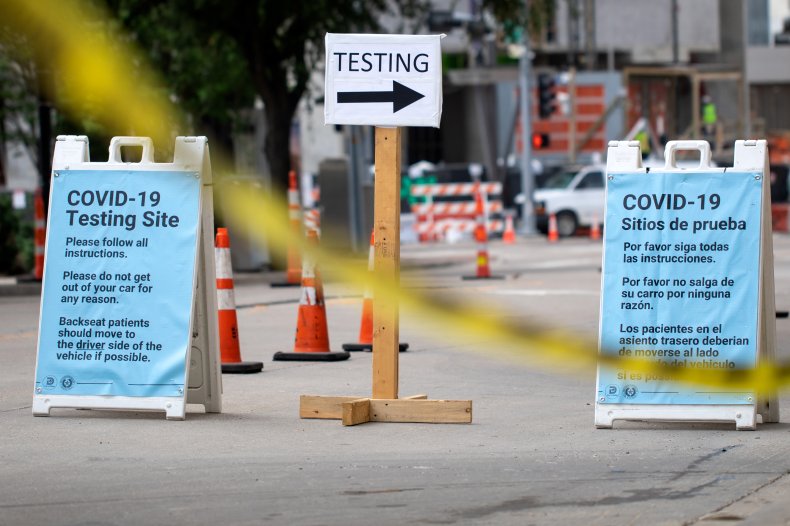 Texas has been one of the worst-hit states in recent weeks. Its most recent data from Wednesday shows that it recorded 20,058 new COVID cases, with a seven-day average of 13,457. The state also saw 174 deaths on Wednesday, with a seven-day average of 100 fatalities, while 12,402 were hospitalized with COVID.
Chang urged Texas residents to get vaccinated on Friday, adding that the pandemic is now "overwhelmingly a disease of the unvaccinated."
"COVID-19 Delta variant doesn't care how old you are, who you are, what politics you have, or anything else. It only cares that you're not vaccinated and are available to be infected," Chang told NBC 5.
Newsweek contacted Parkland Memorial Hospital for additional comment, but did not hear back in time for publication.