After Passing Michael Jordan, How Mavericks' Luka Doncic Can Continue His Consecutive Game Streak of 20 Points, 5 Rebounds and 5 Assists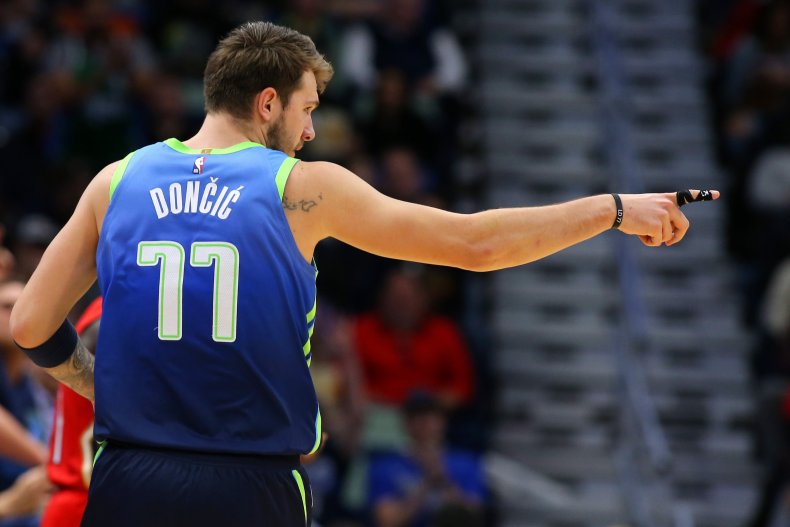 In a recent game against the Sacramento Kings, Dallas Mavericks star Luka Doncic passed Michael Jordan's record for most consecutive games with at least 20 points, 5 rebounds and 5 assists since the NBA/ABA merger in 1976.
During the Mavericks' Sunday's loss to the Kings, Doncic racked up 27 points, 7 rebounds and 8 assists, bringing his streak to 19 straight games, eclipsing Jordan's previous record of 18 games. And he did it sooner than the legend: Doncic hit the 19-game mark in his second season, while Jordan's record occurred during his fifth season in 1988-1989.
Former Milwaukee Bucks star Oscar Robertson accomplished a longer streak than Doncic of at least 20-5-5 per game, but since that occurred prior to the NBA/ABA merger, Robertson's stats are recorded separately. In fact, the Basketball Hall of Famer had three separate streaks with 29 straight in 1964-65; 25 straight in 1963-64; and 19 straight in 1961-62.
Newsweek looked into the Mavericks' upcoming games to see what Doncic will have to do to continue his historic record. Hitting this mark should be considered easy since Doncic is currently averaging 30 points, 9.8 rebounds and 9.2 assists, but he could be slowed down by a few different key defensive matchups.
The Mavericks will play their first game since Sunday's loss against the Detroit Pistons on Thursday. The Pistons have been changing their starting lineup quite frequently over the past month, so Doncic could see a number of different players guarding him, including point guards Reggie Jackson, Derrick Rose or Tim Frazier. At 6'7", Doncic could also be guarded by shooting guard Tony Snell. The Pistons are currently listed as the 17th-best team based on defensive rating, according to NBA.com, with center Andre Drummond leading in steals and blocks. Taking all of this into consideration, the Pistons may have trouble stopping Doncic from extending his streak to 20 consecutive games.
Following their game against the Pistons, the Mavericks are set to face the Miami Heat on December 14. When considering defensive matchups and stats, this may be a tougher game for Doncic to record a 20-5-5. According to NBA.com, the Miami Heat are the 10th-best team based on defensive rating and it is likely that Doncic will be guarded by shooting guard Jimmy Butler, who has made the NBA's All-Defensive Second Team four times. Butler has averaged 2.1 steals per game, while teams facing the Heat average 15.8 turnovers per game. Doncic will face a much tougher matchup compared to the Pistons, but hitting his 20-5-5 mark is not impossible.
Two days after their game against the Heat, the Mavericks will travel to Milwaukee to face the Bucks. During this game, Doncic could be guarded by point guard Eric Bledsoe, shooting guard Donte DiVincenzo or even power forward Giannis Antetokounmpo. Either of these three matchups could cause a problem for Doncic. DiVincenzo is leading the Bucks in steals with 1.5 a game, but is followed very closely by Antetokounmpo with 1.3 a game. If Doncic is mostly guarded by Bledsoe, he will be much more likely to prolong the streak, but he may run into some problems if the 6-foot 11-inch Antetokounmpo is standing in his way.