Dallas Mourns Its Fallen Officers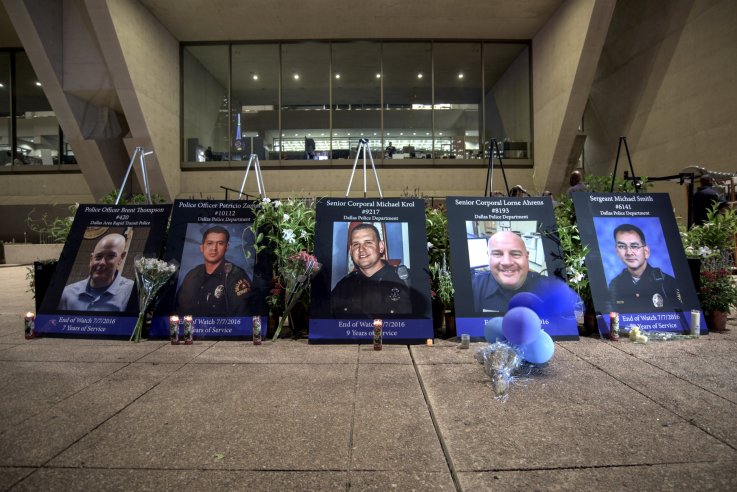 More than 1,000 people gathered downtown on July 11 in front of Dallas City Hall for a memorial to show mutual support and pay tribute to the five police officers who died during a peaceful protest against the killings of young black people.
When Dallas Police Chief David Brown walked to the podium, an eerie quiet descended on the gathering, broken seconds later by roars and applause. He began by quoting the opening words of the Superman TV series and ended honoring the Dallas officers who had died while protecting others: "Faster than a speeding bullet. More powerful than a locomotive. Able to leap tall buildings in a single bound. Look, it's a train, it's a plane.… No, it's Patricio Zamarripa. Look, it's Brent Thompson. Look, it's Michael Krol. Look, it's Lorne Ahrens. Look, it's Michael Smith. Godspeed, God bless you, God bless the Dallas Police Department."
In the aftermath of the two most recent killings of black people, much of the country descended into vitriol, as activists, politicians and commentators blamed one another for their slaughter. But in Dallas, the city came together—white and black, police and protesters—in a locked-arms demonstration of unity. Civilians hugged and fed officers devastated by the deaths of their friends and colleagues. Police shook hands and cried with protesters they had been protecting days before. As Chief J.D. Spiller of Dallas Area Rapid Transit said to a crowd gathered to pay tribute to the murdered officers, if anyone suspected the violence in Dallas would tear the city apart, "they were wrong."
As retired officer Don Casey began his rendition of "Amazing Grace" on the bagpipes, darkness fell and people lit candles for the vigil. There were tears for the fathers, sons and brothers who had died in the line of duty, but there was also a sense of vigor in a community that refused to be torn apart or to give in to fear. That mindset was underscored in the final moment of memorial service, when Dallas Police Chaplain Sean Pease proclaimed, "We are Dallas strong. Go in peace."