Dallas Police: Suspect 'Upset' About Recent Officer-Involved Shootings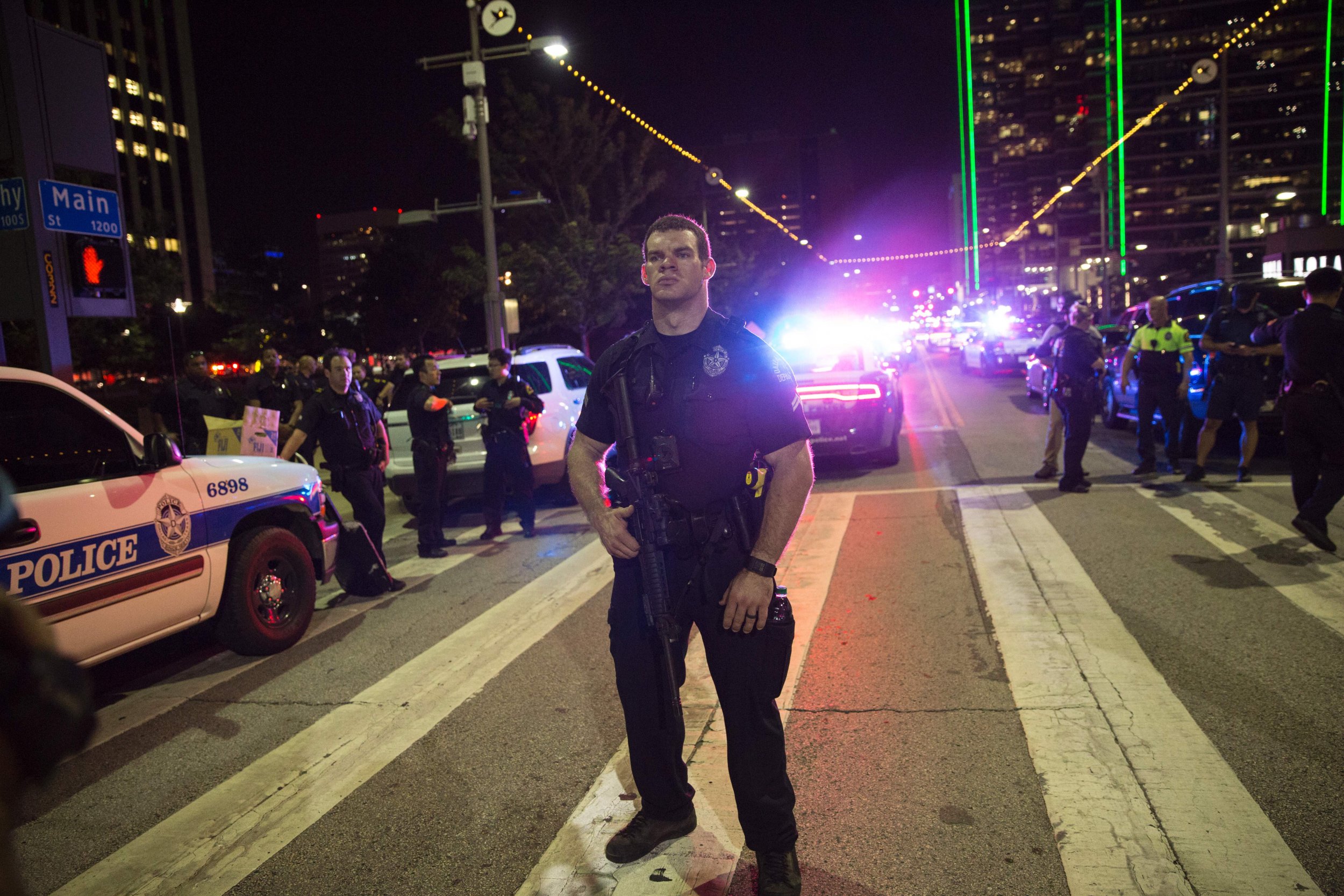 Updated | A gunman who is suspected of being involved in a sniper attack that resulted in the death of five police officers in downtown Dallas Thursday night told authorities he was upset about recent police shootings and wanted to kill white officers, said Police Chief David Brown.
Sniper fire from rooftops hit a peaceful protest shortly before 9 p.m. Central time Thursday. Twelve police officers were shot in what authorities are calling a carefully planned and coordinated attack. Five officers were killed and seven were wounded. Most of the injured officers were treated and released from the hospital, Brown said.
Two recent police-involved fatal shootings—one on Tuesday at a convenience store in Baton Rouge, Louisiana, and the other on Wednesday during a traffic stop in Minneapolis, Minnesota—had drawn demonstrators to the downtown area Thursday night. Protesters then ran away as panic took hold in the city's streets.
Just before midnight, police cornered a suspect in a downtown garage. The suspect engaged in an hours-long standoff with police that extended into the early morning hours Friday. Later, police used a bomb robot to kill the gunman. Brown said the suspect initially wasn't cooperating in negotiations. But the suspect eventually told police that they would eventually find IEDs. Brown said the suspect also stated that he acted alone and he wasn't affiliated with any groups.
"The suspect said he was upset about Black Lives Matter. He said he was upset about the recent police shootings. The suspect said he was upset at white people. The suspect stated he wanted to kill white people, especially white officers," Brown said at a Friday morning press conference.
The Los Angeles Times cited two U.S. law enforcement officials identifying the suspected gunman as 25-year-old Micah X. Johnson, of the Dallas area. Police said three other suspects are in custody, including two who had camouflaged bags and a woman who was in the same area as the garage. Officers said those individuals aren't cooperating. Police declined to release further information Friday morning.
"I'm not going to be satisfied until we've turned over every stone," Brown said. "We're not going to be satisfied until every lead is exhausted." He warned that police will find and prosecute any suspects at-large.
The attack was the deadliest day for police in the U.S. since the September 11, 2001, attacks in New York City and Washington, D.C. President Obama, who was traveling Friday in Warsaw, Poland, called the attack "vicious," "calculated" and "despicable."
"I believe that I speak for every single American when I say that we are horrified over these events and we stand united with the people and the police department in Dallas," he said.
Officials warned residents to stay away from the downtown Dallas area Friday, as it remains a crime scene during their investigation.
Dallas Mayor Mike Rawlings said interfaith ministers will lead prayers at noon Central time "to bring our city together and our country together to heal wounds, not create them."
"We as a country must come together," Rawlings said, "to lock arms and heal the wounds that we all feel from time to time."
This story has been updated to include the suspected gunman's name.