Dallas Police Shooting Fallout? Cops Come Under Fire in Other States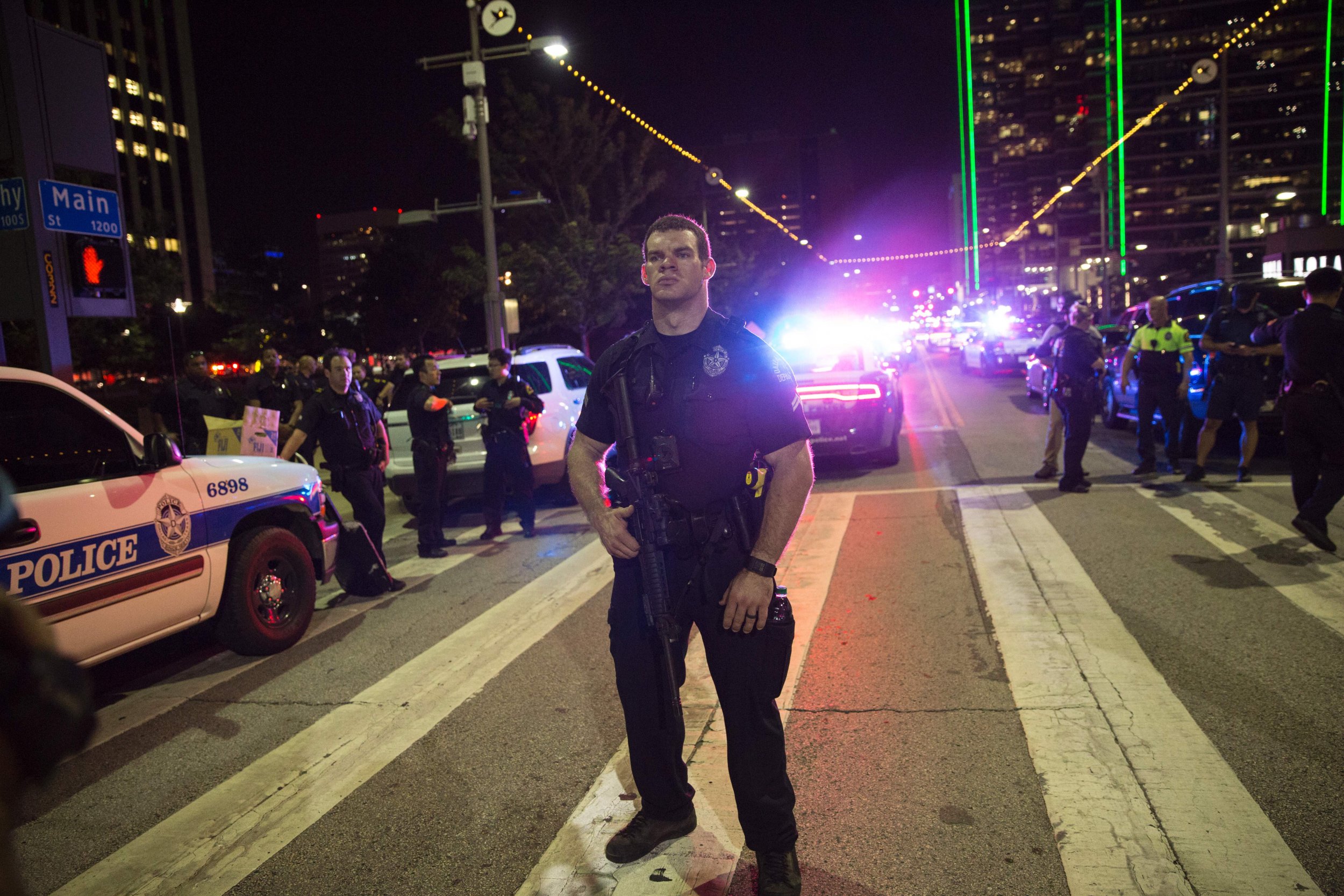 Reuters) - Police came under fire in three states on Thursday and Friday, authorities said, possibly prompted by the same motivation behind the rampage in Dallas: police use of force against black people.
A man in Tennessee opened fire on a hotel and a highway, killing a woman, grazing a police officer with a bullet and wounding several others on Thursday because he may have been troubled by incidents involving black people and law enforcement, officials said.
Police officers also were ambushed and wounded in Missouri and Georgia on Friday, but officials did not know the motivation.
The Friday ambushes followed the Dallas attack late Thursday, when a black U.S. military veteran of the Afghan war who said he wanted to "kill white people" opened fire at a protest, killing five police officers and wounding seven others plus two civilians. The protest was called to decry police shootings of black men in Louisiana and Tennessee earlier this week.
In Tennessee, Lakeem Keon Scott was armed with a military-style rifle, a pistol, and a large amount of ammunition when he fired into a hotel window, striking the clerk early Thursday, the Tennessee Bureau of Investigation said in a statement.
Scott, 37, fled the hotel and later exchanged gunfire with police on a Tennessee highway. He is accused of killing Jennifer Rooney, who was shot in her vehicle, and shooting several others, including a police officer grazed in the leg.
"Scott may have targeted individuals and officers after being troubled by recent incidents involving African-Americans and law enforcement officers in other parts of the country," the statement said.
Separately, a police officer was shot during a traffic stop in the St. Louis suburb of Ballwin, Missouri, officials said, when the suspect fired a handgun at least three times, striking the officer in the neck.
"As far as this individual and what his motives are, I have no idea," Ballwin Police Chief Kevin Scott told a news conference.
In Valdosta, Georgia, police officer Randall Hancock was shot on Friday as he responded to a call over a vehicle break-in, police said.
The accused shooter, Stephen Paul Beck, 22, had called police and fired on Hancock when he arrived, hitting him in his protective vest and in the abdomen, beneath his vest, police said. Hancock shot back and wounded Beck.
"The motive behind the shooting is unknown at this time," police said in a statement.
(This version of the story has been refiled to insert dropped word 'shooting' in paragraph 6)