Among the Police Officers Killed in Dallas Ambush, a Navy Veteran and Newly Wed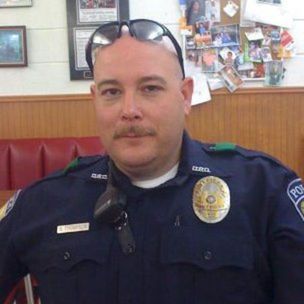 A Navy veteran who did three tours in Iraq and a newly remarried transit officer who helped train police in Iraq were among the five Dallas police officers shot dead on Thursday, officials and family said. Nine other people including seven officers were also wounded in the shooting at the end of a protest over this week's killing of two black men by police in Baton Rouge, Louisiana and a suburb of St. Paul, Minnesota. The shooter was a U.S. Army reservist who served in Afghanistan.
Here are profiles of the two officers confirmed dead.
Brent Thompson, 43
Transit Police Officer Brent Thompson worked for the Dallas Area Rapid Transit (DART) system since 2009 and was the first officer killed in the line of duty since the transit system formed a police department in 1989, DART said on its website. "As you can imagine, our hearts are broken," a DART statement said.
Thompson spent more than four years in Iraq, working for private U.S. military contractor DynCorp International as a police liaison officer who supervised Americans training and mentoring the Iraqi police force, according to his LinkedIn profile. Thompson was married to a fellow DART officer, local television station WFAA reported, citing DART Chief James Spiller. USA Today reported that they married about two weeks ago and that Thompson was also a father and a grandfather from a previous marriage.
He attended the police academy at Navarro College in the Dallas/Fort Worth area and later taught classes there, according to his LinkedIn profile. Thompson's Facebook page reflected the life of a devoted father, with numerous photos of family posted to his account. "My family," Thompson wrote in a caption accompanying a photo on his Facebook page. "I'm so blessed." Thompson posted numerous pro-police memes on his Facebook timeline, some of which mocked the "Black Lives Matter" movement and accused U.S. President Barack Obama of not adequately supporting law enforcement.
Patrick 'Patricio' Zamarripa, 32
Navy veteran Patrick Zamarripa served three tours in Iraq, was one of the dead police officers, his family told Reuters. He served in the military reserves as well as working as a Dallas policeman. His uncle, Hector Zamarripa, said by telephone that Zamarripa was a proud Mexican-American who leaves behind a wife, their toddler-age daughter and a stepson. Although he did not speak much Spanish, he went by the name Patricio among his Spanish-speaking friends and relatives.
"He enjoyed the job, that was his calling," his uncle said. "Addicted to the thrill of this job. I own the night. I love my Country, Texas, Family, God, Friends, and Sports! Don't Tread on Me! 'Merica," Patrick wrote on his Twitter profile.
A lover of Tejano music, he posted pictures of his daughter, selfies with other officers on duty and his love for the Dallas Cowboys football team and the Rangers baseball team. Many of his posts were salutes to other officers. He wrote "Rest in Peace" in honor of two New York cops killed in 2014 and posted an image of an eagle with a caption: "Home of the Free because of the Brave."