Dallas Police Say Officer Was 'Protecting' Store as Video of Him Carrying Liquor Bottles After Tornado Goes Viral
Dallas Police have denied that one of their officers was captured live on TV looting a convenience store in the wake of a tornado hitting the city.
The force said they launched an investigation into a viral video recorded over the weekend showing a Dallas Police Department officer moving bottles of alcohol from a heavily damaged 7-Eleven store, before returning them to the ground after he spots the news camera filming him.
The cellphone footage of WFAA's live storm coverage was posted onto Facebook and viewed more than 325,000 times.
"Pretty sure we just witnessed a DPD officer stealing liquor from the demolished store. Then noticed the news van was there and put it back," a caption for the video said.
In a statement, DPD said that the officer in question was protecting the liquor store on the 2900 block of Walnut Hill Lane from looters after it sustained considerable damage from the tornado on Sunday, October 20.
The force said the officer had confiscated the bottles he was seen holding from a woman and called for back-up. The force released the dispatch call the officer made to back up their version of events.
"If you have another one man come over towards the 7-Eleven and the liquor store please? I'm having multiple homeless people trying to run in and steal all the stuff that's out," the officer can be heard saying.
Police said the officer called for back-up two minutes before he took the bottles from the woman and was captured by the news camera.
"He was protecting the property of the business owner. The officer was also there to assist anyone in need of help," the department said.
"Officers of the Dallas Police Department take their roles seriously and serve to protect the community with honor and bravery. The men and women in blue go to work everyday mindful of the badge, their integrity and most of all the public's trust."
According to WFAA, there was at least one report of looting in the nearby area of Walnut Hill Lane and Brockbank Drive following the tornado.
Police said there have been no reports of any serious injuries or fatalities after the tornado hit the Dallas area at 9.p.m. on Sunday. Officers are advising residents to remain indoors from 7 p.m. to 7 a.m. until at least Thursday for their safety as downed power lines and debris could still pose a safety hazard.
Tens of thousands of people were also left without power following the storm, which produced winds of up to 140 miles per hour.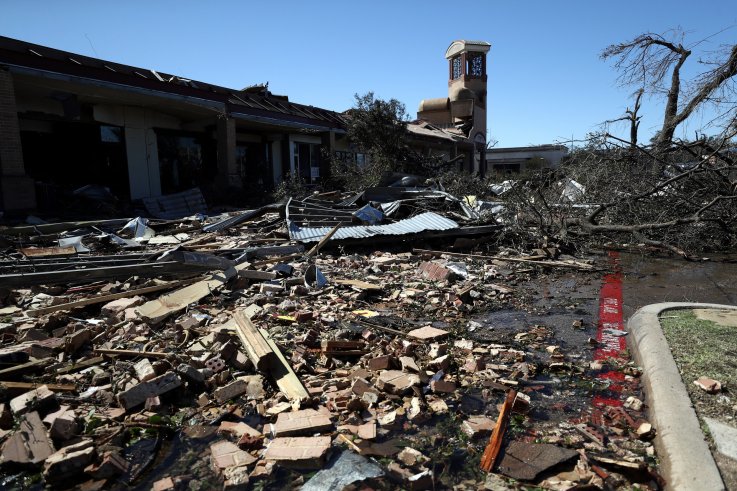 Dallas Police Say Officer Was 'Protecting' Store as Video of Him Carrying Liquor Bottles After Tornado Goes Viral | U.S.