Dallas Tornado: Pictures and Videos Show Damage Left Behind by Twister
A tornado tore through Dallas on Sunday night, October 20, leaving tens of thousands without power and destroying houses and other buildings.
The Weather Channel reported that no deaths or serious injuries had been reported from the tornado that struck the city at about 9 p.m. last night, according to a release from the city of Dallas. However, three people have been taken to local hospitals to receive evaluation and treatment for non-life-threatening injuries.
Scott Padgett, chief meteorologist of Fort Worth–based news station CBS 11, estimated that winds may have reached or exceeded 111 miles per hour during the storm. Padgett based this estimation on damage surveyed after the storm had passed through Dallas.
"Residents are encouraged to stay indoors if they are in an area with storm damage due to downed trees, power lines and debris," a public announcement from the city of Dallas about the storm read.
Newsweek subscription offers >
The Dallas Fire-Rescue Department's official Twitter account posted photos of the department's Station 41, which had received "significant" damage by the tornado. There were no injuries to the firefighters who were inside the building, according to the fire department.
Newsweek subscription offers >
A Home Depot store was among the buildings that had sustained severe damage.
However, the United States flag at the Home Depot was still hanging on its flagpole by Monday morning.
One of the buildings struck by the storm was an apartment complex near the intersection of Glenrio Lane and Rickshaw Drive, according to KXAS-TV. It was severely damaged by the tornado, but no residents were injured.
Resident Fernando Araiza was watching a football game when the tornado struck his home, and he told KXAS-TV what had happened when the storm came.
"We got a warning on our phones, saying that it was going to be like a heavy thunderstorm," Araiza said. Then, out of nowhere, we heard the door vibrate. We didn't think twice, we just ran into the restroom and we heard the roof just peel off. It sounded like a monster."
Araiza said that seeking refuge in a safe spot in his home, the restroom on the lower floor, saved his life.
"The bottom half of the house is intact, but as you can tell, the top half is just obliterated; it's not there anymore," he said.
At 7:30 a.m. on Monday, the city of Dallas updated its public announcement to say that there were 100 traffic signal lights without power and 85 on flash. Some signal lights were knocked down by the storm.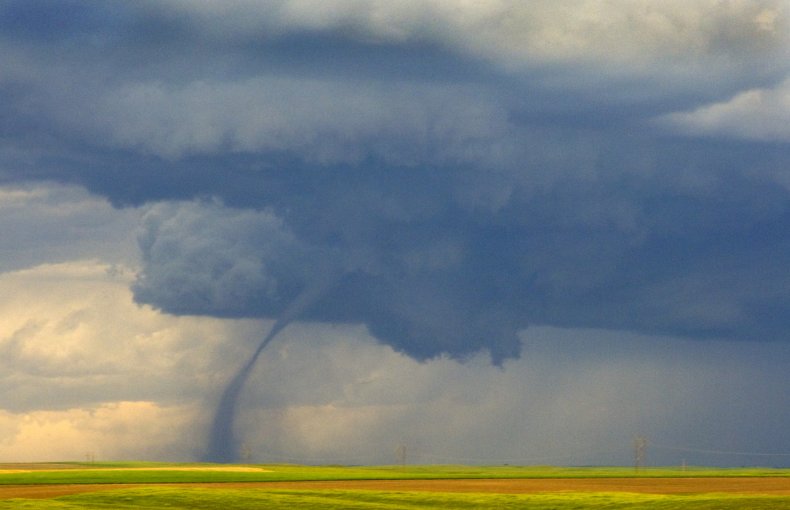 Dallas Tornado: Pictures and Videos Show Damage Left Behind by Twister | U.S.