Dallas Zoo Stolen Monkeys Update: Cops Looking For Man In Video
The Dallas Police Department has released an image of a man they hope to speak with after a series of escalating incidents at the Dallas Zoo.
In early January, the zoo discovered that a hole had been cut into a clouded leopard's habitat, allowing the wild cat to escape onto zoo grounds and prompting a daylong zoo closure as staff tried to locate the animal. She was later found on the grounds and returned to her habitat unharmed. A similar hole had been cut into a habitat for Langur monkeys, but all the Langurs were accounted for. Last week, one of the zoo's endangered vultures was found dead under unusual circumstances in his habitat. The vulture was 35 years old. This week, two emperor tamarin monkeys were missing from their enclosure, and the Dallas Zoo feared they had been taken.
Dallas Zoo tweeted that staff discovered the emperor tamarin monkeys were missing Monday morning. The zoo was closed Monday and Tuesday because of freezing rain and icy conditions.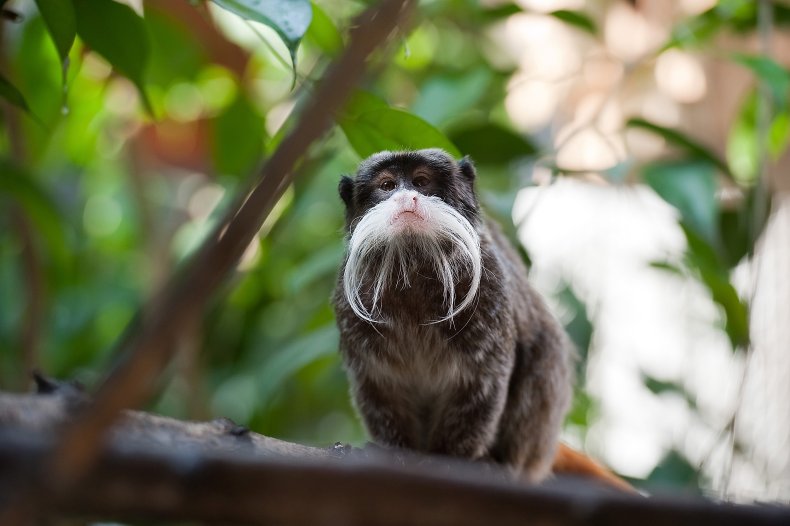 Each of the incidents was reported to the Dallas Police Department, which then launched an investigation.
On Tuesday, the Dallas Police Department and the Dallas Zoo released the image of a man caught on surveillance video at the zoo. The man is wearing a dark hoodie and dark pants. According to an article by The Dallas Morning News, police are hoping to speak with the man but said he was not currently a person of interest.
"Dallas Police are looking for the public's help in identifying the pictured individual," the tweet said. "Detectives are looking to speak with the man in regard to the two tamarin monkeys missing from the Dallas Zoo. Anyone with information- call 214-671-4509."
In previous statements, Dallas Police told Newsweek that it was unsure if the incidents were related or not. Like the other occurrences, the emperor tamarins' habitat appeared to be "intentionally compromised", according to a statement from the zoo. The zoo also said if the monkeys had escaped their enclosure, they would likely remain nearby on zoo grounds. A search of the grounds didn't find the missing monkeys.
The monkeys were still missing on Tuesday.
All animals affected by the incidents are endangered. The Dallas Zoo has increased its security patrols overnight and added more security cameras. It is the first time the zoo has been subjected to the bizarre attacks, according to a statement the zoo emailed to Newsweek after the vulture was discovered.
Newsweek reached out to Dallas Police and the Dallas Zoo for comment.