Who Is Jesse Randal Davidson? Georgia Teacher Arrested for Firing Gun in Classroom
Police identified the man taken into custody on Wednesday after allegedly firing a handgun in a Georgia High School as 53-year-old social studies teacher Jesse Randal Davidson.
Davidson, who has worked at Dalton High School since 2004 and doubles as the play-by-play announcer for its football games, allegedly fired a shot in his classroom after barricading himself inside, Dalton Police spokesman Bruce Frazier told reporters shortly after the incident.
No children were wounded in the shooting but one student did suffer an ankle injury as she tried to evacuate in the ensuing chaos, police said.
Police say Davidson was alone in his locked classroom when a student tried to enter around 11:30 a.m local time. The student then alerted the school's principal, who tried to open the door with a key. That's when Davidson fired a round from a handgun. Police did not provide additional details about the firearm.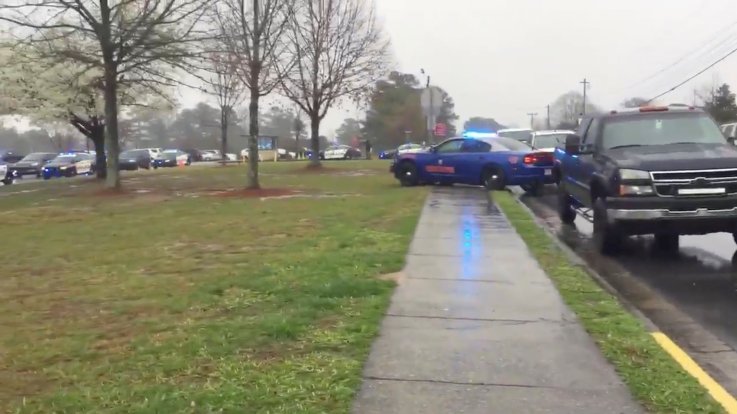 Emergency responders negotiated with Dalton for 30 to 45 minutes before he surrendered himself to police.
"Dalton Police Department has confirmed that a subject is in custody and no children have been injured," the school announced in a statement. "Student safety is always our first priority."
It was not immediately clear why Davidson locked himself in the room.
In 2012, he was recognized as the school's top teacher, according to the district, which wrote about his non-traditional path to teaching in a profile that year, the Atlanta Journal-Constitution reported.
Criminal charges against Davidson were pending Wednesday.
The incident comes two weeks after a mass shooting at Marjory Stoneman Douglas High School in Parkland, Florida, left 17 dead and sparked debates about gun control across the country. In the days following that tragedy, President Donald Trump as well as other elected officials endorsed proposals to arm teachers as a deterrent to gun violence in schools.
Who Is Jesse Randal Davidson? Georgia Teacher Arrested for Firing Gun in Classroom | U.S.