Damar Hamlin Wins Prestigious Award at Super Bowl Event—Speech in Full
Damar Hamlin made a surprise appearance at the Phoenix Convention Center, ahead of this weekend's Super Bowl, to personally accept an award that honored the work he's done to help and improve his community.
The 24-year-old Buffalo Bills star collapsed on the field during a game against the Cincinnati Bengals on January 2, after he suffered a cardiac arrest following a tackle.
Hamlin delighted those at the ceremony when he appeared to collect his award, looking in great shape, before giving a short speech paying thanks to those who helped him to recover.
He accepted the NFLPA's Alan Page Community Award and spoke briefly to those present, saying: "First and foremost I would like to say thank you, thank God for being here and thank the other guys who were nominated for the award as well who did their work in their communities alongside me as well."
Hamlin continued: "Giving back to my community has always been a big part of who I am.
"Thank you to my father, who is right here behind me. Growing up just watching him do community days for our community and would just always be waiting on my time when it came."
Hamlin gave an insight into what inspired him and said that he hopes it will help others step up in their own communities.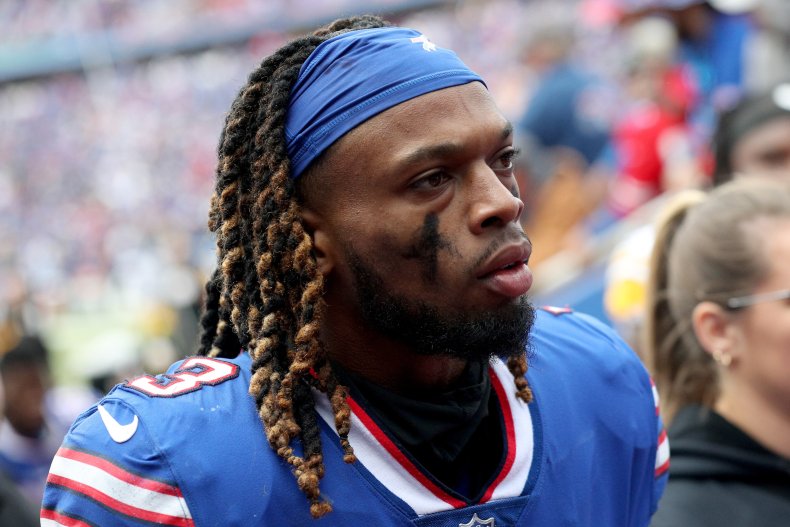 He added: "One of my favorite quotes, 'it's a blessing to be a blessing'.
"What that means is saying never take this position for granted and always have an urgent approach in making a difference in the community where I come from and also communities across the world. Thank you."
Since his medical emergency last month, Hamlin's toy drive fundraiser has received unexpected GoFundMe donations that have seen his Chasing M's Foundation jump up to more than $9 million, quickly surpassing the $2,500 it originally set out to raise.
Hamlin's foundation will also benefit from his award win, as it will be donated a further $100,000.
Despite having to be resuscitated after suffering a cardiac arrest, the NFL Players Association medical director has said that he fully expects Hamlin to make a return to the NFL.
Dr. Thom Mayer said during an interview on SiriusXM Doctor Radio's 'Heart to Heart' program on Wednesday: "I guarantee you that Damar Hamlin will play professional football again."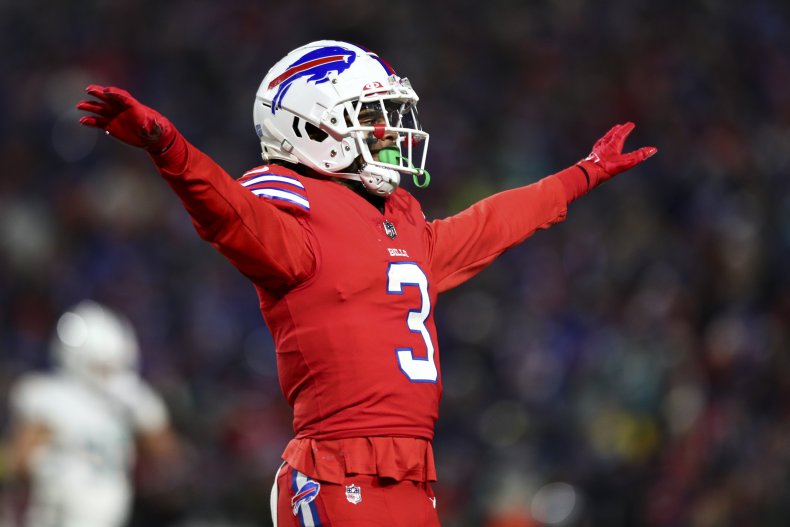 This follows the NFL and American Heart Association announcing that they are teaming up to provide free CPR education to raise awareness of what is required to provide the lifesaving medical attention Hamlin received.
NFL Commissioner Roger Goodell said in a statement: "Being able to deliver care in emergency situations is not just important at sporting events, but in all walks of life."
Hamlin posted a video on his social media channels after being released from hospital, in which he said: "I'm so thankful to everybody and I know that it isn't enough just to be thankful.
"This is just the beginning of the impact that I wanted to have on the world and with God's guidance I will continue to do wonderful and great things.
"I couldn't do this without any of the support and the love and I can't wait to continue to take y'all on this journey with me."
Do you have a tip on a sports story that Newsweek should be covering? Do you have a question about the NFL? Let us know via entertainment@newsweek.com.