Damien Hirst's Spot Paintings Take Over the World
To see more of Damien Hirst's work, visit Blake Gopnik's Daily Pic blog.
Some paintings are small enough that you can take in their subject and tiniest details at once. Bigger ones make you do a little dance, stepping close for brushstrokes and back for the full picture. But the largest painting I know—the largest ever made—makes you hop on a jet to see all its parts. I got a close-up look at some of those details last week in New York at a show called Damien Hirst: The Complete Spot Paintings, which previewed at Larry Gagosian's gallery on 21st Street. To take in the whole work I'd need to hike to the dealer's two other venues in Manhattan, and then fly to Gagosian branches in Los Angeles, London, Paris, Geneva, Rome, Athens, and Hong Kong.
Hirst, the British art star who turns 47 this year, has spread 331 of his signature dotted canvases, out of some 1,400 he made, across Gagosian spaces around the world. Millicent Wilner, a gallery director who works closely with Hirst, describes the project as a "full retrospective" that lets the works bounce off each other, but I don't think that idea goes far enough. The pictures are more than single pieces in a series: each one gets its full effect and meaning only when you think of it as one small part of a whole that stretches forever, in every direction and dimension.
Look at a wall-size white canvas covered with three-foot-wide dots, in colors ranging from red to pink to gray, and you could as easily be looking at a tight view of the small canvas that Hirst recently had covered in 25,000 millimeter-size spots. (One rule Hirst gives the assistants who execute these works is that no color can repeat in any single piece. Another is that the gaps must be the same size as the spots.) Getting lost in a sea of three-inch dots that stretch out for 40 feet is similar to the contemplation you give to the same circles on a canvas that's only eight spots wide. Each polka-dot canvas is a window onto a bigger, Platonic picture that could never be seen all at once. (Individual spot paintings fall flat, although people have paid as much as $2.5 million for them.)
Hirst once said he imagined these works as depicting a kind of alternate reality covered entirely in dots, but I'd say that he's painted precisely the universe we're already in. Doesn't high-school physics tell us that the world is just a void filled with atoms? Hirst's atomistic artwork captures that worldview, which dates back to ancient Greece, and ignores all the higher-level order that normally attracts and distracts us. Hirst's spots give an atom's-eye view of how the world really is, and of how little it's about human needs or concerns.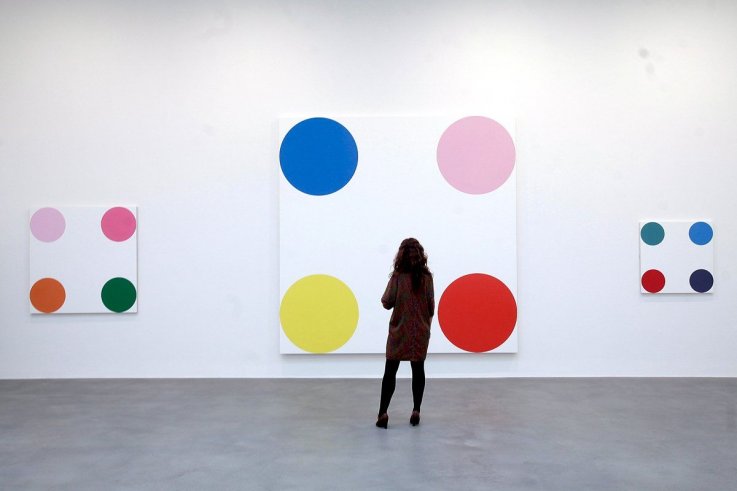 Damien Hirst's Spot Paintings Take Over the World | Culture