Why Is Damien Lewis Leaving 'Billions' and Who Will Replace Him?
Emmy-award-winning actor Damien Lewis has been a part of the Billions family since the show began in 2016.
He played the role of hedge fund manager Bobby Axelrod, a generous and charitable man who often uses insider trading and bribery to reach the top.
Sadly, the Season 5 finale saw the British star leave the show after 5 years.
Newsweek has everything you need to know about Damien Lewis' exit and who will replace him.
Why is Damien Lewis leaving Billions?
Damien Lewis' exit from Billions may have come as a huge shock to fans, but the actor's departure from the show had been in the works for a very long time.
In fact, it had been on the table for over three years for a "variety of reasons," co-showrunner Brian Koppelman explained to Entertainment Weekly.
One of the main reasons Lewis vacated Billions was to be with his family in the U.K.. He had two children with his late wife Helen McCrory, who sadly died of cancer in April 2021, at the age of 52.
Koppelman said: "We started talking to Damian about it three years ago. And we're incredibly sensitive to talking about... I mean, he lost his wife, who was a wonderful person and a great artist.
"But I would say for a variety of reasons we started talking to him three years ago and he expressed the thought that in all likelihood he would want to be spending more time with his family and really be more in England at the end of a certain period of time, and could we start planning Axelrod's departure from being a regular on the show.
"It was amazing that he came to us that far in advance and trusted us with what was going on in his life and with what his thinking was so that we could do things like bring Mike Prince in and be really aware in the plotting and planning of season 5. And it also made us know, okay, here's where season 4 needs to go to set up the events of season 5 so that we could do this at the end of it."
In the Season 5 finale, Axelrod went on the run in Switzerland with a whole load of cash, to escape the legal wrath of Chuck (played by Paul Giamatti) in New York.
However, in a huge twist, Indiana billionaire Michael Prince (Corey Stoll) became Axelrod's successor after he betrayed Chuck and bought out Axelrod, including his company Axe Cap, the bank, and Taylor Mason Carbon.
Addressing Lewis' exit on Twitter, Koppelman also said: "What an incredible joy to spend five years working so closely with the great @lewis_damian. @DavidLevien and I are beyond grateful to you, Damian, for the work, of course, and the fellowship, and for all you sacrificed to come do this with us."
There is some good news for Billions fans going forward, though: The door is always open for Lewis to return.
Gary Levine, Showtime's president of entertainment, reflected on Lewis' career with company as Axelrod, and as tortured U.S. marine corp sergeant Nicholas Brody in Homeland.
He said: "This is not the first time I have said goodbye to Damian Lewis. What a testament to his talent that he inhabited two wildly different characters — Axe and Brody — on two of our most successful series — Billions and Homeland — and made them both so iconic. He is an extraordinary actor and I hope there will be a third time."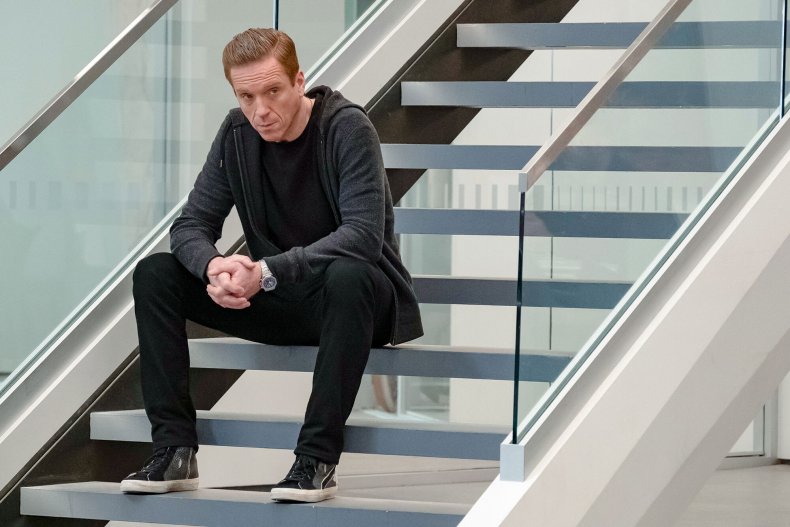 Who Will Replace Damien Lewis in Billions?
Despite Damien Lewis' exit from Billions, it has already been renewed for the sixth season.
Taking over from Lewis in the upcoming series is Corey Stoll, who has been upped to a series regular.
Stoll plays the role of Axelrod's rival, billionaire Mike Prince. In the finale, he took over all of Axelrod's investments, making him not only Axelrod's successor but Chuck's new target in Season 6.
The news Stoll had been promoted to a regular was announced in October 2020, foreshadowing Lewis' exit from the hit series.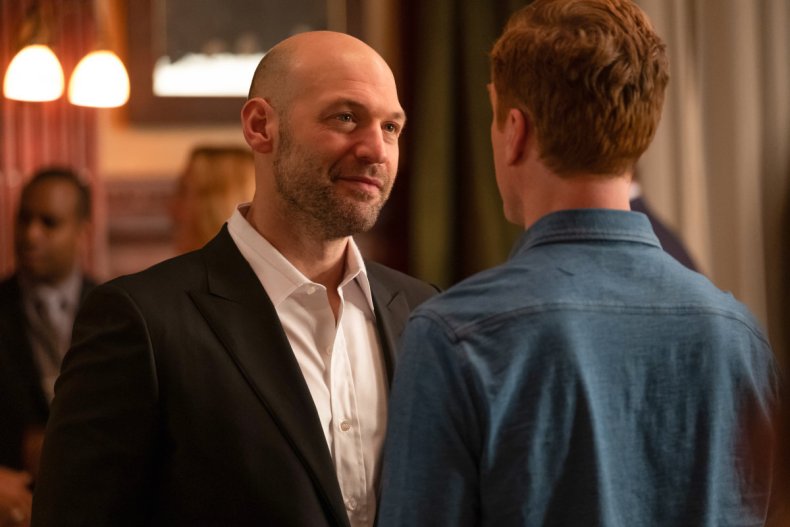 At the time, Stoll joked in an interview with Entertainment Weekly: "There were a couple of opportunities to work on Billions through the years, and they didn't really work out, based on scheduling and, frankly, I was holding out for something a little bit more exciting in terms of the role.
"And I'm really glad that I did because this guy Mike Prince is so much fun to play and I think he brings a lot to the whole ensemble."
Stoll is best known for his role as congressman Peter Russo in House of Cards and Junior Soprano in Mary Saints of Newark.
Billions Season 6 returns Sunday, January 23 at 9 p.m. ET on Showtime.