'Damn AB' Trends After Patriots Release Antonio Brown Following Sexual Assault Allegations
Friday, the New England Patriots announced they were releasing wide receiver Antonio Brown from his contract after he was accused of sexually assaulting his former trainer. News of Brown's release trended with the phrase "Damn AB," as Brown had just signed with the team under two weeks ago.
Brown has been in the news lately—he was previously signed to the Oakland Raiders, but during the offseason, he was difficult. Brown initially showed up to practice with frostbite on his feet from cryotherapy, and when he was finally able to play, he refused unless he could wear his old helmet, chafing against the NFL's new helmet safety rules.
The Raiders fined him $215,000 for his conduct, and in response, Brown asked to be released from his contract. The Raiders agreed and a day later he signed to the Patriots.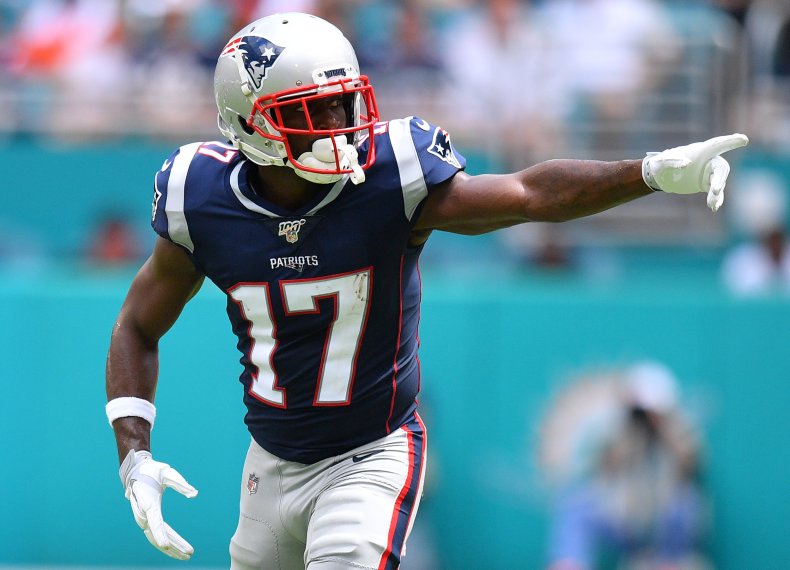 Shortly after signing with the Patriots, however, a lawsuit was filed against Brown by his former trainer, who accused him of sexually assaulting her on two occasions and "forcibly raped" her in another incident. Brown denies the allegations, though the lawsuit launched an investigation by the NFL.
Friday, the Patriots announced the team was parting ways with Brown.
"The New England Patriots are releasing Antonio Brown. We appreciate the hard work of many people over the past 11 days, but we feel that it is best to move in a different direction at this time," the team said in a statement.
After the news of Brown's release broke, the phrase "Damn AB" trended with users mocking Brown. The phrase "LMAO AB," standing for "Laughing my ass off" also trended, as well as "Wow AB."
"Damn AB this just isn't your year.@AB84 #AntonioBrown @Raiders kicked you to the curb, then @Nike now @Patriots plus them rape charges. Gotta be the world record for "Hero to Zero" Go hang out with @Kaepernick7 oops he's with Nike. What a waste of talent," Twitter user @NFLNoMore1 wrote.
A common theme in tweets was that Brown would have to leave the NFL completely and join the alternative football league, the XFL.
Others joked about his appearance on the popular TV show The Masked Singer.
"Damn AB had a longer career as The Masked Singer than he did with the Patriots," user @NotBillWalton wrote, along with a GIF from the show with Brown removing his mask.
User @LiviRichelle also referenced the show:
But user @outstndnbrandon had one of the tweets that perhaps best summed up the situation.
"Damn AB you demanded your release from a team that as gonna tolerate your BS just so you could join a team that tolerates none of it..." @outstndbrandon wrote, alongside a GIF of DJ Khaled saying his catchphrase, "Congratulations, you played yourself."
On his own Twitter account, Brown was relatively quiet, posting photographs of himself and thanking the Patriots for the opportunity. However, Brown also posted one image, with the bell hooks quote "Sometimes people try to destroy you precisely because they recognize your power; not because they don't see it, but because they see it and they don't want it to exist," around an image of Nipsey Hussle.