Dan Abrams and the Case for New Media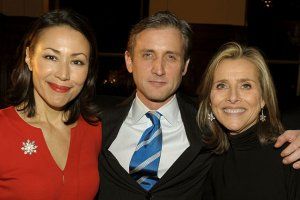 To hear Dan Abrams tell it, the TV business is about to be radically disrupted by the Internet, just as the print media business has been. And he's dying to be a part of the disruption. "In five years, anyone who is not actively involved in the Web is not in media," says Abrams, a TV journalist best known as the chief legal analyst on NBC and MSNBC. [Newsweek is a content partner with msnbc.com, a joint venture of NBC Universal and Microsoft.]
That's why in July 2009 Abrams launched a blog called Mediaite to cover the media business. A year later, that site is drawing 1.4 million monthly visitors. Meanwhile Abrams has launched three other blogs under the Mediaite umbrella: Styleite (fashion), Geekosystem (technology), and Sports Grid (sports). There's also Gossip Cop, a site that follows celebrity news.
The five sites now attract more than 5 million monthly visitors, and Abrams says he's on track to generate a bit more than $1 million in revenue this year. Next year he expects the company will generate $5 million in revenue and turn a profit, "and we're still in the very early stages—this is peanuts versus what I expect," Abrams says.
Abrams plans to add four or five more sites over the next 18 months—he won't say what they are. He also plans to start generating revenue through events and conferences, and to create TV shows based on his blogs. A show based on Gossip Cop is in the works, he says.
The 44-year-old former lawyer has been a fixture on U.S. news networks since 1994; he covered the O. J. Simpson trial for Court TV, and hosted shows at NBC and MSNBC until 2008. Today, Abrams serves as a substitute anchor on the Today show in addition to his legal-analysis role, and he also runs a consultancy called Abrams Research, which hires journalists to advise corporations on media strategies.
But Abrams seems most excited about the prospect of using the Internet to build a next-generation media company. His basic premise is that each time a new media platform comes along, there's an opportunity to create big new brands. Cable TV, for example, led to the creation of ESPN and HBO. "I see an enormous opportunity to create a significant media company worth well over $100 million," he says.
Others are chasing the same opportunity. Sites like Huffington Post, The Daily Beast, Gawker Media, and Newser are all building significant audiences. They're also finding out that the world of new media is tougher than anyone expected. Ad rates on the Web are a fraction of ad rates for TV and print media. That means companies like Mediaite have to operate on a shoestring. Abrams's company has only 14 employees. They work out of one big room in the back of a building in New York's SoHo neighborhood.
Abrams says the way to make money is for media companies to operate like consultants for their advertisers, helping them devise new ways to reach an audience—like sponsored content, where ads are integrated into the editorial content itself. The stuff that's paid for is marked "advertising," but Abrams concedes that in the world of new media the lines between commercial and editorial can get blurred.
The biggest opportunity, Abrams believes, involves the looming convergence of Internet video and the traditional TV business. "TV is going to become on-demand," he says. What Abrams is really building is not a set of blogs but a set of media brands that can deliver video, as well as print content.
Eventually, he says, there will be a wave of consolidation in which little guys will get acquired by megabrands like AOL, Yahoo, and MSN. For now, he says, "it's a land grab, and I'm grabbing as much land as I can."