Dan Choi's Hunger Strike Starts After Congress Votes on Don't Ask Don't Tell Amendment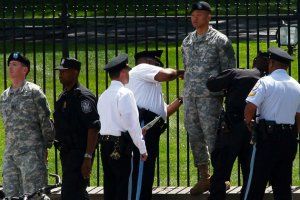 At 10:30pm Thursday night, at a private home in Northwest Washington D.C., Lt. Daniel Choi and Captain Jim Pietrangelo began what could potentially be a lengthy hunger strike. In another part of the house, the TV was tuned to C-SPAN, but the two were not watching as the House approved an amendment to the Defense Authorization bill that would overturn the 17 year law banning gays and lesbians from serving openly in the military. It was clear to many, earlier in the day, that it would pass.
Choi, a West Point graduate, fluent Arabist and Iraq veteran, said that he and Pietrangelo have three demands for President Obama. "Stop firing people, stop the study that insults everything America is by considering the question of whether or not discrimination is American, and replace the current military discriminatory policy with comprehensive non-discrimination policies," he told Newsweek.
Many gay advocates were celebrating the votes, but concerns remain. While Choi and Pietrangelo, who have twice been arrested for handcuffing themselves to the White House gate are taking an extreme step, other gay advocates were also calling for more concrete action. Executive Director of the National Gay and Lesbian Task Force Rea Carey said, "While this is an important step toward ending an unjust law, we continue to call for clear assurances of protection, a specific timeline for repeal implementation, and an immediate halt to the discharges. The lives and livelihoods of dedicated service members hang in the balance."
Obama issued a statement following the votes saying that he had long advocated for a repeal of the law, stressing that "Key to successful repeal will be the ongoing Defense Department review, and as such I am grateful that the amendments offered by Representative Patrick Murphy and Senators Joseph Lieberman and Carl Levin that passed today will ensure that the Department of Defense can complete that comprehensive review that will allow our military and their families the opportunity to inform and shape the implementation process."
But it is precisely that review that Lt. Choi and Captain Pietrangelo say is unacceptable, on any timetable. Both men looked daunted by the prospect of the hunger strike. "I hope that people will remember in future generations that somebody did stand up uncompromisingly in 2010," said Choi.