Watch Dan Coats's Stunned Reaction to Being Told Putin Will Visit White House: 'Say That Again?'
Director of National Intelligence Dan Coats had a less-than-eager response to learning that President Donald Trump has invited Russian President Vladimir Putin to Washington, D.C.: "Say that again?"
Related: Michael Avenatti Mocks Donald Trump's Claim That Intelligent People 'Loved' His Putin Press Conference
NBC News chief foreign affairs correspondent Andrea Mitchell broke the news to Coats on stage at the Aspen Security Forum on Thursday afternoon.
"So we have some breaking news, the White House has announced on Twitter," Mitchell said, as Coats appeared to cringe.
"That Vladimir Putin is coming to the White House in the fall," Mitchell continued.
Coats leaned in and said, "Say that again?" and laughed hesitantly.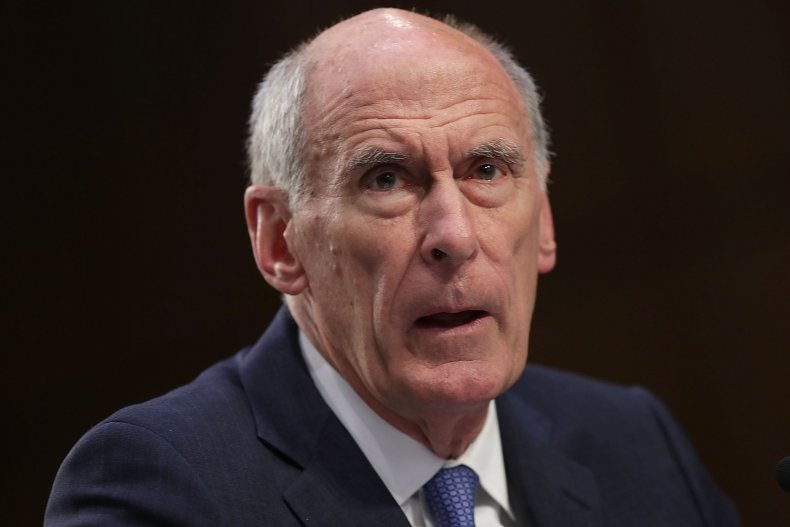 "Vladimir Putin, coming to the…" Mitchell reiterated.
"Did I hear you, did I hear you?" Coats said.
"Yeah, Yeah," Mitchell answered.
"Ok…" Coats said, twitching his fingers. "That's going to be special."
The tweet that seemingly came as a curveball to Coats came from White House Press Secretary Sarah Huckabee Sanders.
"In Helsinki, @POTUS agreed to ongoing working-level dialogue between the two security council staffs," Sanders tweeted. "President Trump asked @Ambjohnbolton to invite President Putin to Washington in the fall and those discussions are already underway."
It was not the first time Coats has been kept out of the know.
The national intelligence director admitted on Thursday that he was not in the loop on what Trump and Putin discussed during their two-hour one-on-one meeting in Helsinki on Monday.
"I don't know what happened in that meeting," Coats told Mitchell, adding of Trump: "If he had asked me how that ought to be conducted, I would have suggested a different way. But that's not my role; that's not my job. So, it is what it is."
Trump drew heavy criticism for seeming to undermine U.S. intelligence by siding with the Russian president during his joint press conference with Putin.
"I have great confidence in my intelligence people, but I will tell you that President Putin was extremely strong and powerful in his denial today," Trump said on Monday. "He just said it's not Russia. I will say this: I don't see any reason why it would be."
Trump sought to clarify his remark Tuesday, by claiming: "The sentence should have been, 'I don't see any reason why I wouldn't, or why it wouldn't be Russia' instead of 'why it would.' I accept our intelligence community's conclusion that Russia's meddling in the 2016 election took place."
Coats, who defended his agency's work, said he "obviously" wished Trump had uttered a different statement.
"But I think that now that has been clarified, based on his late reactions to this," Coats said. "And so I don't think I want to go any further than that."