Former CIA Director Leon Panetta said Monday that Dan Coats was a necessary "sane" voice surrounding President Donald Trump after the United States's top intelligence official rebuffed calls to resign Monday. A senior former intelligence official suggested Monday that Coats should consider his future in light of Trump appearing to side with Vladimir Putin's denial that the Kremlin had a vast and continuing program to interfere in U.S. elections.
Trump, asked during his Helsinki press conference with the Russian president "who do you believe"—Putin or his own U.S. intelligence agencies—said the Russian leader provided a compelling argument during their meeting earlier in the day.
"I have great confidence in my intelligence people, but I will tell you that President Putin was extremely strong and powerful in his denial today," Trump said in a remark that stunned many former top defense and intelligence officials. He then went on to repeat his attacks on the Democrats and the FBI. Last week, the Justice Department indicted 12 Russian intelligence officers on charges of interfering in the 2016 elections.
To many critics, Trump's unscripted statement echoed his remarks after neo-Nazis and white supremacists attacked demonstrators in Charlottesville last summer, when he claimed there were "some very fine people on both sides."
Former CIA Director John Brennan, who has expressed mounting fury in recent months over the president's constant denunciation of the FBI and special counsel Robert Mueller's investigations of Russian meddling as a "witch hunt," called Trump's remarks in Helsinki "nothing short of treasonous."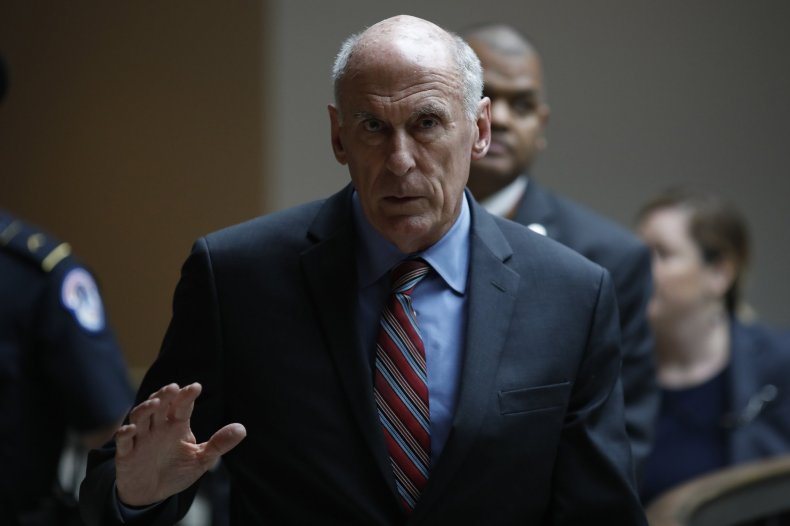 Larry Pfeiffer, chief of staff to former CIA and NSA Director Michael Hayden, quickly called for Coats to resign in "protest and disgust" over Trump's performance.
"To those saying we need the DNI to stay," Pfeiffer said in a tweet, "I would respond with the question: Has his presence curbed the president? History shows well-timed and principled resignations help illuminate and focus on problems. As would a confirmation hearing for a successor."
Pfeiffer added that he had "nothing personal against Coats, but "frankly, a resignation by someone of his caliber and credibility would have greater impact." In a brief telephone interview, Pfeiffer asked: "how does it get any worse than this? We're the family aiding the addict. It's time for tough love." But Pfeiffer conceded that he was "pretty much alone" among other senior former intelligence officials in calling for Coats to resign.
Coats himself publicly ignored the calls for him to resign. But in a press release Monday afternoon the former Republican congressman and senator doubled down on his past finding, shared by other top U.S. intelligence agencies, that fingered the Russians for "meddling in the 2016 election and their ongoing, pervasive efforts to undermine our democracy." And he pointedly added that despite his commander-in-chief's wobbling on Russian cyber attacks in Helsinki, "we will continue to provide unvarnished and objective intelligence in support of our national security." Only last Friday he had said that "the warning lights are blinking red again" regarding continuing Russian cyber interference.
Former CIA and NSA chief Hayden called Coats's press release "a good move, especially since I'm sure he did not do it with White House approval." Coats was essentially saying, I'm "almost there, I'm not quitting..." Hayden told Newsweek "But you can do what you want."
"The choice is a tough one," added Hayden, who also previously served as a top DNI official in the Bush administration. "Am I a greater service staying in and trying to be a guardrail or do I do more good by leaving and not being a legitimizer or an enabler."
Another senior former intelligence official granted that the choice to stay or go presented an agonizing dilemma. "The problem with wholesale resignations is that it's another way for Putin to win," he said on terms of anonymity because he still does business with the spy agencies. "That said, I'd like to see those who formerly had some honor try to regain that by leaving."
Leon Panetta, who served as both CIA director and secretary of defense in the Obama administration, said Coats should stay. "I like having a few sane voices around this president, and he happens to be one of those," he said in a telephone interview. "I just think it's better for them to be on the inside, particularly trying to provide at least some degree of discipline for this president."
But Coats has failed to rebut Trump's repeated verbal assaults on the FBI and Justice Department, the former senior U.S. intelligence official charged.
"A number of us...have observed that no one in [Coats's] front office has defended the FBI during Trump's attacks of this venerable institution over the last year," the former official said. "I get it that intel folks should be seen and not heard and remain out of partisan squabbles. However, Coats issuing a feeble tweet [sic] on the hacking investigation is a clear sign of his weakness." On the other hand, he conceded, "purists could make an argument that it would inappropriate for Coats to get into a dick fight with POTUS."
Other critics noted that the resignation of top Justice Department officials during the 1970s Watergate scandal touched off a firestorm of protest against President Richard Nixon and added impetus to calls for his impeachment. Facing certain conviction in the House, Nixon resigned on August 8, 1974.
But Panetta, a former congressman from California, said such resignations would have little effect today, especially when so many top Trump administration personnel have exited at an unprecedented pace. "People have become numb to that kind of thing," he said.