Dan Crenshaw Calls Pro-Trump Lawyer 'Grifter' and 'Democrat' After Georgia Boycott Call
Republican congressman Dan Crenshaw called the pro-Trump lawyer L. Lin Wood a "grifter" and a "Democrat" after the attorney told Georgia voters not to turn out for the Senate runoff elections at the start of next year.
Posting on social media on Thursday night, Crenshaw accused Wood of wanting "donations for his legal fees" and for Republicans to self-destruct as the party seeks to hold onto its Georgia Senate seats and overall majority in the upper chamber.
The GOP lawmaker hit out at Wood after the lawyer told a "stop the steal" rally in Georgia that Republican Senators Kelly Loeffler and David Perdue had not earned their votes, before urging them to boycott the crucial Senate races slated for January 5.
Reacting to a clip of Wood speaking at the rally, Rep. Crenshaw said: "Lin Wood is a Democrat that wants Republicans to self-destruct. Just because he wears a MAGA hat does not mean he shares a single value with you. He just wants your donations for his legal fees. He's a grifter."
He also told Georgians to vote at the Senate runoff elections on January 5 in order to "protect the accomplishments" of the past four years under President Donald Trump's leadership.
Newsweek has contacted L. Lin Wood for comment. This article will be updated with any response.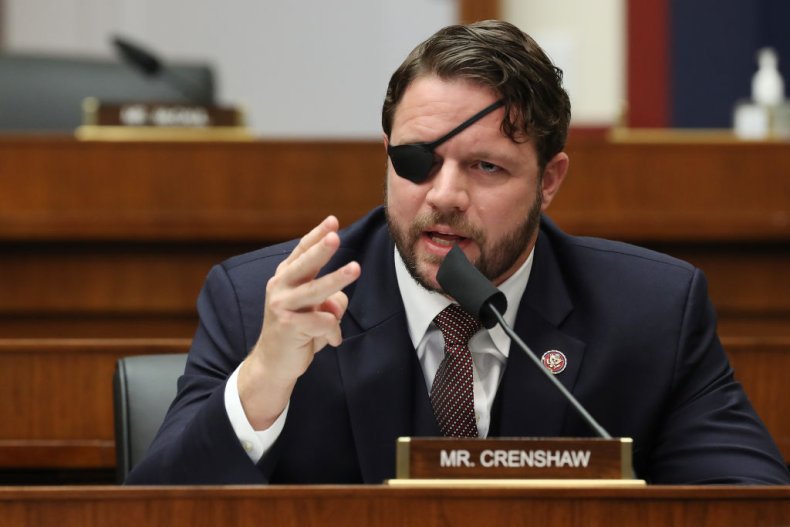 Appearing with the ex-Trump campaign lawyer Sidney Powell on Wednesday, Wood repeated baseless claims about mass voter fraud in Georgia centred on the Dominion Voting Systems used in parts of the state.
But the bulk of his speech focused on attacking top Republicans in Georgia, including the Governor Brian Kemp and Sens. Loeffler and Perdue ahead of their crucial election fights.
"They have not earned your vote. Don't you give it to them," Wood said. "Why would you go back and vote in another rigged election for god's sake? Fix it. You've got to fix it before we'll do it again."
Hitting out at Gov. Kemp elsewhere in his speech, the attorney urged rally goers to surround the state leader's home and blare their horns until he came outside.
"I want you to go to the Governor's mansion. I want you to circle it," he said. "I want you to blow yours horns until Brian Kemp comes out and orders a special session of the Georgia legislature."
The MAGA hat-wearing lawyer later added: "We want to fix the mess that he created and then he can resign. And then as far as I'm concerned, lock him up."