Dan Crenshaw Called Pete Davidson After Cryptic Instagram Post About Suicide
Representative-elect Den Crenshaw reached out to Saturday Night Live star Pete Davidson after the comedian posted a troubling message to Instagram on Saturday, saying he was contemplating suicide. Though Davidson once received flack for making fun of Crenshaw, a former Navy seal, they quashed their differences.
"It was pretty devastating," Crenshaw told Houston's KPRC on Monday. "You know you don't want to see somebody in that kind of position to the point where they're actually putting out a cry for help on social media. That's not a good place to be in."
Crenshaw didn't like seeing Davidson in a bad place, especially since it's his job to make people laugh. "Sometimes [he] makes people mad. But he makes people laugh a lot and that's what we talked about. It was a good conversation," the Texas Republican said.
Crenshaw, 34, recalled his conversation with Davidson. "Everybody has a purpose in this world. God put you here for a reason. But it's your job to find that purpose," Crenshaw told the 25-year-old entertainer. "Know that you have value and you can do more good than you realize for people."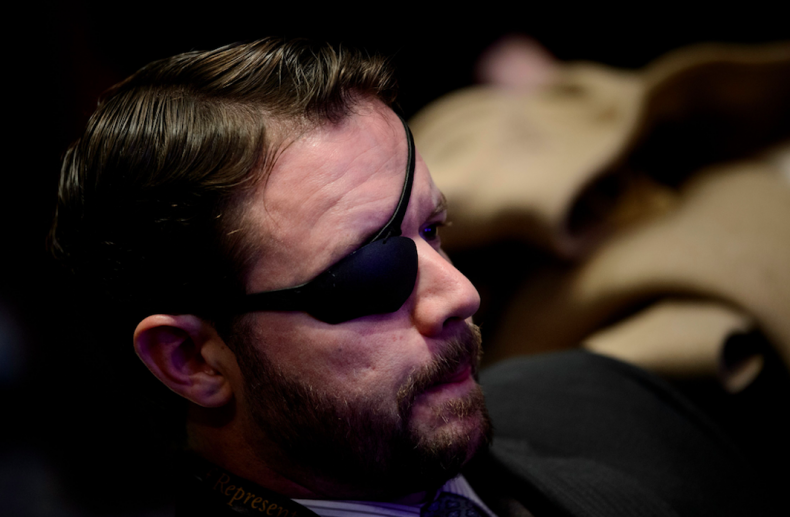 Davidson was widely ridiculed last month after he claimed on SNL that Crenshaw looked like a "hit-man in a porno movie." In reality, Crenshaw wears an eye patch because of an injury he suffered during warfare.
They seemingly made up when Crenshaw appeared on SNL and took a jab at Davidson, saying, "This is Pete Davidson. He looks like if the meth from 'Breaking Bad' was a person."
Davidson worried his millions of followers when he posted a worrying message and then deleted his account. "I really don't want to be on this earth anymore. I'm doing my best to stay here for you but I actually don't know how much longer I can last," he wrote. "All I've ever tried to do was help people. Just remember I told you so."
Since dating pop star Ariana Grande for nine months, Davidson has been bullied online. "I've spoken about BPD and being suicidal publicly only in the hopes that it will help bring awareness and help kids like myself who don't want to be on this earth," he wrote after their breakup. "I just want you guys to know. No matter how hard the internet or anyone tries to make me kill myself. I won't. I'm upset I even have to say this."
If you or someone you know is considering suicide, please contact the National Suicide Prevention Lifeline at 1-800-273-TALK (8255), text "help" to the Crisis Text Line at 741-741 or go to suicidepreventionlifeline.org.