Dan Crenshaw Says NCAA Should 'Be Ashamed' For Allowing Lia Thomas Victory
Republican Representative Dan Crenshaw is blasting the NCAA for allowing transgender athlete Lia Thomas to take gold at the Division I women's swimming championship.
Thomas, a transwoman, who now swims for the University of Pennsylvania women's team, spent three seasons on the men's team before starting hormone treatment. Although Thomas passed all of the NCAA's rules for trans competitors, including 12 months of testosterone suppression, many are speaking out against Thomas' victory claiming it's unfair for the biological women she competes against.
Thomas placed first in the 500-yard freestyle competition with a time of 4:33.24. Her victory has sparked backlash on social media.
Crenshaw took to Twitter Friday posting a picture of Thomas and her fellow competitors with the caption, "NCAA should be ashamed of itself."
Thomas posted decent times while on the men's team. While swimming with men in the 2019-20 season, Thomas won the same event, the 500-yard freestyle. Thomas' top time recorded for the 500 is 4:18.72, according to Penn Athletics.
However, this season, on the women's team, she not only won, but she broke her own record from last year of 4:34.06. Thomas currently holds five titles for the women's team, according to Penn Athletics.
Some people believe she was an unfair advantage against her competitors. GOP candidate for Arizona Attorney General Rodney Glassman believes her opponent would have won had she not raced against Thomas.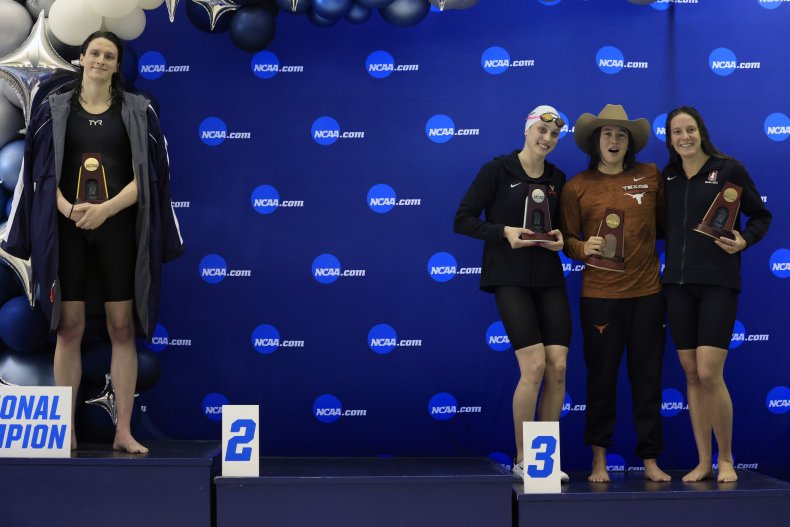 "Lia Thomas is a man," Glassman tweeted Friday. "He has been a man for over 21 years of his life. Emma Weyant, a female, would've won if she wasn't forced to compete against a man. Celebrate Emma. Males don't belong in women's sports."
Others don't blame Thomas necessarily, they are upset the NCAA approved rules allowing transgender athletes to compete.
"It's not even so much about Lia Thomas the person, and I don't think attacking her primarily is likely to be that helpful," former professional American road racing cyclist Joe Papp tweeted. "The real villains are the NCAA and the ngbs that made this policy possible, and the schools and athletic depts that exploit it."
On March 18, the group Concerned Women for America filed a formal complaint against Penn for allowing Thomas to compete against biological women. In a letter to Assistant Secretary for Civil Rights Catherine Lhamon, the group said the complaint against the college is for "its egregious violations of the protections for women on the basis of sex secured a half-century ago in the landmark passage of Title IX of the Education Amendments of 1972."
"Thomas is still anatomically a male, bearing all the biological advantages of male developmental physique," the group wrote. "By allowing a male to take a spot and compete on the women's swim team, depriving aspiring young women athletes of a fair and level playing field in competition."
Thomas has received support for her accomplishments.
Schuyler Bailar, who became the first known transgender man to compete on an NCAA Division I men's team, told ESPN that the victory was "a symbol of Lia's resilience."
Newsweek reached out to the National Center for Transgender Equality for comment after the organization congratulated Thomas on social media, sharing American Olympic swimmer Erica Sullivan's Newsweek opinion article.
Newsweek reached out to the University of Pennsylvania for comment but did not hear back in time for publication.