Dan Hardy: British UFC Star on Fighting Again, Georges St-Pierre and McGregor vs Mayweather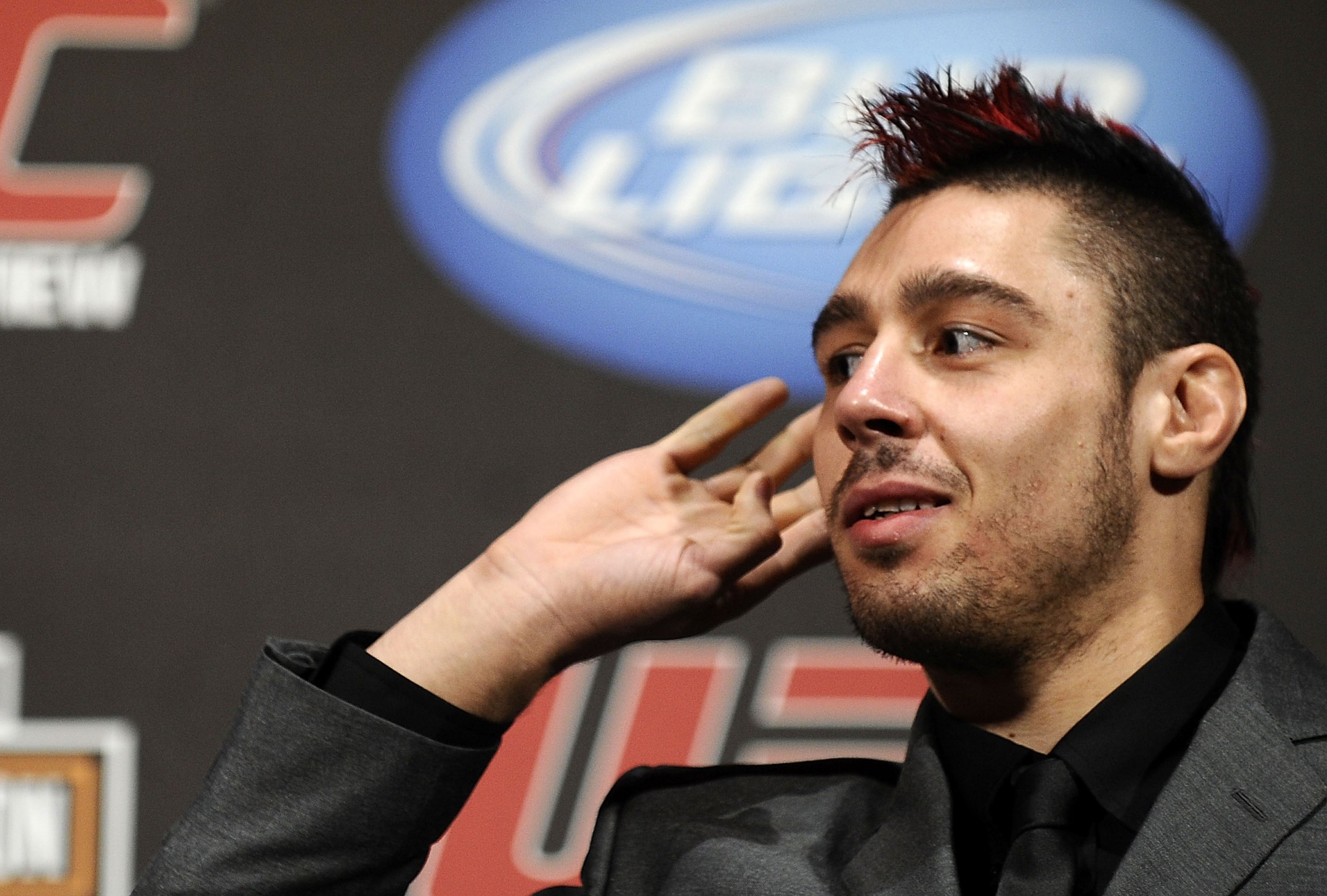 During his days inside the Ultimate Fighting Championship's (UFC) Octagon, Nottingham-born Dan Hardy cut one of mixed martial arts's more distinctive figures, with a red mohawk, brash personality and a powerful left hook that made him Britain's first UFC title contender.
In 2013, Hardy, now 34, was diagnosed with Wolff-Parkinson-White syndrome, a disorder of the heart's electrical pathways that put his fighting career on hiatus.
In the meantime, he established a career as a commentator and fight analyst reporting on UFC. Now on the comeback trail as a performer, and with UFC bigger than ever, Hardy prepares to release his memoir, Part Reptile, this March.
He sat down with Newsweek to discuss his health, the growth of Mixed Martial Arts, and the return of one of his great rivals in Georges St-Pierre.
I have read you are cleared to return to fighting, how far along that process are you now?
I have medical clearance from the cardiologist that I need in the UK. I haven't approached the US because obviously every state in the US is run by their own athletic commission, so I can't bridge that gap until I actually get a fight organized. As far as I'm concerned, I have clearance and, as far as the doctor is concerned, I have clearance. He said basically if there is an issue when I go over to the US in getting cleared by a commission, he can put me to the right people and get me that clearance. I feel confident.
And do you feel that desire to fight again?
All the time. I have to be realistic on where I'm at and my role within the sport. As much as I love mixed martial arts, and as much as I loved fighting, if I want to achieve something with this sport it is to legitimize it and help grow the respect and knowledge of the sport. I feel like I can do that much better in the job that I'm doing now. If I were to fight again, it would be very much a selfish thing. Selfish for me because I would like to fight, and I have to an extent ignore the wishes and desires of my loved ones. Because obviously it can be a very stressful environment for them.
I have to take that into account and I am more mature now than I was when I was in my early 20s, when it was all about me. There is a bigger picture to take into account. My personal desire, I would love to fight again. And honestly I feel like I've got a couple more, realistically. But my career as a professional fighter is behind me, to an extent.
Would 155lb be the weight you'd fight at?
I think so. I'm a lot lighter than I used to be. These welterweights are getting bigger and bigger by the day. I think that would be a better weight for me. I think I always performed better when I was closer to 180lb, and when I was fighting at welterweight, I was over 200lb, far bigger, because I was fighting guys that were always bigger than me. Now I think if I came back I would be less focussed on being the bigger, stronger athlete and more on being the better martial artist.
From a $2 million company in 2001, UFC was sold last year to WME-IMG for $4 billion. How do you explain that explosion in value and popularity?
I think they [previous owners the Fertitta brothers] made it acceptable and approachable, particularly for sponsors and TV. If you look back to the early days, there were no weight classes, no gloves. The longevity of that was always going to be limited and it would create a terrible story around someone getting injured, unnecessarily. Whereas when the Fertittas and Dana [White, UFC president] stepped in and took over, they realized what they needed to do to make it a legitimate sport and started with those steps immediately. Weight classes and gloves and working with athletic commissions to work out what they would need to sanction the sport and insure and protect the athletes. I have known Enzo [Fertitta] personally for a long time and he has always had the [best] intention of the fighters. There have been times where he could quite easily have saved money or made a bunch more money but he chose not to, he chose to invest it in the fighters' wellbeing. And it takes a very special person to take a sport like mixed martial arts and turn it into what they have. Fighters now have healthcare and health insurance in the US, which was a pipe dream a few years ago.
Despite that increase in popularity, do UFC and mixed martial arts still suffer from a perception problem in the mainstream press, and why?
Having spent time living in the US, and seeing how mixed martial artists are received by other athletes—you go to a UFC event in Vegas, you look down the front row and you have got baseball players, basketball players, football players, Vin Diesel is sitting there, Paris Hilton is there. It is literally star-studded, and this is the sport that other athletes come and watch. To have been in the US and to have had that reception and been respected like that, then to come back to Europe and to still be kind of battling on some of those opinions is difficult. It's across the board. I was at The Guardian the other week, arguing with their sports editor because he just doesn't understand why we do it, or what we're trying to achieve when we do it. It's a part of my job now, as an ambassador for the UFC, to be able to educate people about the sport. The only thing that really frustrates me is when it's put into print. Because we struggle so hard to get stuff actually in print, most of it's online, and obviously there are a whole selection of crazy opinions online. But when something is actually put in print, people take it far more seriously.
What are your experiences with Dana White? In interviews he never seems to hide his emotions
I think that's why the fighters like him so much because he is real, he is a very honest, open person. He carries his emotion on his face. If he is angry, you can see it. If he is happy, you can see it. If he is enjoying himself… Athletes and businessmen are almost like polar opposites. There's very unique individuals like Conor McGregor that can sit in both worlds, speak the business lingo but also fight professionally and be very successful. A lot of the time fighters look at businessmen like, they're coming to take money off me because they have had bad experiences with managers and that kind of stuff.
With Dana it was always very different because, well the first thing that comes to mind is after the weigh-ins when he takes us into a room on the side with just the fighters and he sits and gives us a bit of a pep talk. He's been in and around boxing his whole life. My old boxing coach and Dana were best friends when they were in high school, so I know that Dana has been in and around combat sports his whole life, purely because he loves it. Not because he was making any money out of it. He understands what the fighters go through. It's that familiarity.
Can you describe your experiences with psychedelic drugs?
I've always been drawn to anything unexplained or supernatural. Anything that gives me that feeling there is something more to life I am not currently aware of. And at one point in my life the mixed martial arts offered that to me—kung fu and the whole spirituality and the mysticism of Shaolin kung fu—I wanted to learn how to fire Chi Blasts out of my hands, fight like a monkey or a snake. A part of me kind of romanticized it because of the old kung fu movies and stuff. I have never gravitated towards any kind of organized religion or faith or anything like that. But I very much feel like there is a lot more to life than we really understand.
I don't want to say psychedelic [exactly] but I think there is a level of psychedelic experience with pain and discomfort and suffering. We see it through ancient religions, like self-flagellation and fasting, and isolation and these kinds of things. I think people are reaching for something and they are not quite sure how to get there. I have certainly experienced some quite profound things through my martial arts career. And I just feel like the psychedelics was furthering that experience. It helped me connect with myself, helped me understand more about who I am as a person and human being more than as an individual in this social construct that we live in.
With psychedelics and fighting, is there a similar need to dispel fear?
To a point. If anybody out there that fights says they don't feel scared or anxious or nervous, I think they are lying because they are natural human emotions that we all experience. Unless you have had your adrenal glands removed it's a natural reaction for anybody. And it's the same thing with the psychedelic experience, even more so because in a martial arts arena, I know that I'm stepping in with an opponent that knows what they are doing, with a referee that's looking after me and with doctors and medical people all around me looking out for my wellbeing. Whereas with the psychedelic experience it was very much a personal experience that was really stepping into the unknown.
A lot of the time when you go into one of those experiences you don't know what to expect. Even with the experience I have got working with plants and different psychedelic compounds, they can still be very unpredictable experiences. And they can still be very unpleasant. I never like the term 'magic mushrooms' because it gives the impression of a party drug where you go and eat a bunch of stuff with your friends and act crazy. That's not what it's about for me. For me it was always about approaching it from a ceremonial perspective in a ceremonial setting. So I would be on my own in a space that I would have cleared and prepared for myself and I would meditate into it. I would write down the things that I want to address. Really I can't think of an area of my life that the psychedelic experience has not improved. I just feel like a better person for having those experiences. But they weren't always easy, believe me.
Your opponent from your most famous fight, Georges St-Pierre, recently announced a comeback fight against middleweight champion Michael Bisping. How do you see that playing out?
It's a very interesting fight because GSP [St-Pierre] has been away for so long. We don't know what he has been working on, all we know is every time he posts a photo or a video or anything he looks in amazing shape, he looks like a big, strong, powerful athlete, he looks like he's enjoying his mixed martial arts training again. And that makes me really excited because when an athlete is having fun is when they perform at their best.
Especially towards the end of GSP's reign at welterweight, I don't think he was enjoying himself as much as he was in the beginning. The [Johny Hendricks] was a rough fight for him. There are a lot of people that still think Hendricks won that fight. I watched that live, I was there in the arena. You could just tell the mood in the arena, people were concerned for him because they could tell he wasn't himself. He didn't look like himself, like he was enjoying it. It looked like his mind was elsewhere in the fight. So now he is coming back on his own terms, he is getting the fight he asked for.
And stepping up to middleweight as well is really interesting. He was always a big welterweight, and Michael Bisping is one of the most-prolific fighters in the UFC, period. I think he's had more fights than anybody, more stoppages than anybody, he holds a lot of the records, as does GSP. These are two megastars of the sport. I'm disappointed honestly that I'm not going to get to see Michael fight Yoel Romero [UFC middleweight number one contender] next. It's got to be frustrating for him. As a fan of the sport, I want to see the rankings adhered to, I want to see the next number one contender get the title shot. But I also appreciate that this is an entertainment industry as well, and GSP is a massive draw.
I hope that GSP is not undersized at middleweight, that's my only concern. Because Bisping has been reigning at middleweight for a while, he won the Ultimate Fighter at light-heavyweight. So he's a big fella. As a fan, I am giddy with excitement.
The other big talk of the moment is Conor McGregor and Floyd Mayweather's 'superfight.' How do you see this one going?
I find it interesting. I struggle to believe it's ever going to happen, if I'm honest. Obviously if it happens, I would love to watch it and I would be fascinated in the outcome. I think in a boxing ring McGregor is going to struggle to put a hand on Mayweather, purely because as I was saying earlier, we know the technology of boxing and Mayweather has mastered it. And boxing doesn't transfer over to mixed martial arts exactly. There are a lot of changes you need to make to your stance, to your movement, to the way that you throw punches. And McGregor is a great fighter, Mayweather is a great boxer.
If it actually happened, I don't think it would be nearly as exciting as people think it would be. It's superstars. If you had Jennifer Lopez fighting Kim Kardashian, people would watch it. It doesn't really make a difference whether it's a boxer against a mixed martial artist, in my opinion it's not about that. In my opinion it's about Floyd Mayweather and Conor McGregor. It just so happens that they are both combat sports athletes.
He [McGregor] grasped [self-promotion] from very early on in his career. Even when he was on Cage Warriors, he was able to cultivate a fan following that most people can't on a lower-level show. And to be able to carry that over to the UFC… Everybody forgets that when you talk as much trash as he does going into a fight and when you call the round and the shot you're going to knock them out with, it puts so much more pressure on you than just showing up and giving it your best. He's one of those special individuals we don't see come along very often. I just hope he keeps his head in the game and doesn't do a Jon Jones [currently serving a suspension under United States Anti-Doping Agency rules] and make silly mistakes. That would be a real shame.
Part Reptile by Dan Hardy is published by Headline, priced £20.