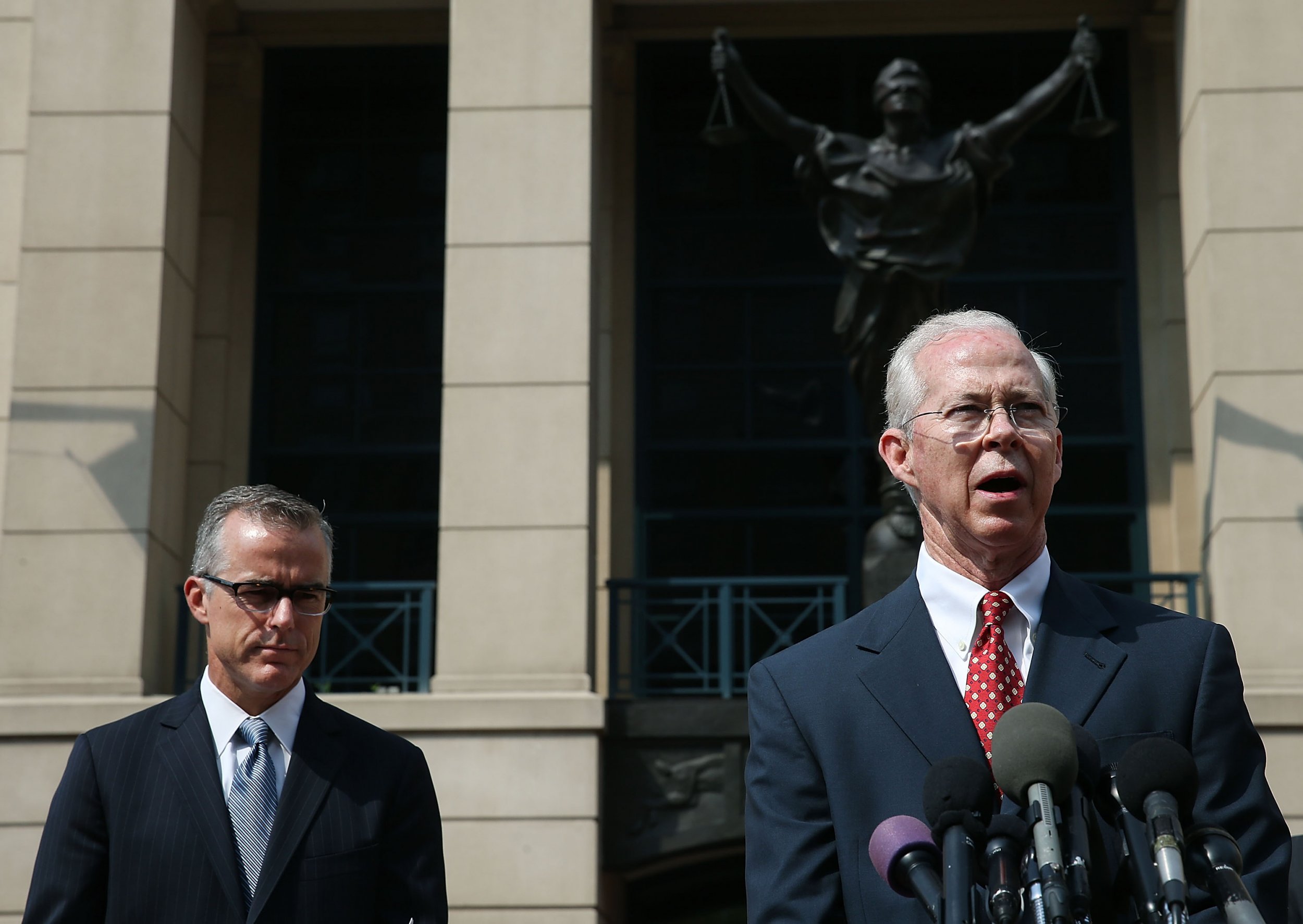 A Democratic lawmaker wants to examine the abrupt resignation of a prominent Department of Justice official with connections to the special counsel's Russia investigation.
On Wednesday, Senator Chris Coons asked the chairman of the Senate Judiciary Committee to hold a hearing about the October resignation of Dana Boente, the U.S. Attorney for the Eastern District of Virginia. That district is where special counsel Robert Mueller reportedly began using a grand jury around July to investigate Russian meddling in the 2016 presidential election and possible coordination with the Trump campaign.
Boente, who has been at the Justice Department for more than three decades, is also resigning from his role as an acting assistant attorney general. He will stay at the department until the Senate confirms President Donald Trump's nominee for that role. Early in the Trump administration, he served as acting attorney general and acting deputy attorney general. The Justice Department announced his resignation on October 27.
Related: Dana Boente's resignation could endanger Russia investigation
The Eastern District of Virginia is one of the most prominent of the 94 U.S. attorney districts. Because of an executive order that Trump signed in March, the U.S. attorney there is toward the top of the line of succession at the Justice Department. That means if Trump demands the Justice Department fire Mueller, and enough officials refuse, the Eastern District of Virginia attorney could become responsible for carrying out the order.
Last month, Mueller's team announced charges against Paul Manafort, Rick Gates and George Papadopoulos, all of whom had been involved in the Trump campaign, through the U.S. attorney's office at the nearby District of Columbia. That announcement happened three days after the news of Boente's resignation.
Coons, a Democrat from Delaware, questioned the role Trump played in Boente's leaving. In his letter on Wednesday, Coons requested a hearing "to examine potential presidential interference with U.S. attorneys' offices." He added, "My request is based on a series of events that leave me concerned that President Trump does not respect the important boundaries between politics and the prosecutorial decisions of U.S. attorneys within the Department of Justice."
Coons said in the letter that he found Boente's departure particularly troubling since it came just before Mueller's team announced charges. "President Trump's reported demand for his resignation, the sudden nature of its timing, its proximity to the indictments issued by special counsel Mueller and reported connections between the U.S. attorney's office for the Eastern District of Virginia and the investigations of Paul Manafort and [former National Security Adviser] Michael Flynn, leave me concerned that this resignation was not business as usual," he wrote. "I cannot take on faith that this dismissal was normal or justified."
Boente has not commented publicly on his resignation, and earlier this week, a spokesman had declined Newsweek's request for an interview with him.
Trump has had a contentious relationship with the Justice Department. He fired former FBI Director James Comey and former Acting Attorney General Sally Yates. He expressed regret for hiring Attorney General Jeff Sessions after Sessions, who had been an adviser to Trump's presidential campaign, recused himself from matters related to the campaign. He has also involved himself in the interviewing process for potential U.S. attorneys, which legal analysts have claimed is inappropriate. Preet Bharara, who Trump fired as U.S. attorney for the Southern District of New York, said on his podcast in October, "I can tell you it is highly unusual and probably really inadvisable for any president, and particularly this president...to be interviewing personally people for those jobs."
Besides writing to Senator Chuck Grassley, the chairman of the Senate Judiciary Committee, Coons also wrote Wednesday to Sessions and Deputy Attorney General Rod Rosenstein, calling for details about Boente's resignation. He said in the letters that he had asked the Justice Department for information about the departure but had not received a response.
The Senate Judiciary Committee is one of three congressional panels investigating Russian meddling in the 2016 election, independently of the Mueller probe. The committee is also responsible for monitoring the Justice Department.