Japanese Company Creates Dancing Robot That Wants to Help You Shop
A talking and dancing robot called RoboPin could one day greet you at the supermarket and offer advice on what to buy.
Japanese technology company Fujitsu demoed the robot at an exhibition in Tokyo this week and showed off a range of functions it can perform. With a striking resemblance to EVE from Disney's film WALL-E, RoboPin can act as a tourist guide, shop attendant and dance machine.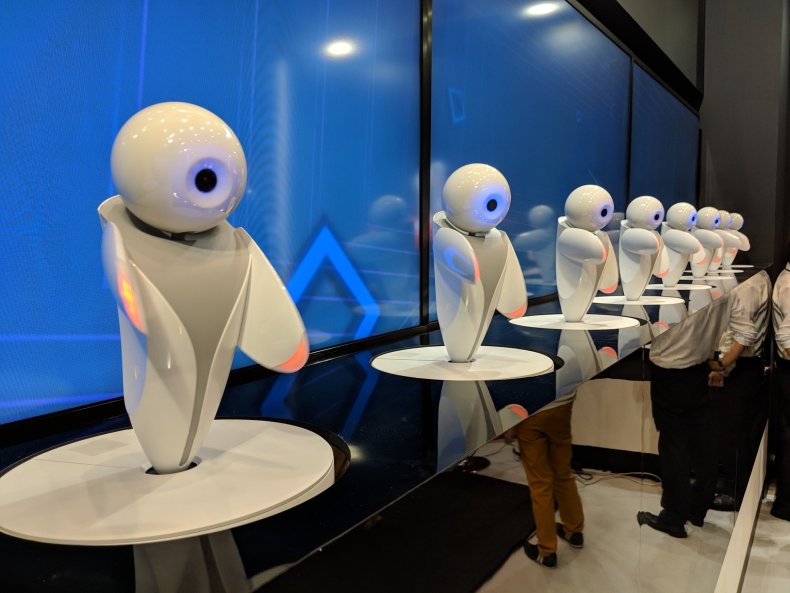 The center of RoboPin's head features a camera with a glowing colored ring around the border. Its hands are illuminated at the tips.
Fujitsu is hoping to pair the robot with digital signs to offer a personal touch. While the sign might be able to display nutritional information, the company says RoboPin will be able to chime in with "Won't you try it?" or "It's delicious."
RoboPin is already being trialed at a supermarket chain called FamilyMart. Fujistu told Newsweek it is too early to provide feedback on the robot's interactions.
Fujitsu says it plans to sell the robot as a service instead of selling the device itself. Further details on pricing were not given.
Tourists visiting sites and monuments in countries that don't speak their native tongue will be able to hear information from RoboPin. It will also offer coupons at shops.
The RoboPin owner/renter can direct the robot using AR controls to move the body and arms. Fujitsu gave exhibition attendees a chance to try out the robot and copy dance moves from other devices nearby.
Fujitsu stressed that RoboPin is in the early stages of its development and no timelines have been put in place for a mass-market release. It will likely be further tested in Japan and Taiwan over the next few years.
Newsweek is reporting from Tokyo as a guest of Fujitsu.