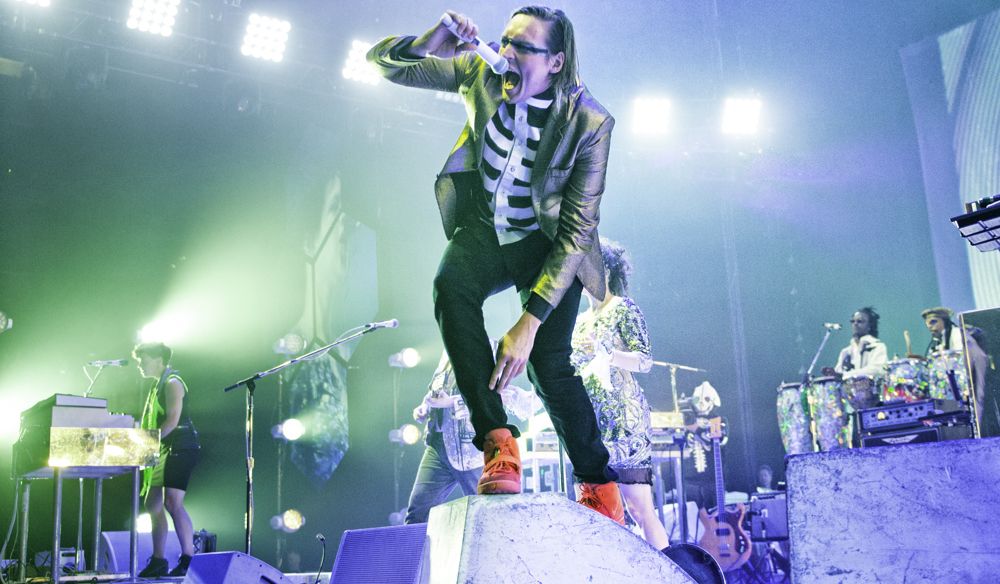 The Arcade Fire was a stadium-sized rock band before last week, but this weekend's three-night residency at Brooklyn's Barclays Center still felt like a sort of turning point. Sunday night, at that huge, hulking monstrosity of a basketball arena in the demilitarized zone between Prospect Heights and Fort Greene, fans numbered in the tens of thousands.
There, in an exhilarating whirl of confetti, face paint and extravagant stage props, they watched Montreal's Little Band That Could play a show as massive and overstuffed as its albums have always suggested.
As has become a tour trademark, there were guests—some expected, some not.
Some, like resurrected indie-pop darlings the Unicorns and proto-punk legend Television, had the strange duty of opening the show. These bands have more in common than a listener would think: They are both reunion rock acts that began and finished their recording trajectories before Arcade Fire shot to success, and both seemed almost comically mismatched to the humongous and slowly filling arena they were performing in, as if the headlining act had hand-chosen critically acclaimed bands whose meek stage presence gave them zero chance of upstaging the main act. Sure, there were fans of Unicorns' sly, sci-fi-tinged pop scattered around the venue—but how the hell could you spot them in that space or hear them singing along? It was a surreal cultural moment, as Rolling Stone's Simon Vozick-Levinson put it:
Television's extended guitar vamps and dynamic shifts sounded similarly muted in such a vast echo chamber, but frontman Tom Verlaine led the band through an admirable 30-minute set anyway. Television finally earned some cheers by closing with Marquee Moon's unimpeachable title track. At a 2007 performance in Central Park, I watched Verlaine carry out the track for 15 or 20 minutes as an irate stage manager threatened to flip the switch. This time, he ended it prematurely after the guitar solo. Best not to upset Arcade Fire by playing too long, even if he is old enough to be their dad.
Within seconds of Television's finish, electronic musician Dan Deacon materialized on a smaller stage out in the crowd, lit up by a blue light. "This is like a stress nightmare where you're back in high school naked," he joked, but instead "you have no sense of musicianship and are playing after one of the most seminal bands that has ever existed." Then he led the standing crowd in a dance contest as Arcade Fire prepped behind a large black stage curtain, generously spared the indignity of having to set up its gear in plain view of 19,000 people.
Not that they really needed that sort of bar mitzvah-party warm-up. When the curtain fell and the glittery disco-pop of "Reflektor" surged through the stadium, and 13 or 14 formally attired musicians bounced in front of a mesmerizing display of tiny video screens, it was sufficient to wash away any lingering cynicism about the massively impersonal venue and its hot dogs and popcorn concession stands. Somewhat remarkably, the band, accessorized with a horn section, two or three drummers, violinists and papier-mâché heads, managed to sustain that level of surprise and visual stimulation over the course of its set—without drawing too much focus away from the music.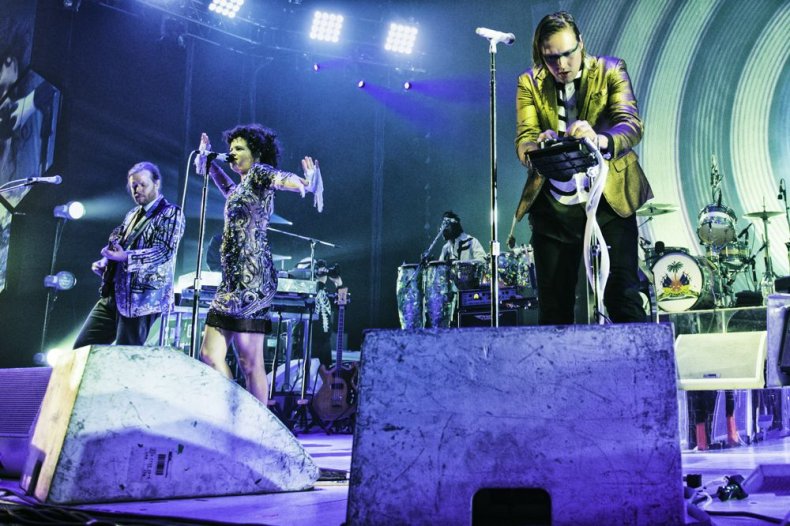 During the Reflektor numbers—the heady, paranoid "Flashbulb Eyes" or the theatrical "It's Never Over (Hey Orpheus)"—the band faintly resembled a modern incarnation of U2 circa 1992, just after Achtung Baby but pre-Zooropa. There is the disco underbelly, the sensory overload of a stage presence, the spirit of reinvention—and then there is frontman Win Butler, who, with his gold jacket, blue-tinted shades and brief onstage speech about donating a portion of the ticket revenue to charity, seemed to be taking minor cues from Bono's rock star handbook.
A year ago, at those "secret shows" in a Brooklyn warehouse, Butler finally seemed to be embracing superstardom. Now he revels in it, lapping up crowd attention and slinking around in a skeleton-patterned shirt while his wife, co-vocalist Régine Chassagne, remains off to the side of the stage. During "Flashbulb Eyes," the singer reached down and snatched a photographer's camera to snap a photo of the crowd. Later, he dedicated "We Exist," a song about coming out as gay, to "all the boys in high heels tonight." (Remember "One"?) Four such dancers materialized and carried out a choreographed routine on the secondary stage.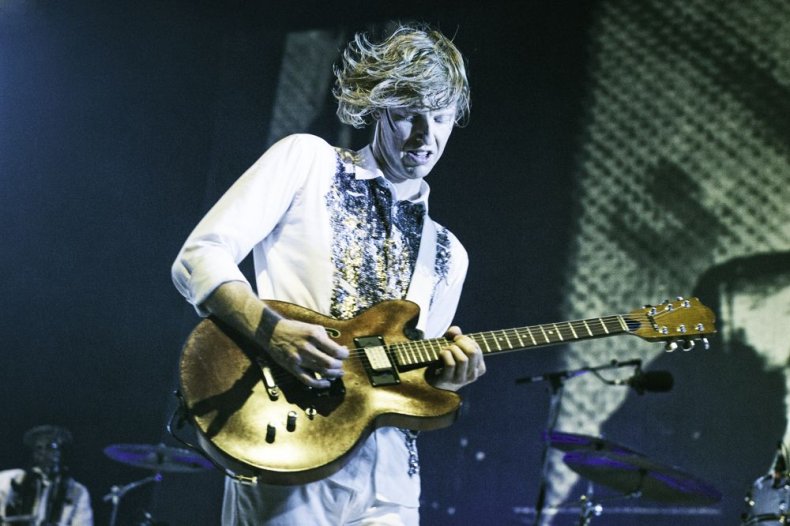 The set list contained a surprising amount of pre-Reflektor material, too, though 2007's Neon Bible was mostly shafted. Dark, beat-heavy cuts like the cacophonous "Neighborhood 3 (Power Out)" and the shimmering, Chassagne-led "Sprawl II (Mountains Beyond Mountains)" seemed entirely ready-made for this particular tour. Others seemed smartly tweaked for the new era. "Rococo" was darker, with a lot more guitar noise, while "Haiti" seemed to arrive with a heavier, more danceable backbeat.
There was an encore; of course, it contained surprises. First came a dummy band obscured by papier-mâché heads and playing along with LCD Soundsystem's "All My Friends." One of the members identified himself as James Murphy, the LCD Soundsystem frontman who co-produced Reflektor. This was a lie. Then, from Butler on the main stage: "Is David Byrne around? No? OK, he'll be here in five minutes." This was a truth.
The former Talking Heads frontman jumped onstage, hair gray and face painted white, and joined the group for a brief cover of Suicide's "Dream Baby Dream," part of the tour tradition of including a different, city-appropriate cover at every show. Then, just as quickly, the surprise guest was gone.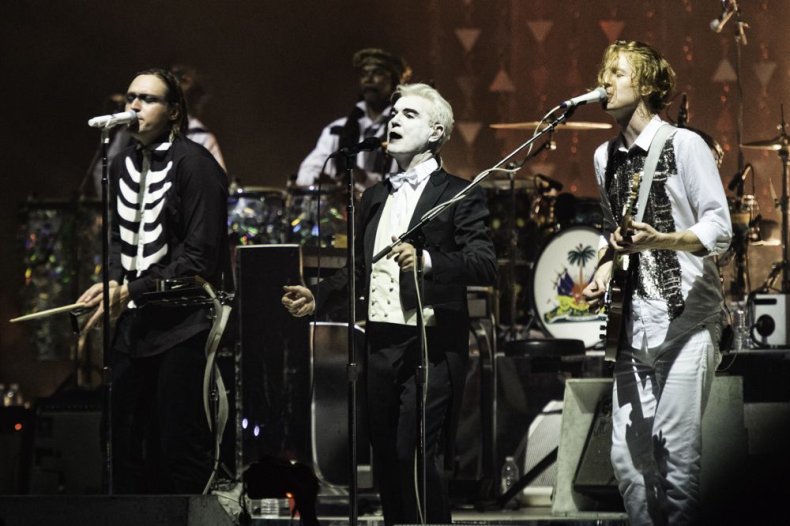 "We definitely wouldn't be on this stage without David Byrne," Butler confessed after the Talking Head had swiftly departed, probably to ride his bike home or maybe to wash off his face paint in some secret Barclays underground chamber, "so extra special thanks for letting us be a band." This rang true, of course, and it is a strange sort of fun to see Butler and Co. gallivanting with some of the classic rock figureheadsReflektor has been likened to over and over.
The band closed out the set with the raucous "Normal Person" and then a massive, confetti-strewn sing-along set to "Wake Up," a song so massive, it is easy to forget it was recorded in some small studio in Montreal—it sounds as if it was chemically engineered for this particular basketball stadium. Then it was over, but the big, wordless melody lingered, chirped by a small horn section, as the band marched again through the crowd and toward the back of the venue.
Byrne never reappeared for the surreal "Once In a Lifetime" outer-space blowout I was half-expecting, which is just as well. In 2014, even David Byrne doesn't have the nerve to steal Arcade Fire's spotlight for more than a few seconds.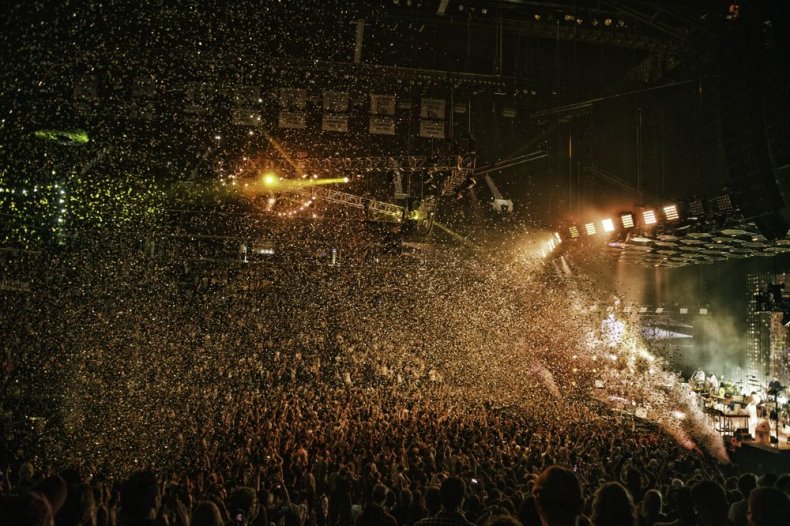 Set list:
1. Reflektor
2. Flashbulb Eyes
3. Neighborhood #3 (Power Out)
4. Rebellion (Lies)
5. Joan of Arc
6. Rococo
7. The Suburbs
8. The Suburbs (Continued)
9. Ready to Start
10. Neighborhood #1 (Tunnels)
11. We Exist
12. My Body Is a Cage (snippet)
13. No Cars Go
14. Haiti
15. Afterlife
16. It's Never Over (Oh Orpheus)
17. Sprawl II (Mountains Beyond Mountains)
Encore:
18. All My Friends (LCD Soundsystem tease)
19. Dream Baby Dream (Suicide cover, featuring David Byrne)
20. Here Comes the Night Time
21. Normal Person
22. Wake Up (with extended horn outro)
All photos by Dana (distortion) Yavin.