Dancing with the Stars 2020 feels new in a lot of ways, but some things have stayed the same. The ABC show may have a new host and judge, but the same rules apply for the dances the celebrities perform—and Carrie Ann Inaba is still there to enforce them.
After Vernon Davis performed a foxtrot with partner Peta Murgatroyd on his first dance of Dancing with the Stars Season 29, Inaba pointed out that Peta's feet seemed to lift in the routine, meaning that she docked them a point.
This was the latest example of what DWTS fans have called "the lift rule," which sees contestants docked points for doing lifts in certain dances in the early parts of the show. Inaba has become so associated with the lift rule that she has become known as "the lift police" for docking points when contestants get airborne.
However, viewers with less ballroom dancing knowledge than Inaba have seen what they think is a double standard, with some dancers docked for lifts while others are not. In DWTS 2020's premiere, for example, people took to Twitter to wonder why Davis had been docked for a lift while fellow contestant Jeannie Mai did not.
As one fan tweeted: "Okay, Jeannie Mai just went flyin, that's definitely a lift. So, is it only certain dance styles that aren't allowed lifts???" Another tweeted, meanwhile: "Can someone explain the lift rule on #dwts? Why was Vernon Davis docked, but Jeanie and Brandon weren't? @carrieanninaba help please!"
In a 2017 Facebook post, Inaba detailed exactly which dances do and do not allow lifts. She wrote: "From day one it was decided that there would be no lifts in the proper Ballroom and Latin dances, just like in a true ballroom and Latin dance competition.
"Over the years, we have expanded our dance styles to include dances such as the Jitterbug, Argentine Tango, the Charleston, Salsa, Jazz, and Contemporary where lifts are allowed.
"However, lifts are still not allowed in Rhumba, Cha Cha, Jive, Paso Doble, Samba, Tango, Waltz, Viennese Waltz, Fox Trot, or Quickstep because those are the rules for these styles."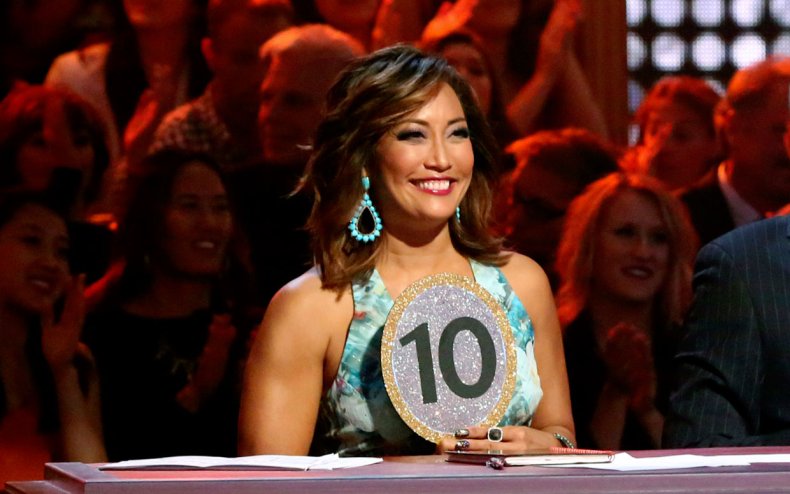 This seems to explain why Davis was penalized for a lift while Mai was not: As the latter was performing a Salsa, her lift was allowed, while the former's Foxtrot is not allowed to include lifts.
Previously, Inaba has written about the particulars of the lift rule. For example, she said in a Parade blog in 2015: "There is a difference...between a lift and move where the dancer actually lifts their own feet off the ground. Tony [Dovolani] and Leah [Remini] did a move where her feet came off the ground. But that's not a lift. It's more like a throw. She's supporting herself and can do that move without the strength of her partner to hold her up.
"It's not a perfect science, but that's the main difference. So what they did was not a lift. I never call those—like a cartwheel over someone's knee, sure, the feet come off the ground—but it's not a lift because they can do the move on their own."
She went on to explain why this rule has been enforced by the Dancing with the Stars producers: "I still agree with why we have the rule for the lifts, which was to keep the playing field level for the older and less physically strong contestants, so that all the dances didn't just become show dances with lifts and tricks. This rule forces the couples to stay on the ground and really dance."
Dancing with the Stars 2020 continues on Tuesday, September 22 at 8 p.m. ET / 7 p.m. CT on ABC.