'Dancing With The Stars' Elimination Predictions: Who Will Go Home Week 4?
Dancing With The Stars will air its fourth episode Monday night, but only its second elimination. After a full month of the show, only one celebrity has been eliminated: Mary Wilson of the Supremes.
The lack of eliminations stems from a new schedule design and an injury. No one was sent home in the first week because the show used the initial dances as a way to gauge the celebrities' talents without immediate consequence for lower scores. In week three, former NFL player Ray Lewis left the competition because of an old injury that flared up during rehearsals. The elimination was canceled as a result.
A second celebrity will be sent home in week four using the series' updated voting process. In Season 28, fans vote to identify two celebrities to be considered for elimination. These are the two celebrities with the least votes. Then three judges are able to "save" one celebrity. This sends the other home.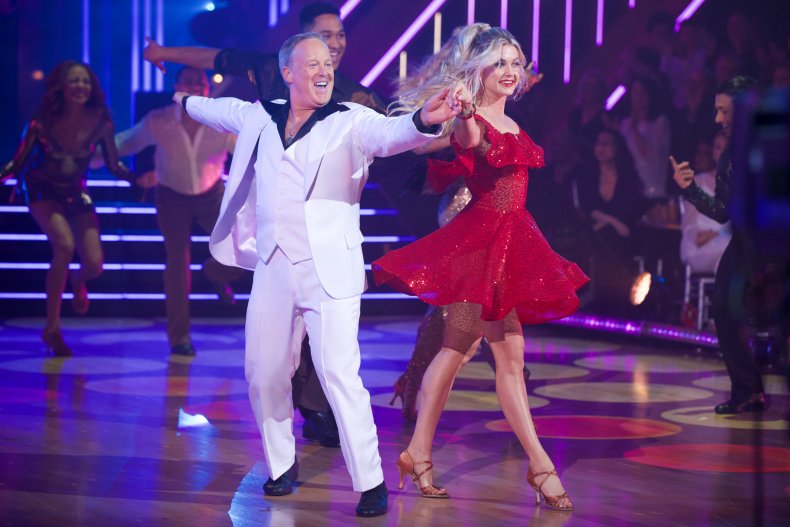 Based on scores alone, a few celebrities could have a chance of being sent home. The lowest-ranking dancers in the competition so far are Lamar Odom, Sean Spicer and Karamo Brown. Because of the voting structure, though, there's no saying which couple will go home. The bottom two could very well include two highly-ranked dancers, which the judges would need to choose from.
Spicer — love him or hate him — has spiced up this season. Most social media conversations about him have nothing to do with his dancing skills and focus on hot debates about whether the former Trump White House spokesman deserves his spot on the show — and whether he should stay or go. Spicer even launched his own campaign for votes on Dancing With The Stars, which asked his political supporters to vote for his safety. A few of other political and media names, such as Larry O'Connor and Donald Trump Jr., have encouraged their social media followers to vote for Spicer.
Because of Spicer's polarizing involvement, it seems unlikely the conversation will ever be about his dancing. This isn't the first time Dancing With The Stars has seen a lapse in the judging system. Fans were upset after Season 27 when Bobby Bones, the fan-favorite, took home the trophy. Viewers said they would have preferred to see someone with technical talent win instead.
'Dancing With The Stars' Elimination Predictions: Who Will Go Home Week 4? | Culture