'Dancing With the Stars' Eliminations: Did Monica Go Home? Find Out in Tonight's Wrap-Up
Dancing With the Stars saw several confusing costume choices during Sunday's Halloween-themed "Villains Night," but one stellar performance stood out above everything else tonight.
With the show down to the last 10 couples, the competition keeps getting tighter. Like last week, the ending saw two couples on stage with one "save" vote each, leaving judge Carrie Ann Inaba to cast the final deciding vote. The two proverbial heads on the chopping block were Monica Aldama of Netflix's Cheer and Jeannie Mai, host of The Real. Inaba saved Mai, thus sending Aldama home.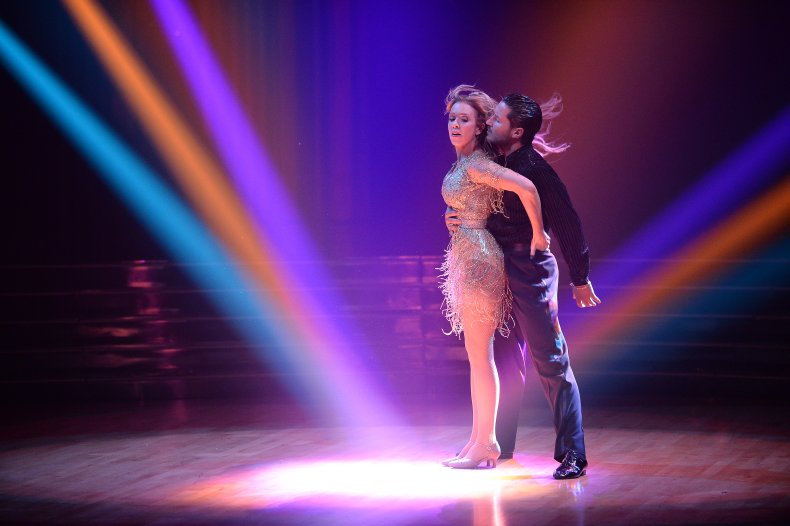 Mai and pro Brandon Armstrong performed the first dance of the night—a paso doble to "Maneater" by Nelly Furtado. She wore a costume inspired by Hannibal Lecter from The Silence of the Lambs, though it was really just a bite-proof mask, which she quickly tossed it aside. Oh, and she had red contact lenses, though Lecter as portrayed by Sir Anthony Hopkins has blue eyes. She scored two 8s and a 9 for a total score of 25.
Aldama and pro Val Chmerkovskiy did a jazz dance to "Fever" by Beyoncé, which found the cheerleading coach dressed in a costume inspired by the Netflix show Ratched. Though she started strong, her performance became stiffer as it progressed. (The choreography also acted out an unusual scenario where Nurse Ratched acted more like a sultry seductress.) She received two 7s and an 8 for a total score of 22, the lowest of the night, which ultimately proved her undoing.
Kaitlyn Bristowe, of The Bachelor and The Bachelorette fame, and pro Artem Chigvintsev also underperformed in the episode. The duo racked up a 7, 8 and a 9 from the judges for a score of 24. Her Cruella de Vil from 101 Dalmations costume looked great, though.
That couldn't be said about all costumes. Host Tyra Banks began the night in a strange black outfit and a blonde wig. Fans of the show seemed confused as to what the costume was supposed to be, with many comparing it to a destroyed umbrella. Banks also appeared confused about judge Derek Hough's costume. As Twitter users correctly surmised, he was Two-Face from Batman, the character with two literal, conflicting sides. Banks referred to him as Dr. Jekyll and Mr. Hyde. (Inaba dressed as Pennywise from It, while Bruno Tonioli was Beetlejuice.)
Less confusing was the biggest highlight of the night: TV host Nev Schulman (Catfish) and pro Jenna Johnson scored a perfect 30 for their performance of a paso doble, which they danced in a ballet-inspired routine while Schulman wore a costume inspired by the film Black Swan. It was the right combination of big heart and high technique that served as the perfect reminder of how DWTS became a phenomenon.