Dancing with the Stars Episode Three Is All Paso, Some Doble
Sean Spicer had a mediocre performance on 'Dancing With the Stars' last week,so he knew he had to step it up on Monday. The former White House spokesmen added a paso doble, a spicier move with big arm gestures for Spicer.
Spicer was still noticeably stiff Monday night, but the dance in general works.
As for the judges—known by their first names—Len called it a "paso doble from Pasadena." Bruno said that Spicer is "not Antonio Bandaras yet," but he "Grabbed the bull by the horns." Carrie Ann said Spicer had very committed arms." Leah says what she loves about him is his commitment and that he's trying his best.
Erin asked Sean what he was thinking during the dance. Spicer's answer: "Thank God it's over!"
Scores: A grand total of 21 out of 40
Last week, Ally ruled the leaderboard with the highest scores of the episode. She was excited to try out the jive—which Bruno and Carrie Ann introduced via video package—and she and Sasha had a mock-training session in the park to get her stamina up.
Dancing to "Proud Mary," Ally and Sasha had a lot of verve and sensuality going on; it was lots of fun but it didn't feel pure jive.
Bruno said he was "tingling with delight" and called it a "fever jive." Carrie Ann pointed out trying to do Tina Turner was difficult, but that she nailed it; Leah said she knows it's a difficult routine to do and Ally did 'amazing.' Len said he's proud of Ally.
Scores: 32 out of 40, and the highest score of the night. Ally to Erin: "I'm rolling on the river now!"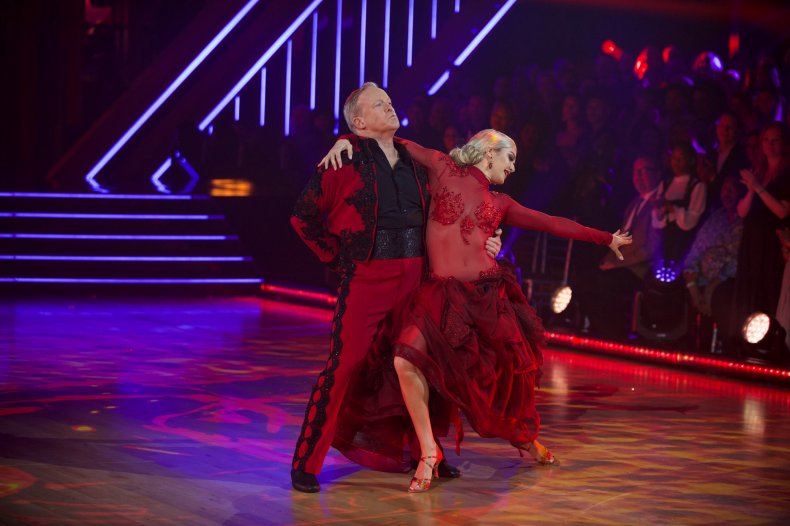 Last week, Kel Mitchell was in the bottom two, so in pursuit of fun Witney and Kel are going to cha-cha. To get him at his happiest, Kel's wife and three kids arrive to practice with him.
Witney and Kel danced to If I Can't Have You, and Kel had some slick footwork going on. It was a marked improvement from last week.
Carrie Ann was grooving before her comments began, and told Kel that this is what she's been waiting to see from him. Leah said he needed to start knowing that he's good. Len said that tonight Kel stepped out of the shadows—Leah injected that he's not a dancer when Len started to critique Kel, then grabs Len to kiss his head. Bruno says he's got the cha cha cha in his pocket.
Scores: 32 out of 40, tying Ally for highest of the night.
Kate Flannery did well last week, and was having fun kicking the tails of the 20- and 30-year-olds in the contest. Pasha told her to brace for intimacy and expressiveness, because they had the Argentine tango this week.
"I don't believe at 55, I get to dance with a hot Russian," said Kate. Their dance, to "Hands to Myself," was a bit stiff and off-balance, but they danced very well together.
Leah said Kate's energy is amazing—"these pros could be sexual with a refrigerator." ("That was one wrap party!" quipped Tom). Len again praised her ability to get into the character and noticed she struggled, to a chorus of boos. Bruno pointed out she lost her balance quite a few times, to even more boos. Carrie Ann praised her footwork.
Scores: 26 out of 40
James Van Der Beek and his wife were expecting a sixth child, and viewers were invited to witness the ultrasound. He told Emma, and Emma was delighted for him and his family—especially after his wife's previous miscarriage, which he discussed in the hope of destigmitizing. This provided an awkward and completely non-related segway to Emma and James' quickstep to Walking on Sunshine.
The dance itself was weirdly segwayed, but still charming.
Len said that sometimes his scores don't reflect his feelings, but wants more in hold, otherwise praising them. Len said that they can tell a story. Carrie Ann pointed out they're both talented, but dancing out of sync.
Scores: 28 out of 40
Hannah did very well last week, but vowed to avoid hiding behind a smile as she did in her pageant days in light of Carrie Ann's remarks, telling her to stop smiling. Bruno backed him out as he explains what a Paso is. He took Hannah to a rage room where she smashed a lot of bottles while whooing.
Dancing to "I Love It" (the radio edit that replaces 's*it' with 'stuff'), the two of them stomped the floor with some good personality.
Bruno said that the "sexy beast is out of the cage" and said Hannah was 'drop dead gorgeous;' Carrie Ann said her comments worked; Len pointed out that she attacked with an air of calmness.
Scores: 32 out of 40
Lamar's kids had arrived to give him a confidence boost to watch him dance, which is to "Kiss from a Rose," which was prettily costumed and danced.
Carrie Ann praised Lamar's vulnerability. Leah was in tears as she praised how hard it is for him to get out and dance. Len praised his gentleness, and how hard he's worked. When Bruno and Len gave Lamar low scores, she sprang up and called their decisions 'unacceptable.'
Scores: 20 out of 40.
Rumer Willis showed up to support Sailor, who danced to "Ain't No Mountain High Enough." The dance was pretty, quick and lightfooted.
The judge generally gave her high praise across the board, though Carrie Ann pointed out problems with her footing.
Scores: 31 out of 40
Lauren Aliain was thrilled to dance with Dolly Parton—a huge fan, she took Gleb on a tour of Nashville.
They paso to the tune of "Jolene," which was prettily costumed and sensual.
Len praised Lauren's heel turns, Carrie Ann her gravitas.
Scores: 32 out of 40
Rounding out the night was Karamo, who yeaned to drag his scores upward. They rode horses to get into the mood of "Old Town Road," to which they danced a paso while having good strength and drive.
Bruno said he's back on track; Carrie Ann said he's arrived but pointed out a lift - and Leah tore into her for it being a starting position versus a lift, but the two of them start joking. Leah again said that as a non-dancer, Karambo didn't get enough credit. Len liked part of the footwork but didn't know how to score the dance. Bruno defended Len, saying he's a professional dance judge who knows what he's talking about.
Scores: 28. Karambo finally beat his streak of fives.
Results: Karamo and Jenna and are in the bottom two with Lamar; and Karamo and Jenna get the judge's save.
Dancing with the Stars Episode Three Is All Paso, Some Doble | Culture