'Dancing With the Stars' Had a Miss Universe-Level Mix-Up During Last Night's Elimination
There's nothing quite as painful as watching a flub on live television when someone's future hangs in the balance. And that's precisely what Dancing With the Stars fans saw on Monday night's episode, when coach Monica Aldama was named as "safe" when in reality, she wasn't. Host Tyra Banks actually had to call Aldama back onstage to face a possible elimination.
Aldama was actually saved by the judges, meaning she will get to compete another week. (Actor Anne Heche was sent home instead.) But even with Aldama staying, the mistake—which, from this writer's perspective, rests on the shoulders of the already-controversial Banks—echoed across the Internet all night long.
Banks apologized on live TV when it happened, and she was quick to apologize again on Twitter after the show. "Wowzers. Live TV," she wrote. "Wrong name on cards. So challenging to deal with moments like these. But we power through." It's worth noting that, during the episode, Banks said that there was a mix-up in the control room.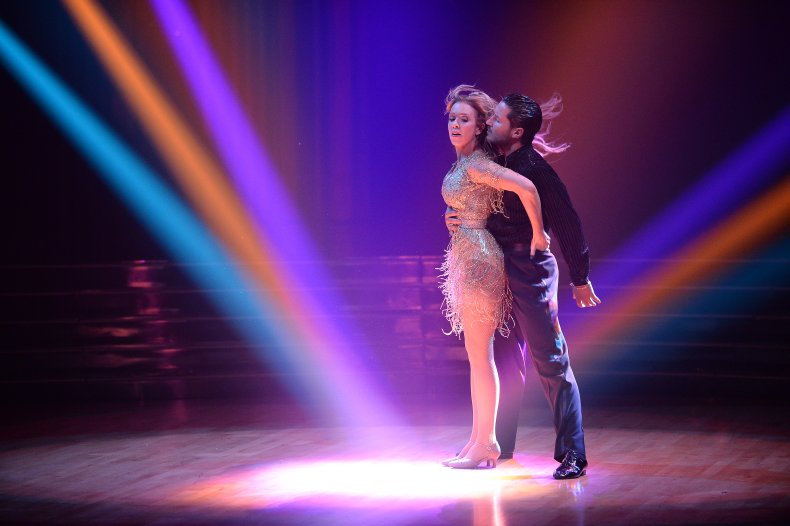 One of the best reactions to the confusion came from someone directly involved: Val Chmerkovskiy, who is Aldama's partner and would've been eliminated from the competition along with her. On Twitter, Chmerkovskiy compared the gaffe to the 2015 Miss Universe pageant, in which Steve Harvey crowned the wrong woman as the winner.
"Just got Steve Harvey'd," he tweeted after the show.
While it's certainly not a career-breaking mistake, however embarrassing it may be, some Twitter users can't seem to let it go. It seems that fans' frustration with Banks as a host has only gotten more intense with Monday night's mix-up. Twitter was immediately full of criticisms that called Banks, and Season 29 as a whole, a "dumpster fire." For the new season, Banks stepped in to replace longtime hosts Tom Bergeron and Erin Andrews.
Apparently, that elimination slip-up wasn't the only mistake of the night, either. Banks revealed on Twitter she also had a wardrobe malfunction. "OMG! When I changed outfits, I wasn't zipped up and had to hold my outfit up while introducing the next act. Live TV, y'all!" she tweeted on Monday.
In other DWTS news, Skai Jackson received the top scores of the evening on Monday, after a Week 3 performance that put her in the bottom.
Well, here's to a better week for all Dancing With the Stars key figures when the show returns next Monday at 8 p.m. on ABC.