'Dancing With the Stars' Season 29 Episode 4 Live Recap and Results 
Can't watch the fourth episode of Dancing With The Stars Season 29? We've got you covered. Keep up with our live coverage as the show airs on ABC at 8 p.m. ET.
Dancing With the Stars promises episode four as "an Exciting and Emotional Night," but can it hope to compare to last week's "Disney Night," which featured a Super Bowl-winning athlete dressed as a candlestick and Tyra Banks wearing something like that looked like an antique coin purse that accidentally fell in a drier? There were also mouse ears. But, hey, if the "dress" was red and white, the same color scheme favored by early 2000s rock band The White Stripes! (Yes, there will be more on them.)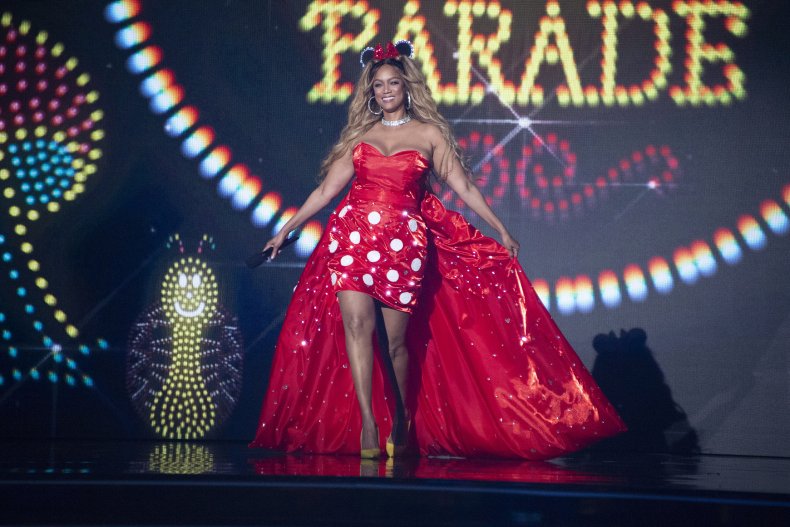 ABC is not giving much else away in advance of tonight's show. DWTS' website mentions the episode will feature "a comedic PSA cold open," which really makes one wonder. Also, Disney Channel star Skai Jackson will pay tribute to her late friend and co-star Cameron Boyce, who died tragically young of a seizure in 2019.
AJ McLean will revisit his Backstreet Boys past by dancing the cha-cha to one of his old boy band's hits, "Larger Than Life" from 1999.
But how will they top last week's show, which featured Tiger King star (villain?) Carole Baskin dancing to "Circle of Life" from The Lion King? She was voted off for her lackadaisical performance, which means the show also lost one of its biggest stories.
Anne Heche narrowly avoided elimination, as did Skai Jackson, so they will no doubt be looking for redemption...or rhythm.
The pre-announced lineup tonight follows:
Monica Aldama (Head coach of Netflix's docuseries Cheer) and pro Val Chmerkovskiy dancing the Samba to "Party in the USA" by Miley Cyrus.
Kaityln Bristowe (The Bachelor and The Bachelorette) and pro Artem Chigvintsev will be doing a Viennese Waltz to "Beautiful Crazy" by Luke Combs (Writer note: Is that a misprint?)
Super Bowl Champion and sometime-candlestick-wearer Vernon Davis and pro Peta Murgatroyd will Rumba to "Let's Stay Together" by Al Green.
Actress Anne Heche and Keo Motsepe dancing the Paso Doble to the sounds of "Rise" by Katy Perry.
Skai Jackson and pro Alan Bersten doing the Foxtrot to "Ordinary People" by John Legend.
Actress Justina Machado ("One Day at a Time") and pro Sasha Farber dancing the Salsa to "Que Viva La Vida" by Wisin.
AJ McLean and pro Cheryl Burke dancing the Cha Cha to "Larger Than Life" by Backstreet Boys.
Host of The Real and sideline correspondent on Holey Moley, Jeannie Mai and pro Brandon Armstrong dancing the Tango to "Seven Nation Army" by The White Stripes. (See? There it is! Could Jack White be a surprise guest judge???)
TV and film actor Jesse Metcalfe (who co-starred in Hard Kill with Bruce Willis) and pro Sharna Burgess dancing the Cha Cha to "Smooth" by Santana featuring Rob Thomas.
GRAMMY-winning rapper Nelly and pro Daniella Karagach dancing the Paso Doble to "All I Do is Win" by DJ Khalid.
TV host Nev Schulman (Catfish) and pro Jenna Johnson dancing the Rumba to "Because You Loved Me" by Celine Dion.
Actress Chrishell Stause (Selling Sunset) and pro Gleb Savchenko dancing the Foxtrot to "Adore You" by Harry Styles.
Olympic figure skater and on-air commentator Johnny Weir and pro Britt Stewart dancing the Jive to "Crocodile Rock" by Elton John.
Dancing With The Stars Episode 4 Live Blog
8:17 PM
The "comedic PSA cold open" is a video package of all the stars talking the judges hurt their feelings. It's called "Celebrities Who Don't Like Criticism."
AJ McLean keeps mentioning the comparison he got to Vin Diesel. He probably doesn't get that a lot.
Tyra struts out to "I'm Every Woman" by Chaka Khan, looking great. Thank god the coin-purse dress thingy is gone. Don't dress Tyra like that.
Nelly doesn't know what Paso Doble is. This man has spent years doing choreography. Doesn't seem unfair that he and Johnny Weir are in this competition? (Figure skating is basically really intricate and graceful dancing on ice skates.)
Nelly starts off the show strong. He got a 21 out of 30—his highest score yet. Why does Bruno Tonioli even have a chair?
Is all the rehearsal footage meant to trick viewers into getting snacks so they'll stick around during the commercials?
Chrishell Stause is next. She has some missteps, which Bruno quickly brought up (while standing), as did Carrie Ann Inaba. Derek Hough didn't notice the alleged footwork mistakes, instead saying it was Stause's best performance.
Stause and Banks talked a bit about freezing their eggs, which is not one would expect on Dancing With the Stars, but this is an "emotional" night, after all. Derek gave Chrishell an 8, while the other two judges scored her 7s.
8:24 PM
Back after commercial Monica Aldama and partner Val Chmerkovskiy talk about how they've had some communication issues. Monica likes coaching people. It's a tad uncomfortable to watch. But Miley Cyrus brings people together! They come out swinging, Samba-style, to "Party in the USA." The duo gets three 8s.
Another commercial break...Maybe my theory about the rehearsal footage clips was wrong.
8:35 PM
Rehearsal footage comes up strong this time. Anne Heche revealed that when she first started dating Ellen DeGeneres that she was kicked out of her own movie premiere when they arrived together.
Too bad her dancing looks so stiff. Her outfit, which makes her look like a sparkling, rainbow-colored flying squirrel, is amazing. It took Bruno nearly 20 seconds to stand up—I didn't time it—but stand, he did. Tyra has to stand the whole night! Give her your chair, Bruno!
Three 7s, 21 out of 30, for Heche. That's her highest score yet.
9:17 PM
The star of Catfish, Nev Schulman, reveals he met his wife on the internet. He and Jenna Johnson danced a Rumba to Celine Dion's "Because You Loved Me." Nev says he manscaped for Bruno—and hadn't seen his nipples for fifteen years. There's almost too much to comment on here.
I became distracted by Derek Hough's broach. Is it a lizard? Nev got three 8s and is currently tied with Monica for first place. But there's a lot more dancing to come!
Justina Machado and Sasha Farber dancing the Salsa to "Que Viva La Vida" by Wisin naturally brought the energy level up. A lot of contestants are getting their best scores yet. Count Justina among them with a 24 out of 30 for this performance.
Kaitlyn Bristowe said her and Jason Tartick dance around in their kitchen all the time to "Beautiful Crazy" by Luke Combs. Do they do a Viennese waltz together like she is with Artem Chigvintsev?
Carrie Ann said people "love love" and gives Kaitlyn a 9. Wow. She's in the lead now.
Johnny Weir said his mom is a big Elton John fan, hence why he's dancing to "Crocodile Rock." He mentioned she had dreams of dance stardom. Johnny and Britt Stewart are wearing sparkly green suits to resemble crocodiles. I guess. What is this song about? Is there any way these two won't win it all? Is it too early to make such a prediction?
They somehow only got three 8s. A Google search for the lyrics of "Crocodile Rock" added to the befuddlement.
No Jack White cameos, but Jeannie Mai and Brandon Armstrong rocked on a Tango to "Seven Nation Army" by The White Stripes. Jeannie received three 7s—she looked noticed upset about not getting an 8 like she did last week for her Up routine.
9:42 PM
Vernon Davis teared up while talking about his grandmother. Then he did a video chat with her. That was emotional. He said he chose to dance to Al Green's "Let's Stay Together," because it reminds him of family. His Rumba with Peta Murgatroyd suggested otherwise. Really good chemistry between these two elevated the somewhat stilted performance by Vernon.
Davis received one 8 and two 7s.
Tyra's dress looks worse as the night wears on. Is it growing and morphing into some bizarre anime character?
Back from commercial, Jesse Metcalfe theorized he needs to replicate the feeling he gets while cruising in vintage muscle cars when he's dancing. He and Sharna Burgess do a Cha Cha to "Smooth" by Santana featuring Rob Thomas. Nothing about it recalled cars, but Jesse did a good job—though not great. The judges said the timing was off, and Bruno added Metcalfe needed more hip movement. He got 7s, which seemed high in comparison to the judges' comments.
Back from commercial, Skai Jackson talked about the death of her friend and co-star Cameron Boyce. With Alan Bersten, she delivers a heart wrenching and elegant performance to "Ordinary People" by John Legend.
Carrie Ann cried and had to collect herself while Derek said it was his favorite performance of the night. Back to Carrie Ann, who tried to hold it together. Bruno was understated yet still standing. Carrie Ann gives her a 10, while Bruno and Derek gave her 9s. It's the first 10 of the season and well-deserved.
10:06 PM
AJ McLean ended the night with "Larger Than Life" by his own band, The Backstreet Boys. Not only does he have the advantage of dancing with Cheryl Burke, but got an assist with a virtual appearance from the other Boys. They all do a choreographed dance together. It seemed a little unfair, to be honest. Three 8s for AJ and Cheryl.
Skai rightfully retained her spot on top. Is it too late (or too early) to change my prediction of who will win it all?
Then...pandemonium broke out! Anarchy on Dancing With the Stars! Due to some huge error, apparently on Tyra's cards, the three celebrities left on stage with their partners were Anne Heche, Chrishell Stause, and Vernon Davis.
But, it turned out that Chrishell and Vernon were safe! Close-ups of their faces showed they were just as confused as anyone. Tyra quickly recovered from what was happening and had Vernon and Chrishell exit the stage to call back Monica Aldama and her partner. Anne and Monica were the true two contestants facing elimination!
Tyra rushed the judges to give their final verdict, saying a mysterious "they" were hurrying her on her earpiece. Anne Heche was quickly announced as the one who would be returning home, and just like that it was all over! Well, the show definitely delivered the "exciting" portion it promised, even if it saved it for when the credits were rolling!