Dancing With the Stars' Results: Which Couple Left the Competition Last Night?
Last night's terrifying edition of Dancing with the Stars saw another couple eliminated from the competition, whittling down the line-up to just nine pairs.
In preparation for Halloween, the show hosted a special "Spooky Night," which saw each of the couples perform to songs with dances that were inspired by classic horror films and TV shows.
Last week's round saw a surprise elimination as Spice Girls' Mel C was voted off the show, despite receiving four nines from the judges.
The quality of competition went up another notch this week, as not one dancer received a score lower than an 8 from the judges.
Who was eliminated from "Spooky Night" on DWTS?
After all 10 couples had performed on "Spooky Night," it was reality star Kenya Moore and professional partner Brandon Armstrong who were eliminated from the show.
Their Argentinian tango to "Take My Breath" by The Weeknd (inspired by the movie Arachnophobia) received a row of 8s from the judges, bringing their total score to 32. Despite this impressive showing, it was the lowest score of the round and the writing was on the wall for Kenya and Brandon from there.
They found themselves in the bottom two against Olympic gymnast Suni Lee and dance partner Sasha Farber who had performed a tango to "Bad Habits" by Ed Sheeran. The judges voted to save Suni and Sasha unanimously, meaning Kenya and Brandon were the sixth couple to be eliminated, finishing the competition in 10th place.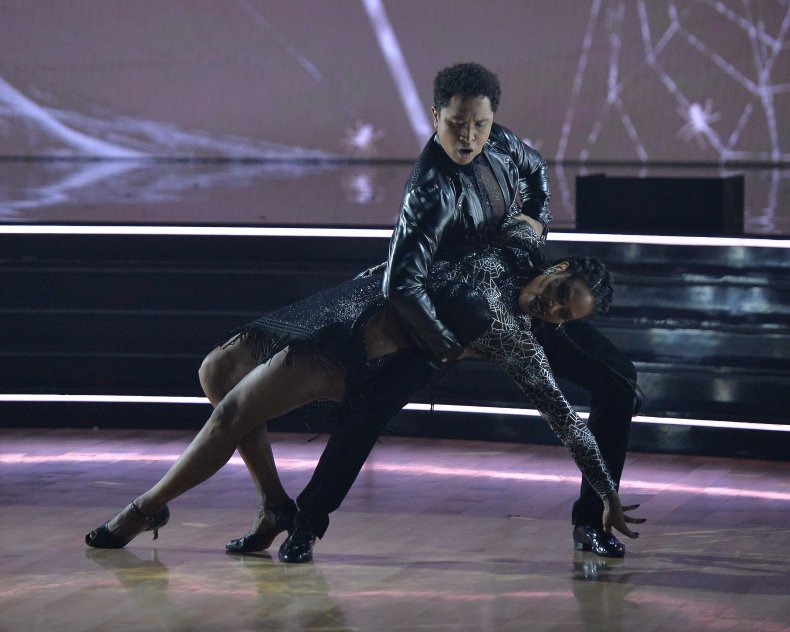 Who impressed on "Spooky Night" on DWTS?
Everyone gained impressive scores during Week 6 of Dancing with the Stars but two couples managed to get maximum marks from the judges.
After receiving the lowest score of the round last week during "Grease Night", NBA star Iman Shumpert came back with a vengeance and received a perfect score from the judges. He and partner Daniella Karagach performed a contemporary dance to the song "I Got 5 on It (Tethered Mix)" by Luniz feat. Michael Marshall, inspired by the movie Us.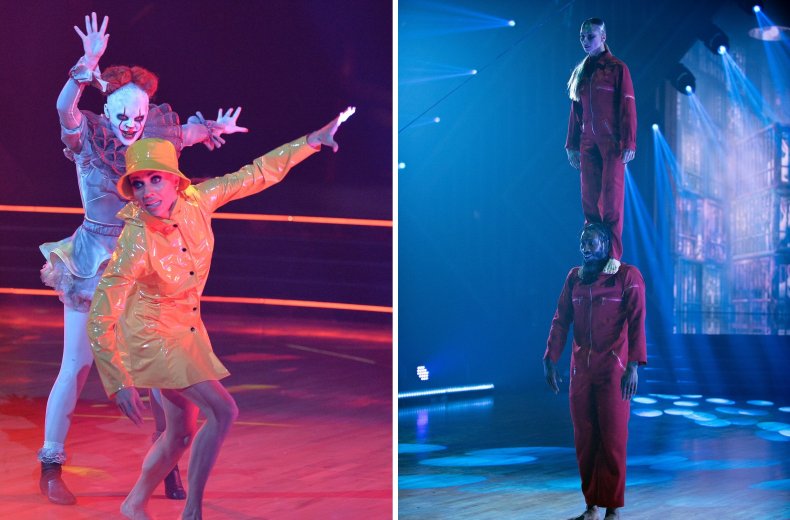 Also leading the way on "Spooky Night" was YouTube sensation Jojo Siwa and professional partner Jenna Johnson. They received all 10s for the second week in a row, this time for dancing the jazz to "Anything Goes" by District 78 feat. Patrice Covington, inspired by the movie It.
Next week on Dancing with the Stars
One couple will be crowned the champions, my friend and another will bite the dust as the remaining nine enter "Queen Night" for Week 7 of the competition.
The next episode of Dancing with the Stars will air at 8 p.m. ET on November 1, on ABC