Dancing With the Stars 2020's celebrity line up has been revealed, and as fans gear up for the 29th season of the dancing competition, the original series Strictly Come Dancing, has started to roll out its famous contestants to the public.
However, the British series has just made history by featuring the first ever same-sex pairing by announcing that contestant Nicola Adams will have a woman partner this year.
The U.S. export has yet to implement this feature and no plans for a same-sex pairing for the upcoming series has been announced.
A former Olympic boxer, Adams said she thinks the move is " really important."
"It's definitely time for change," she said on BBC Breakfast. "It's definitely time to move on and be more diverse, and this is a brilliant step in the right direction."
She added: "It will be nice for the LGBT community to be able to see there are same-sex couples on the show as well."
GLAD President and CEO Sarah Kate Ellis told Newsweek: "It's past time for same-sex couples to compete on Dancing With the Stars in the U.S. as they have in versions of the show airing in countries like Australia, Denmark, Ireland, Israel, and Italy.
"ABC has proudly been home to some of TV's most beloved same-sex couples, dating back to Ellen and on acclaimed shows like Modern Family and Grey's Anatomy, and adding same-sex inclusion to its Dancing With the Stars pairings would be an important step forward for LGBTQ representation on ABC and the full TV industry.
There are currently more LGBTQ characters and couples on TV than ever before, characters and stories that audiences and critics alike cheer, and Dancing With the Stars should prioritize creating a show where the diversity of their competition is fully inclusive and reflective of the U.S. population today."
Former Dancing With the Stars producer, Steven Price spoke about same-sex pairings to The Sun Newspaper earlier this year.
"Yes, because [in] this day and age you cannot control love... you cannot control who or whom you love, so you have got to support it," he said.
"You cannot condemn someone just because they love someone of the same-sex. That is who they love—support it. As long as they are not hurting each other."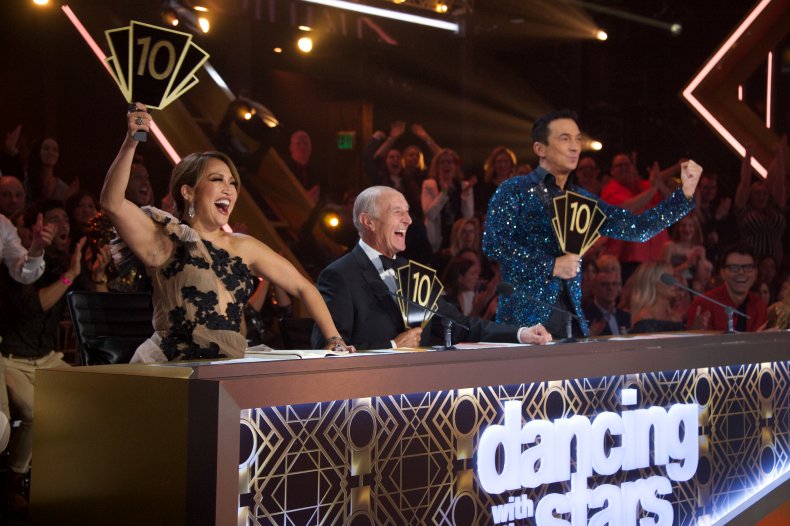 Price was a producer on the show from 2010 to 2018. When asked if featuring a same-sex couple would affecting ratings, he said: "They are changing. They are being more open to it, because they are being introduced to it... love is love.
"The chemistry, all the same. Same-sex, it just brings a different twist to it, because that [is] something that needs to be addressed and out there."
Same-sex couples have featured on versions of the show around the world
The U.K. featured a same-sex performance in last year's series, in a routine by Graziano Di Prima and Johannes Radebe which was widely lauded by the audience at the time, although the BBC received 189 complaints from viewers who found it offensive.
Although the move is a landmark in representation for the U.K. franchise, a number of other other countries have already featured same-sex pairings.
In Ireland earlier this year, TV presenter and former Big Brother contestant Brian Dowling danced with with pro dancer Kai Widdrington for a routine and RTÉ 2fm presenter Lottie Ryan danced with Emily Barker.
"Myself and Kai can now dance on the biggest entertainment show on Irish television, I think that is phenomenal. Someone always needs to be the first. It has taken a long time to get Ireland here and I'm chuffed that I can be part of that," Dowling said at the time, per Gay Times.
"This is celebrating the fact that two guys can dance together on national television. I will be emotional on the night. I'm an out gay man and I'm married, and this is really important to me."
In Australia, the 2019 series of Dancing With the Stars saw drag queen Courtney Act (real name Shane Gilberto Jenek) paired with pro dancer Joshua Keefe.
The Danish version of the show was won by a male couple—Jakob Fauerby and Silas Holst—last year.
Newsweek has reached out to ABC for comment on whether the U.S. Dancing With the Stars should follow suit.
Dancing With the Stars 2020 starts on ABC on September 14.