'Dancing With the Stars' Season 28, Episode 10 Live Recap and Results: Who Was Voted off Monday Night?
We've reached the quarter finals of this season of Dancing with the Stars!
Last week was "Boy and Girl Band Week," and *N-Sync singer, ex-DWTS performer and reality show maven Joey Fatone stepped in to guest-judge after Spice Girl Emma Bunton, originally scheduled to appear as last week's guest judge, had to bow out due to a scheduling conflict.
With only six couples left in the competition, all the couples pulled double duty, dancing to a girl group song and then a boy band song each. Jenna Johnson once more stepped in for Lindsay Arnold as Sean Spicer's partner, with Arnold still at home dealing with the death of her mother-in-law.
Ally Brooke and Sasha Farber pulled double perfect scores with their samba and jazz performances to "Wannabe" and "Step by Step," respectively. Kel Mitchell and Witney Carson's romantic waltz to "I'll Make Love to You" also pulled a perfect 40, with Hannah Brown and Alan Bersten also getting three 10s for their tango to BTS' "Boy with Luv".
At the low end of the spectrum, Sean Spicer and Johnson's argentine tango—to Destiny's Child's "Bills, Bills, Bills"—and foxtrot—to "Story of my Life" by One Direction—were both poorly received with the lowest scores of the night, a 26 and a 24.
When Lauren Alaina and Gleb Savchenko were pulled into the bottom two with them, the judges chose to save Alaina and Savchenko, sending Spicer home just short of the semi-finals.
Tonight's episode is rumored to be a double elimination, with five couples left and nominally three to four slots in the finale every year. Each couple will dance a "redemption" dance, a second try at trying to improve on their worst-scored performance, and learn a brand-new dance that they've never tried before. Here are the five couples left, and the dances they will be performing:
Lauren Alaina and Gleb Savchenko: paso doble and Viennese waltz
Ally Brooke and Sasha Farber: Viennese waltz and Charleston
Hannah Brown and Alan Bersten: rumba and contemporary
Kel Mitchell and Witney Carson: tango and contemporary
James Van Der Beek and Emma Slater: cha-cha and foxtrot
How many couples will be eliminated? Who will be left standing by the time the program concludes? Will Carrie Ann Inaba be able to stay in her chair? Will there be a double-elimination, or will four lucky couples make it to the finals next week? You'll have to tune in to find out!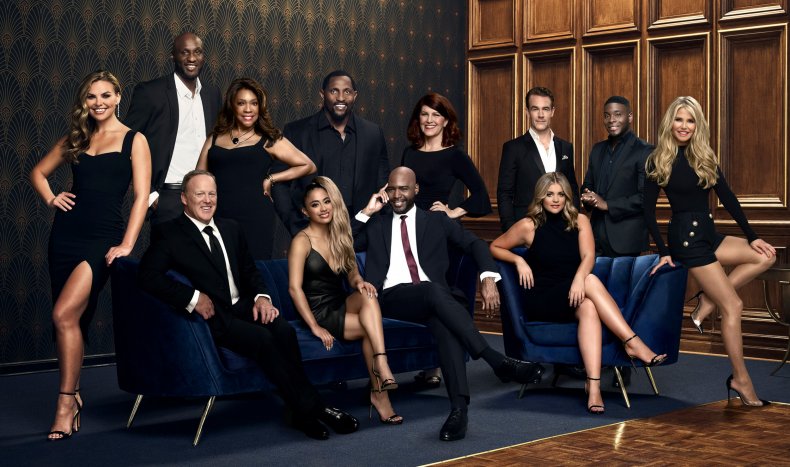 8:12 p.m.: Tonight's show seems to be somewhat disco-themed (and Kel Mitchell is wearing an amazing pair of rose-printed pants that match Witney Carson's dress). After bantering with Goodman, Tom Bergeron explained that we were close to the finale.
Lauren Alaina was up first, and she described last week as "emotional" after receiving a judge's save, calling being in the bottom two a "bummer." Len Goodman arrived to watch them practice. They would be dancing a paso doble to Kelly Clarkson's "Stronger," and Goodman encouraged them to do stronger, more traditionally paso-flavored choreography. The dance was strong and aggressive, as a paso should be.
Goodman was beaming at the end of their performance, saying it was a "lovely mix of expression and aggression." They gave him the shaping he liked, but said he wanted more moves. Gleb gave him a snappy step. "Well done Gleb, wow! You snapped your feet," snarked Goodman.
"The girl with a dilemma—so many men, so little time! But she can handle it!" said Tonioli, who said that they handled the dance "beautifully," but noticed only one mess up while they were in hold.
Inaba said that she's grown to command the dance floor, but noticed her hold and poster were a little tight.
Scores: 27 out of 30
8:21 p.m.: Erin Andrew gave a shout-out to Carrie Ann Inaba for owning her look—"All of it!"
Last week, Kel Mitchell had a perfect score, and Mitchell called the feeling that gave him "awesome." Bruno Tonioli arrived to coach them and said that they'd be tangoing to "Get Ready" by the Temptations.
"You can't look like a kangaroo, you have to look like a panther," said Tonioli, who stripped off his jacket to demonstrate with Carson the hold for Mitchell.
Mitchell lost the character of the dance a few times, but it was overall good footwork-wise.
Tonioli said he was proud, calling Mitchell the perfect student, and declaring his pride in Carson, calling it a "pure, real, proper tango," only noting Mitchell stepped on the wrong foot once.
Inaba said that Mitchell has come the furthest, and called the dance "fantastic."
"I thought it had an intensity about it, which I liked," said Goodman, but noted some of the heel leads were missing.
Scores: 27 out of 30
8:32 p.m: Andrews and Bergeron jokingly commit a security check in the balcony before throwing to Ally Brooke's taped package.
"I wasn't in the bottom two this week, thank god!" said Brooke, who was super excited with her perfect 30 last week.
Len Goodman came to help Brooke and Farber choreograph a Viennese waltz to the tune of Ed Sheeran's "Perfect," and Goodman put them through their paces, telling them to give it a lot of action. It was lovely and flowed beautifully.
Goodman said that it had a lovely gentleness to it, with improved technique, and said there were a couple of places where they were weaker in hold and gesture. "You went from a caterpillar to a butterfly."
"You were twirling, you were swirling with such wonderful flow," said Tonioli, who said that the dance was a "joy to watch."
"Your phrasing in this dance was beyond to watch," said Inaba.
Brooke cried after getting judges' comments and said that the whole experience of being Farber's partner was "life changing" and "wonderful".
Scores: 29 out of 30.
Afterward, Brooke and Farber kissed and hugged Bergeron.
8:45 p.m.: Hannah Brown and Alan Bersten ended up with Carrie Ann Inaba as their judge. Brown noted that Inaba has been hard on her during the competition, and Inaba selected the rumba for Brown to dance.
During the process of the choreography, Inana pointed out that Brown was doubting herself, and that wasn't embracing the sensuality of the dance.
Brown broke down, and Inaba went to comfort her, only to be rebuffed. "I'm not an adversary, okay?" said Inaba, and Brown admitted that she felt that the critiques felt like personal attacks. Inaba apologized for making the attacks feel personal on Brown—and then cried too. The dance itself was lovely.
Brown apologized to Inaba for taking her hard day out on her, and said she "didn't handle her emotions well." Brown and Inaba hugged it out, and so did Tonioli and Bersten.
"We're here to help you, I know sometimes it feels like you're in the line of fire, but that's only to make you better," said Inaba, who praised her for taking criticism and improving.
"In the rumba, the hips are the rhythm and the arms are the melody, and I thought you married them beautifully," said Goodman.
Tonioli praised the hips and body movement of the dance—and was cut off by Bergeron, who told him they were running late.
Scores: 27 out of 30
8:56 p.m.: James Van Der Beek was hoping they'd get Len Goodman—and when they do he's excited, because he wanted to learn from his expertise.
"When I saw you in week two," said Goodman, "I didn't think you were going to last." Thus, Van Der Beek would be dancing the cha-cha to "Canned Heat" by Jamiroquai.
The choreography was very bouncy, bright and, indeed, disco-ish.
But the judges hated it. Goodman critiqued Emma Slater's choreography for not having enough cha-cha.
Tonioli said that Van Der Beek tended to be off the beat.
Inaba complimented them for bringing the audience to its feet, but said Van Der Beek's posture was "broken."
Bergeron said that Van Der Beek was having a tough week, which would be elaborated on by a segment with Erin Andrews later.
Scores: 24 out of 30 to the audience's muted booing.
9:07 p.m.: Lauren Alaina's Viennese waltz was set to be danced to "Humble and Kind" by Tim McGraw—one of her favorite songs, and it summed up all of the things her mother used to tell her about life. She wanted to make the finale because it would be "the perfect thank you to her parents for always believing in me."
"It was elegant, it was graceful," said Goodman, who also said Alaina "looked terrific."
"Gleb looks like he lost a fight in a paint store," said Bergeron, pointing out Savchenko's tie dye patterned tux.
"What I liked was the chemistry between you two—the chemistry was absolutely sizzling," said Tonioli.
"It's like watching my little girl grow up," said Inaba of Alaina.
"My family clogs and I couldn't do it growing up," said Alaina of her childhood, who said her whole experience was amazing. "The fact that I've only fallen once is a miracle from God."
Scores: 27 out of 30
9:18 p.m.: Kel Mitchell was going to dance to "I Will Always Love You" by Whitney Houston, which made him emotional—it related into a play he used to do as part of a youth group. He spoke about violence having touched his personal life, and gang violence claiming the life of a friend. He dedicate the dance to that lost friend, Sam.
The dance was impressive and touching—and got the tears flowing from Mitchell's family. He was weeping openly, as was his partner Carson.
"Whatever happens, you're a winner in my eyes," said Tonioli.
"28 seasons I've been sitting at this desk, and I've seen every type of dance," said Inaba, who said that the kind of dance that Mitchell shared showed his truth.
Goodman stood and led a standing ovation as his only comment, fighting back tears and giving them a thumbs up.
"I was thinking about Sam—we just had a high school shooting in California. Do not choose the gun, do not take a life—choose life," he said.
Scores: 30 out of 30
9:28 p.m.: Ally Brooke said that she wanted to win so badly but felt like it might be her last dance. Training to Charleston, she and Farber were in it to win it.
Farber and Brooke danced a Mask-inspired Charleston, complete with bright yellow suits and wild choreography.
"That was so good! Can you do it again?" asked Bergeron of Farber when it was over.
"If your goal was to get into the finals, consider it done, done, done!" said Inaba, who called the routine a "show stopper."
"it was fast, it was fun, it was fabulous—a joy to watch," said Goodman.
"Sparkling! Exuberant! Barn-storming fun!" said Tonioli. He pointed out the swing and lindy hop bits that Farber added to the number.
Scores: 30 out of 30
9:41 p.m.: James Van Der Beek announced that his wife had suffered a miscarriage on Saturday. He admitted he didn't want to dance.
"You never know why these things happen—this is what I keep telling my kids... Kimberly from her hospital bed said 'I am not done watching you dance.'" He dedicated the dance to his wife.
He and Emma Slater danced the foxtrot to "Take Me to Church" by Hozier. Both Van Der Beek and Slater collapsed into tears at the end of the dance—and his daughter was in the audience in tears.
"When tragedy strikes, it puts everything in perspective," said Goodman, who praised the dance.
"My darling, you put so much heart into that dance—it was almost impossible to watch," said Tonioli.
"I don't know how you got through that just now," said Inaba. "I feel silly talking about your posture. In the midst of all of the tragedy you've been going through, you pulled up and gave me good posture!"
Van Der Beek's daughter was still in tears, so he brought her back with him to get his scores.
A crying Erin Andrews asked Van Der Beek if he wanted to say anything to his wife. "I don't know how you do it—five kids—you're amazing," Van Der Beek said.
Scores: 27 out of 30
9:51 p.m.: Hannah Brown is going to be dancing to "Lose You to Love Me" by Selena Gomez, which made her reflect on her Bachelorette experience. "I thought he was honest and he wasn't," she said.
"I want this to be the most meaningful dance we've done so far," said Bersten. "And you put your heart on the line, with trust."
Brown said that she wanted to love again, some day.
"Excuse me, madame, for a first timer at contemporary dance, you did pretty well," said Tonioli.
"The trust on those two lifts," was complimented by Inaba.
"Normally I'm not a big fan of contemporary—I'm a cup of tea in a world of lattes," said Goodman, but he praised the dance as a "true couple's dance."
Scores: 27 out of 30
Emma Slater stepped up to protest the nines. "That was amazing!"
9:59 p.m.: Bottom two: Ally Brooke and Sasha Farber and James Van Der Beek and Emma Slater.
Carrie picks Ally and Sasha to save, apologizing to Van Der Beek all the way. Tonioli picks Ally and Sasha too.
A guilty Brooke immediately offered her spot to Van Der Beek, and Bergeron said that was sweet of her.
Eliminated: James Van Der Beek
'Dancing With the Stars' Season 28, Episode 10 Live Recap and Results: Who Was Voted off Monday Night? | Culture