'Dancing With the Stars' Season 28, Episode 11 Live Recap and Results: Who Won the Season Finale?
And it's all led up to this. After last week's blood letter of a semi-final, we have our final four dancers, which means four freestyles, four make-up dances and a bunch of reunion waltzing.
Last week's finale was almost painfully emotional. Between James Van Der Beek's elimination, which came on the heels of the announcement that his wife had miscarried, which made Ally Brooke tearfully offer to give her spot in the finale up to him and Kel Mitchell's contemporary tribute to friends he'd lost to gang violence, tears flowed like water and scores stayed high.
Mitchell and Carson's contemporary dance to "I Will Always Love You" even made the nominally cranky Len Goodman tear up, reacting with a silent thumbs up before delivering the couple a perfect score.
Get your unlimited Newsweek trial >
Other highlights included Lauren Alaina and Gleb Savchenko's paso doble to "Stronger" by Kelly Clarkson and Brooke and Farber's Viennese waltz to Ed Sheeran's "Perfect."
Brooke and Farber, meanwhile, also pulled high marks for their much more cheerful swing dance, which had great pep.
But Brooke and Farber and Van Der Beek and Slater met in the bottom two, providing a decision that upset all three judges and made Carrie Ann Inaba vomit after delivering it, according to her Tuesday appearance on The Talk. In the end, Brooke and Farber have moved on to the finals.
Who will win the mirrorball trophy? Who will come in last? What kind of contemporary dances will we get to see—and who will be left standing by the end of the night? Newsweek's live blog will have all the answers.
Get your unlimited Newsweek trial >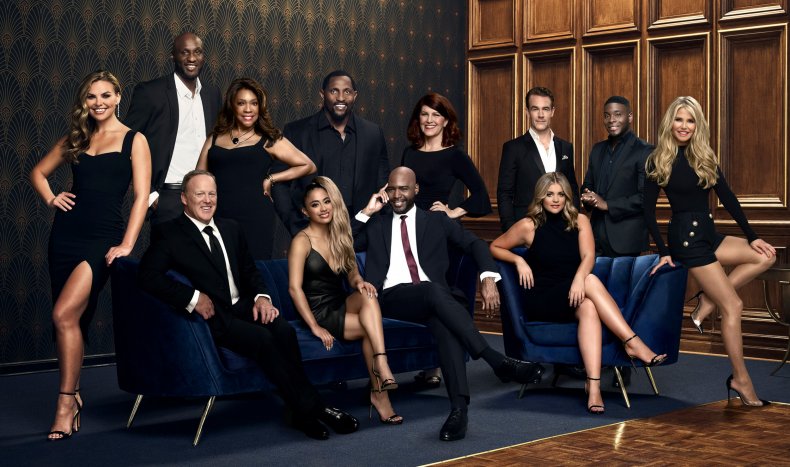 8:11 p.m.: After an opening dance to "Last Dance," as made popular by Donna Summer, the finalists prepared to do their last numbers.
Ally Brooke and Sasha Farber open the night, and as Ally Brooke remembered the successes of the season, she and Farber celebrated their victory thus far. She brought up the fact that the judges had saved her multiple times throughout the weeks.
Farber said that they should make their celebratory dance the jive—which they danced to "Proud Mary," a la Tina Turner, complete with Tina-style kicks, flicks and head bobs.
"You've done your chances no harm at all with that jive," said Len Goodman.
Bergeron wished Bruno Tonioli happy birthday, for which he thanked everyone—it was the birthday of their director as well, who promptly razzed Bergeron for being off his mark.
"That's how you start a show—on top, dear!" said Tonioli. "You succeeded on every level."
"There's been a lot of controversy, and this is why you're here tonight—you started out as a firecracker and now you're dancing like it," said Carrie Ann Inaba.
Scores: 30 out of 30
8:22 p.m.: Lauren Alaina was shocked to make it to the finale, and was in tears talking about being shocked to have made it this far, as clumsy as she was.
Alaina and Savchenko were dancing the foxtrot to "Jolene" by Dolly Parton. It was romantic and elegant, but a little messy.
"We could all tell how much you loved the song, you were singing along to it," said Tonioli. "I do it all the time!" he admitted.
"Your lines and balance have improved," Tonioli continued.
Carrie Ann Inaba asked Alaina if she was okay, because she was less emotionally open than she usually was, and told her that she was holding back. Gleb was glaring at her the whole while.
"This had a mix of flair and care," said Len, whose comments were cut right off as a flower swag fell off of the judge's desk and onto Bergeron, who later joked he couldn't move his hips.
Scores: 27 out of 30
8:33 p.m.: Alaina, Savchenko and Bergeron then played with the flower ruff as they finished the wrap-up.
"One time in 28 seasons I break something!" joked Bergeron as they returned from the break.
Kel was happy about his progress and happy about how he and Witney Carson have progressed over the weeks.
Mitchell and Carson repeated their High School Musical-inspired jazz routine to "We're All in This Together"—Mitchell's breakthrough, as Carson correctly noted.
Carrie Ann Inaba said that it "showcased everything good" about Mitchell.
"You were right out at front the whole time, I thought it was terrific," said Goodman.
Tonioli called it "life-affirming."
Scores: 30 out of 30
8:45 p.m.: After a pause to promote The Bachelor, Hannah Brown and Alan Bersten prepared to perform their Viennese waltz to Taylor Swift's "Mine," which Swift famously approved of on Twitter.
"Little bit suspect with the footwork, but what lovely, sweeping flow," said Goodman.
"Lovely, engaging, radiant—something happened," pointed out Tonioli, "You were lost in the dance, but it was beautiful."
"For me, that was your best dance of the season," said Inaba, who thanked Brown.
Scores: 28 out of 30
8:58 p.m.: After a season recap set to Starship's "Nothing's Gonna Stop Us Now," the entire season 28 cast reunited to dance to Ne-Yo and Pitbull's new song "It Takes Three to Tango." It was fun and quick and showcased the best parts of many of the artist in question's best work.
Ally Brooke said that she will take everything that Sasha Farber "into the next chapter of her life." She said he's got a friend for life.
Brooke's freestyle was set to "Conga" by the Miami Sound Machine, and was extremely high-energy.
"Unleash the star power!" shouted Tonioli. "And you, playing the drums on her bum, I have never seen that," he added. "It was samba, it was salsa, it was a package, it was fantastic, it was a showstopper."
"I can't close my mouth!" said Inaba. "For such a little girl, you're an explosive performer."
"Nice bit of salsa going on down there—the music was recreated in every movement you made, and that, my dear, was well done," said Goodman.
Scores: 30 out of 30
9:22 p.m.: And then we got a blooper reel.
Lionel Richie passed out a golden ticket to an American Idol auditionee. Layla got it, and American Idol will be back in time for February sweeps.
Savchenko and Alaina talked about their building friendship and how important winning was to Alaina.
Savchenko's freestyle was western-based and set to "Country Girl (Shake It For Me)" as made famous by Luke Bryan, which was filled with glitter, lifts, line dancing and a high note from Alaina.
"You had a great time, you were loose, you were relaxed," pointed out Inaba. "That was a great end to this beautiful night."
"You paid homage to your roots, it was full of entertainment, I didn't know what was going to happen," said Goodman.
"It's like happy hour! Come on, let's get a double!" said Tonioli.
Scores: 30 out of 30
9:36 p.m.: Alaina burst into happy tears for her first 10s.
The show's pro dancers danced to "How Will I Know" by Whitney Houston. A special announcement was made that the show's finalists will be touring with the cast this time, and it will be the show's longest tour to date.
Hannah Brown thanked Alan Bersten for being in her life and allowing her to trust again after the horrors of her Bachelor/Bachelorette experience. She said that it's going to be weird not to see him every day.
Brown's freestyle was set to "Girl on Fire" by Alicia Keys, which turned into a mashup with Gwen Stefani's "Hollaback Girl." She did very well!
"It's so important, that caught me so unaware—I'm so used to you doing lyrical movements... you came out sharp, crisp. You really threw me and it was great," said Goodman.
"From the dramatic, to the acrobatic, to the sexy, you did it all!" said Tonioli, who pointed out one perfectly synced bit of Argentine tango that was used.
"Hannah Brown, you are living your best life!" said Inaba, who called the freestyle "victorious."
"I really haven't started drinking, I promise!" said Bergeron, who nearly sent them offstage to get their scores.
Scores: 30 out of 30
9:54 p.m.: Mitchell and Carson decided to pull out all the stops. "Let's body!" agreed Mitchell to Carson's suggestion that they go all out.
"You're fearless, you've stayed true to yourself the entire time, you're a beautiful person," said Carson of Mitchell.
Their freestyle was set to Kriss Kross' "Jump," complete with a hydraulic assisted car—then the music suddenly sped up and they did a lot of quick, fast, fancy movements.
"What a ride!" said Tonioli. "The temp, the choreography, the atmosphere you created really worked—exhilarating!"
"My inner Fly Girl is so happy!" said Inaba. "You brought Chicago back to the ballroom!"
"I'm not gonna be the party pooper here!" said Goodman, who was instantly booed. "This, for me, was similar to the first dance you did." Someone then jumped down from the audience to tell Len off just a bit.
"That was the best freestyle I've ever seen in the history of the show," demurred Andrews.
Scores: 29 out of 30
Cher then performed "The Beat Goes On" with a backing track partially provided by the late Sonny Bono.
10:01 p.m.: After some emotional messages from friends and family (including Kenan Thompson for Mitchell and Reba McEntire for Lauren Alaina.
Fourth Place: Lauren Alaina and Gleb Savchenko
Third Place: Ally Brooke and Sasha Farber
Second Place: Kel Mitchell and Whitney Carson
Winners: Hannah Brown and Alan Bersten
The audience seemed somewhat deflated by Brown's win and disappointed by Brooke's third place showing. Brown's comments were cut off by the show's quick segue to The Good Doctor.
'Dancing With the Stars' Season 28, Episode 11 Live Recap and Results: Who Won the Season Finale? | Culture