'Dancing With the Stars' Season 28 Live Recap & Results: Who Was Voted off Monday Night?
Last week, we had our frightful first group dance, with two teams of celeb hopefuls and a whole slew of professional dancers hoofing their spooky hearts out to Rockwell's "Somebody's Watching Me" and Beyonce's "Sweet Dreams".
Standouts included James Van Der Beek's romantic waltz to "I Put a Spell on You", Ally Brookes' Harley Quinn-inspired dance to "Sweet But a Psycho," and Kel Mitchell and Witney Carson's wild jive to "The Time Warp." Meanwhile, Sean Spicer fell back a step with his dance to the "Monster Mash," which received his lowest scores yet.
In a shock elimination last week, it was fan-favorite Karamo Brown who was removed from the competition, with Kate Flannery joining him in the bottom two. Who will join him this week, as dancers prepare to face off in their first one-on-one dance off?
8:10 p.m.: Sean Spicer was dancing first. Last week he took a step backwards score-wise and he felt somewhat discouraged. Told they will be dancing jazz to "Come Sail Away" by Styx, he waxed about his memories growing up in Rhode Island on the ocean and sailing. Spicer was at one point, Arnold said, a sailor.
In the middle of rehearsals, Sean discovered that Lindsay Arnold's mother-in-law passed away, and he ended up finishing dancing with Jenna Johnson, Karamo Brown's former partner.
The sailor-themed jazz number was...a bit clunky. But there was a kickline!
"Well...we keep throwing you out of the boat, and the viewers keep throwing you a life preserver," said judge Len Goodman, though he said he respected his effort. "The mermaid had better feet than you, actually," which garnered Goodman some boos.
Bruno Tonioli said that "I think Dory in Finding Nemo has a better sense of direction. I praise your religion." Goodman spoke up, and Tonioni realized he misspoke, meaning "Resilience."
"Sometimes it looks like you're doing the same dance over and over again," said Carrie Ann Inaba, who praised him for showing "another shade" of himself.
Scores: 20 out of 30
8:22 p.m.: It turned out that Lauren Alaina was working with a broken rib on the right side of her body. Gleb Savchenko helps her rework the choreography, since some of the lifts he'd put in were too painful. They planned a "sassy" number in tribute to Alaina's mother, to a song by Alaina's mother's favorite artist, Elvis Presley: "Hound Dog."
The jive was definitely high energy, and Alaina did succeed in carrying off a new level of spirit, but she made three clear footwork mistakes.
"You went wrong, my darling—there were three mistakes," said Tonioni, who was booed. "I can't undo the mistakes!" he shouted back to the audience.
"You did forget—something went wrong there," Inaba said, but added that Alaina "had a lot going for her."
"I hope tonight isn't going to be Heartbreak Hotel," said Goodman. "Because you deserve to stay in the competition."
Scores: 24 out of 30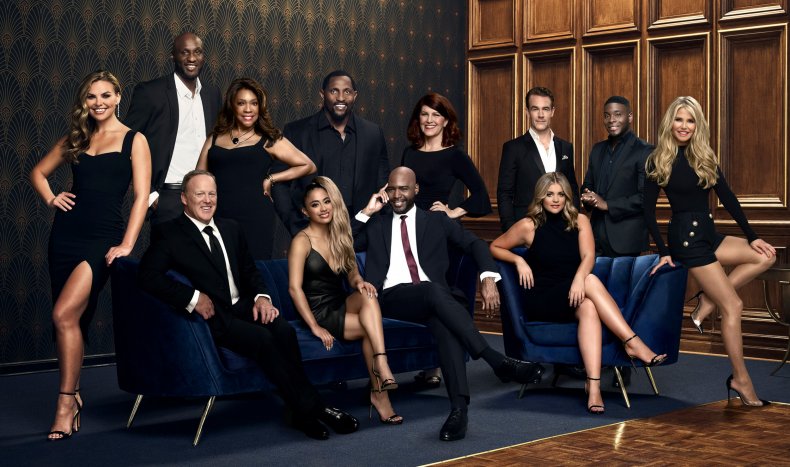 8:33 p.m.: Kel Mitchell knocked the judge's socks off last week, and now he's ready to keep the momentum going. They were going to dance the salsa to "This Is How We Do it" by Montell Jordan, whom Witney Carson didn't recognize by name and whose name Witney couldn't pronounce.
Kel Mitchell talked about being on All That. "We were the Beibers of the 90s!" he said. He took Witney to the set of the rebooted All That, and said he was excited to be bringing the show back to the screen—he's producing the show for Nickelodeon.
The dance was filled with attitude, lifts and slides. The audience ate it up, and gave them a standing ovation.
"I don't have a paddle," said Tom Bergeron, "but that was your best dance."
"You took me way back!" said Carrie Ann Inaba, who pointed out that Kel lead during that dance and was impressed.
"Well, Kel, you old sausage, you're on a roll!" said Len Goodman, who praised Kel's hip action. "You were large and in charge!" he added.
"That was a star turn," said Tonioni.
Scores: 28 out of 30, with Tonioni delivering the first 10 of the season!
8:47 p.m.: Ally Brooke found out she would be dancing the paso doble to her own song, "Higher", which she said "perfectly" described where she was in her life at that moment. She talked about the producers she met, and how she went about following her dreams.
She and Sasha Faber went to The Sound Academy, a school for underprivileged youth run by the two men who discovered her, and Ally spoke to the students there.
The costuming and attitude of the dance were perfect, and the audience was pumped.
"Is it just me," Bergeron asked, "or has the energy in the room changed over these last two dances?"
"It was a mix of good technique and high performance," said Goodman. "And that's irresistible."
"Excuse me, Miss Silver Lightning!" said Tonioni. "She was conducting the orchestra! Beauty, power, artistry!"
"Right now, you just proved to me and everyone in this room that you're a freakin' superstar!" said Inaba. "My mind is blown, you betta work!"
Erin Andrews pointed out Faber's choreography, which she said the judges didn't mention. "the jumps, yes please, so Dirty Dancing!"
Scores: First 30 out of 30 of the season!
8:55 p.m. :Last week, Hannah Brown had some disappointing scores—she admitted she felt disconnected from herself and from her core. Alan Bersten vowed to unlock more of her layers, which meant that they were going to her home in Alabama.
Her family rallied around her, and she held a party for them. She showed Bersten her room and talked about her teen years.
Brown and Bersten danced the quick step to "American Girl" by Tom Petty, which was quick and zesty.
Tonioni pointed out that Brown used the floor to give her lift and spring.
Inaba went in for a hug and told her she was open-hearted. She called it the "comeback of the season."
Goodman said he "watched her feet a lot and they were on point," but there was a little bit of gapping.
Scores: 29 out of 30
9:20 p.m.: Kate Flannery and Pasha Pashkov were almost sent home last week. "I'm being judged within an inch of my life by people and I'm dressed like a clown—just one more day in the life of Kate Flannery."
Flannery's sister, Nancy's, favorite song was "Heatwave" by Linda Ronstadt, and Kate got the news she was going to be on the show on the way home from Nancy's funeral. "No one was ever allowed to touch her stereo," Kate remembered. Pashkov was lovely and supportive.
Flannery and Pashkov danced the jive in matching plaid pajamas and in a plaid room. The dance was fun and charming.
"I wasn't watching your feet," Bergeron said, "I was watching your faces."
"Dance is a celebration, and I'm sure your sister Nancy is watching and smiling." Inaba said. She also praised the dance but said they were a little out of hold.
"You two are an absolute joy for me to watch," said Goodman.
"What is this, The Shining? The Dream is coming out of the wall," said Tonioni, who characterized the dance as 'charming'.
Scores: 24 out of 30
9:28 p.m.: James Van Der Beek had the highest cumulative scores, and thus had won immunity from the dance-off and won two extra points to boot.
He and Emma Slater had contemporary. They're going to be dancing to Journey's "Don't Stop Believin'," and he said that life as a child actor was tough. He was ridiculed mercilessly as a child actor and he said his kids were there. His parents came to watch him dance, and they were delighted by him.
The dance is set to a slow, emotional version of the song, and moved Van Der Beek's daughter, partner, wife and mother to tears. He ran over to hug them all before getting judge's comments.
"It was like a good book...there's something for everyone," said Goodman.
"The musicality, the expression, flawless," said Tonioni.
"We have never, ever seen a lift executed with such beauty," said Inaba. "I could feel the breeze that you were both riding.
Scores: 30 out of 30, another perfect score!
9:34 p.m.: Dance-off time: engaged! Ally Brooke and Kel Mitchell will be dancing with one another, with the style being jive and the song being "Don't Stop Me Now" by Queen.
The judges both spoke about how good the two were at jive and said that Kel in particular had to live up to his previous jive. While the choreography for Ally was very light and airy, there were a lot of kicks and flicks from Kel.
Goodman said he thought it was fantastic and that it was "a jive to survive."
"You're going to drive me crazy!" said Tonioni, who thought they were going to dance together.
Inaba, too, said they were both on fire. "You certainly don't make our job easy." she lamented having to make a choice.
"We give you choices to make and dangerous chairs to sit in," confirmed Bergeron.
Scores: Kel wins with two out of three judge votes.
9:41 p.m.: Sean Spicer and Kate Flannery were paired together, and Kate said that it was a bummer because they'd just done the group dance-off together. "And now I'm going to crush you!" said Spicer.
The dance was the cha-cha to "Gonna Make You Sweat" by C+C Music Factory. Spicer began the dance by employing the cabbage patch.
Tonioni said that "one of them has improved and one of them grabbed my attention—and I don't know if it was for the right reason."
"Two dances in one night is no joke." Inaba was favorable to Flannery.
"You both came out and you both really danced proper," said Len Goodman. "It was a really fun thing to watch."
"I love it when the audience is so excited I can barely hear Erin at all," said Bergeron.
Scores: Kate across the board
9:53 p.m.: Coming back from commercial break, Goodman said that they were "all exhausted... Usually by now someone is bleeding, but not so the case tonight." There was further live banter before Alaina and Brown were paired off.
Alaina said that "Hannah was a great dancer," and Brown returned the compliment.
They were assigned a salsa to "The Rhythm is Gonna Get You" by Miami Sound Machine, and Tonioni said they should be "snakey, not shaky."
Definitely shaky was Alaina, who used a lot of hip and booty action, and a twin shirt strip-off by the male dancers.
"Put your shirt on," demanded Goodman of Savchenko. "I don't mind, honey!" shouted Tonioni.
"It was illegally hot, I have steam coming out of my ears!" said Tonioni as the crowd went wild.
"Before they went up there, they said 'Gleb's not mic'd", remarked Andrews.
Scores: Hannah across the board
And it's results time!
Bottom Two: Flannery and Pashkov and Brooke and Farber.
"It's confusing to me as to why these are the bottom two. I'm confused and a little irritated," said Inaba. She voted to save Ally and Sasha, as did Tonioni. Goodman admitted he would have saved her too.
Eliminated: Kate Flannery