'Dancing With the Stars' Season 28 Live Recap & Results: Who Was Voted off Monday Night?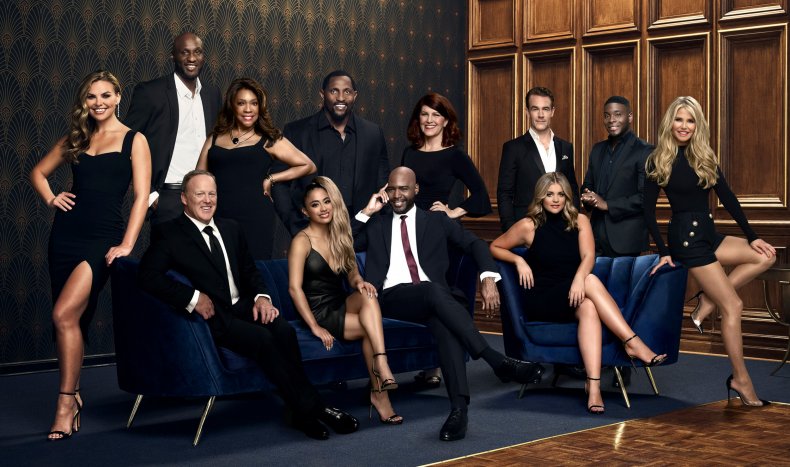 With only three eliminations in six weeks of competition (and one of those eliminations came at the hands of an unfortunate old injury acting up for Ray Lewis), tonight's dances should shore up the total number of competitors left nicely.
There's no previously-announced uniting theme for tonight's episode, an unusual gesture for the show, which means we might be seeing anything from a dance marathon to a simple night of swing dances to a simple series of ballroom dances leading to a single elimination.
After last week's episode—which featured Carrie Ann Inaba falling out of her chair, Disney characters coming out of the woodwork, and Sean Spicer crawling toward the top of the leader board—anything's possible.
8:12 p.m: Tonight's episode is generally supposed to celebrate the halfway point of the season, and looks-wise seemed to be disco-themed, judging from the costuming of the contestants. But the music was eclectic.
Last week—as she did the three previous weeks—Ally Brooke topped the leaderboard. This week, Brooke and Sasha Farber danced first. Farber had balloons for her at rehearsal, which she seemed to have a phobia for. Farber brought in her mom, and Brooke announced that they were going to quickstep to "Take on Me" by A-Ha.
The set was inventive—with Farber beginning in an all-orange room and Brooke in an all seafoam green one. The dance was as high quality as we've come to expect from Farber and Brooke.
Goodman—brandishing the "Len Goodman book of quickstep" - said "first out, first class." Tonioli called her "tweety pie" and said it was "So bright he needed to wear sunglasses" but pointed out that the speed of the dance was so quick that they blew the synchronicity of their footwork. Inaba praised the concept of the dance and said the duel rooms contributed to them being out of sync—a notion that Len Goodman pooh-poohs—the audience boos. Carrie Ann Inaba joked that she wasn't going to move her chair to kiss Goodman, but that she loved him.
Ally Brooke made a joke about being on speed during the dance, which went over awkwardly.
Scores: 25 out of 30.
8:25 p.m.: Kate Flannery's Mary Poppins performance was a big hit—and Carrie Ann Inaba took a big hit when she fell out of her chair after Kate danced last week (Tom Bergeron and Erin Andrews grab a health update from Inaba before going to the clip package—she's fine!).
Kate Flannery has never done the Viennese waltz before, but she's taken back to her days of waiting tables. She dedicated the dance to anyone who's working hard to make their dreams come true—"If it can happen for me, it can happen for you."
Kate Flannery and Pasha Pashkov danced to "I Have Nothing" a la Whitney Houston—she was a hair stompy. She also messed up one of the transitions but she was committed and did a great job. There was a standing ovation from the performance.
"I don't know if I've asked you this season, but who are you?" Bergeron asked Flannery before they went to the judge's scores.
Tonioli said he loved what Flannery did with the dance "always with the best of taste." Carrie Ann Inaba said that it was the most victorious Viennese waltz she's ever seen. Len Goodman said he was very happy that Pashkov put in a turning step that he never sees in a choreographed Viennese waltz.
Erin Andrews pointed out Kate Flannery's boyfriend in the audience and talked about Kate Flannery's vertigo—an attack of which she suffered from during rehearsals. Kate Flannery praised Pashkov for knowing what he was doing.
Scores: 27 out of 30
8:37 p.m.: Last week, Kel Mitchell got his first nines of the season. Witney Carson and Mitchell were getting to know one another, and they were going to dance to "Part Time Lover" by Stevie Wonder. They tried to bond by playing dodge ball in the studio with the other teams—Mitchell's posture and speed were up to snuff apparently.
Their outfits were polka-dot heavy and their footwork and character were fun—but they did break hold so Goodman was going to give them the business.
Inaba praised the dance as "ridiculously amazing" and the charleston break. Goodman praised the dance but pointed out the problem—Carson said she tripped on her own dress and blamed herself.
"If the jockey was on the horse and the horse falls, the team suffers", he said to boos. He told the audience to "talk to his hand" for that. He added that the dance was quick and clean. Tonioli said that aside from the "little misunderstanding," it was great.
Backstage, Mitchell and Carson blame themselves. Carson was crying, and Andrews called Goodman "a little jerk" because of it.
Scores: 26 out of 30
8:50 p.m. : After dedicating last week's dance to his son, Karamo Brown talked about how his coming out effected his family and resulted in a few troubled years in his relationship with his dad. His dad reached out to make amends, and they're back in touch. His dad came to America for the first time to be there this week, and was there to watch him dance. Brown's dad met his fiance.
Brown and Jenna Johnson danced a contemporary dance to "Summer We Lost", which was graceful and intense and, to be honest, his best dance ever. Ally Brooke was so moved by it she was crying in the waiting area.
Bergeron asked Brown how it was for him, and he said it was great and he was tying not to cry on camera two weeks in a row.
Goodman described the dance as "fluid" and said the lifts were great. Inaba said that he didn't miss one step and she could "Feel" it when he did that one contraction.
"Welcome to Dancing with the Stars, where we cry like a baby every week," said Andrews as they waited for their scores.
Scores: 25 out of 30. That provoked tears from Brown, who was visibly delighted.
9:05 p.m.: After a pause for a pro performance set to Lizzo's "Good as Hell," Hannah Brown recalled her stellar Disney Week performance. She explored her southern roots thanks to homesickness, and her parents came by to drop her some home made dessert and tell the audience more about her. Her own dad described her as "quirky and fun to be around."
Brown and Alan Bersten performed a samba that was quick and fluid.
"From Brazil to Nashville, and what a party!" said Tonioli, who told Brown that she "danced too high." Inaba said that she was definitely a dancer. Goodman praised Bersten for the content, because he's been "balling him out for weeks" over the lack of it.
Scores: 24 out of 30.
9:15 p.m.: Sailor Brinkley-Cook got her highest scores ever during Disney week for her Cinderella dance, and she's nervous about topping it. Talking to Val Chmerkovskiy about her anxiety, she was worried about standing in her mom's shadow. Chmerkovskiy's advice got her out dancing in the middle of a crosswalk in Los Angeles.
Dancing to "Wake me Up Before You Go-Go" by Wham!, it took them awhile to finally get into the dance and get into hold.
Inaba said she had a blast watching Brinkley-Cook do jive and "her thing is to be animated." Goodman said it was "full of taste and flavor".
"You seem to be enjoying yourself!" said Goodman to Chmerkovskiy, who snarked right back. "She was playing it! Look at me, I'm the star! I know what I'm doing!" said Tonioli.
Scores: 27 out of 30
9:28 p.m: It's Sean Spicer time and this week he had a Viennese waltz. Spicer points out they've never been in the bottom two, and the judges pointed out he had a lot of things to smooth over. They would be dancing to "Somebody to Love" by Queen, and Spicer said he thought he was a pretty romantic guy as he recalled his marriage.
"Somebody to Love" was slowed down to a dirge to fit waltz time. Spencer had some pretty good timing.
Goodman said he respected Spicer for giving it his go every week. Tonioli said it's the "smartest" Spicer had ever looked, but pointed out his lack of cohesive speed. Inaba pointed out the awkward footwork, but said the audience loved him.
Andrews asked Spicer if he'd ever watched the video packages and apparently his partner told him not to.
Scores: 21 out of 30—Tonioli mentioned his 7 was "for effort".
9:39 p.m.: James van der Beek loved electronic dance music, so he was excited to dance the samba to Diplo, whom he calls "the Frank Sinatra of dance music." He even played Diplo in a movie once. Emma tried various equipment to make sure he was going to keep his booty in gear. And his booty stayed in gear during the wiggly dance.
Tonioli praised the "rhythmical" quality of the dance.
"Your hips were in motion during the whole thing! It was ridiculous!" said Ianaba, but she told him not to make his motions so big that it got out of proportion to his body.
"Tootie Fruity, what a booty!" said Goodman.
Scores: 27 out of 30, Van der Beek's best dance and top score, putting him at the top of the leaderboard.
9:52 p.m.: Our final dancer was Lauren Alaina, who debuted her new single, "The Other Side" along with the dance. The song was about her stepfather, who described heaven to the family with his last breaths as he passed away, and the dance fell on the anniversary of his passing. She was understandably emotional while discussing the situation with Gleb Savchenko.
There was much rolling on the floor and a lot of showery glitter during the modern dance. Some great lifts. She ran to hug her mom right after she finished dancing and Savchenko had to gently peel her away.
"You're a brave woman," said Inaba, who also praised the choreography and said there were "angels all over her."
Len spoke of the beauty of the dance. Len said it was a great thing to do, to "come out and dance with so much emotion."
"Bless you, my love," said Tonioli, who praised Alaina's honesty. She continued to sob throughout the judging.
Scores: 26 out of 30
Results: The bottom two were Brinkley-Cook and Chmerkovskiy and Brooke and Farber, with many tears.
Inaba said she was "shocked" by the result but picked Brooke and Farber—so did Tonioni.
Eliminated: Sailor Brinkley-Cook.