'Dancing With The Stars' Season 29 Episode 5 Recap and Final Results—Who Was Eliminated?
Put on your leg warmers and spandex, Dancing With The Stars fans. Monday night is 80s night, and you're not going to want to miss this.
There are 12 celebrities left on the competition dance series, and they've all proven to have some serious dance skills. It's a close race, with lots of the celebs and their partners breaking into scores in the 20s, and there's no telling who will go home next.
Monday night's show will hope to see host Tyra Banks bounce back from both an unfortunate styling night, according to confused Twitter fashionistas, and an elimination mistake in which Banks named a couple safe when they were really at risk of going home.
Twitter has lots of opinions on Season 29 so far, and so do we. So buckle up and practice your running man! 80s night is about to begin, and we're throwing you live updates all night long.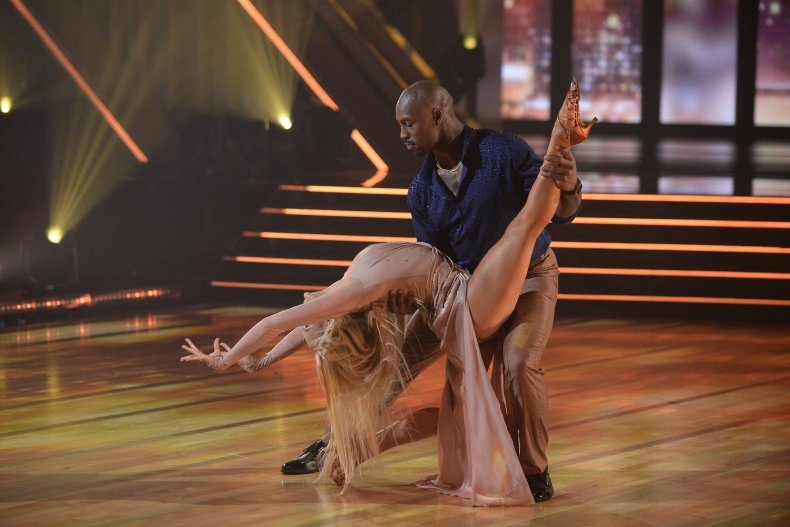 8:00 p.m.
Tyra Banks is in the building y'all, and we're just waiting for the tweets about her golden jumpsuit. She's rocking a gorgeous hairstyle, though, and she just said there will be lots of costume changes tonight. We're ready.
Instead of jumping straight into the show, Tyra is talking, again, about the technical issue last week that caused one of the bottom two couples to be incorrectly labeled as "safe." She reassured the audience that the right celebrity (Anne Heche) was sent home.
Monday night's show didn't waste any time reminding us viewers that this is 80s night. A VHS tape introduction showed "aerobics with the stars" and sent us into another 80s-inspired dance. Actor Justina Machado and partner Sasha Faber went with a jazz dance to "Maniac" by Michael Sembello.
The dance ended with a splash...literally. Machado channeled Flashdance by leaning back in a chair and getting a waterfall from the props team poured all over her.
There hasn't been a commercial yet and Tyra is already in a second outfit.
Judges appreciated how in-sync the pair were, and they were given a total of 24/30.
Ready to vote for your favorites already? Here's how.
Commercial time.
8:12 p.m.
Jesse Metcalfe is up next with partner Sharna Burgess and they've got a tango. The 80s song they've chosen is "Everybody Wants To Rule The World" by Tears for Fears.
The dance was fine: nothing too exciting, either in mistakes or big showy moments, like Machado's routine. Judges weren't thrilled with Metcalfe either, as his timing was apparently off. Carrie Ann Inaba appreciated Metcalfe's "confidence" this week, though. The total judges' score was 19/30 for the pair.
Now, Selling Sunset star Chrishell Stause is up. She's partnered with Gleb Savchenko and she's dancing to her longtime favorite boy band New Kids on the Block. It's a Cha Cha to "You Got It (The Right Stuff).
Gleb's hairstyle is all we can pay attention to...a full-on mullet that looks anything but natural in the best way. It was the "right stuff for the 80s" but the "wrong stuff" for the Cha Cha according to Carrie Ann. Most of Chrishell's critiques were technical.
Before her score, Chrishell got a video montage from the New Kids themselves wishing her luck. Then, she was hit with some low scores. Chrishell also got a 19/30.
8:28 p.m.
Jeannie Mai is up next and she's going to dance to "Like A Virgin" by Madonna with partner Brandon Armstrong. Mai channeled Madonna with her outfit, and the dance revolved around a bathtub.
After the fun dance, Jeannie was praised for her confidence. She got a judges' score of 24/30 pushing her to the top of the bunch...at least this far.
8:37 p.m.
Monica Aldama and Val Chmerkovskiy are back, baby, but not before a whole conversation about how they were wrongfully declared as "safe" last week. Another opportunity for Tyra to bring up the mishap, yet again.
The Cheer coach danced to Soft Cell's "Tainted Love", but not before a sweet, digital moment with some of her cheer students, as seen on the Netflix series. The tango was loved by judges, who saved Aldama from elimination last week. Her score reflected growth. She got the first nines of the night with a total score of 26/30.
8:46 p.m.
AJ McLean, the Backstreet Boy, and Cheryl Burke are back with a waltz to Journey's "Open Arms." The romantic dance was a nice break from the cheesy, 80s feel of the night, but also perfectly embodied the concept of an 80s homecoming dance.
Judges were pleased with AJ's performance. He and Burke brought in 24/30.
8:56 p.m.
ANOTHER Tyra outfit, and this one is hard to miss. Miss Banks took the stage in a sequenced, green jumpsuit, yellow felt hat and extreme gold jewelry and glasses to represent the 80s in all of their questionable glory. It's an ode to the rappers from the 80s who have inspired music and happiness everywhere, she explained.
Disney Channel star Skai Jackson is up next, but she wasn't alive in the 80s. She was born in 2002. Let's see how she does with her jazz dance to "The Power of Love" by Huey Lewis & The News. She and partner Alan Bersten got to cruise around in a DeLorean, too.
Dressed in Back To The Future-inspired looks, Jackson and Bersten put on an entertaining routine that brought on some high scores. In total, the judges awarded the couple 24/30.
9:06 p.m.
NFL star Vernon Davis and Peta Murgatroyd are up next with a tango to Bon Jovi's "Livin' On A Prayer." Tyra focused on Davis' long, luscious wig after critiques landed the couple with a 21/30. While they didn't make the top of the leaderboard, Davis wasn't last.
9:15 p.m.
It's time for Kaitlyn Bristowe and partner Artem Chigvintsev to dance, and they're dressed like total nerds. They've got a tango tonight, too. The song is "I Think We're Along Now" by Tiffany.
Toward the end of the dance, Kaitlyn's shirt was ripped off to reveal a pair of jean shorts, which allowed her to end the dance with some breakdance moments. The judges said they were surprised, but did appreciate it. With all positive feedback, Kaitlyn rose to the top of the leaderboard with a score of 27/30.
9:22 p.m.
Musician Nelly and partner Daniella Karagach will dance now with a Samba to "Rhythm of the Night" by DeBarge. Last week, Nelly was praised for his stylistic growth. Monday night, the samba was joyful and embodied music in the 80s. Judges loved it, as it showed Nelly feeling comfortable in his role as a dancer. His happiness was contagious and gained a 24/30 from the judges.
9:33 p.m.
Here comes a "Total Eclipse of the Heart" by Olympic figure skater Johnny Weir. He's dancing a contemporary piece, the first of the season. Johnny and partner Britt Stewart put on a beautiful, emotional dance together, and his own skating talent wasn't lost. Translating that to the dance floor was successful. The judges scored the pair at 29/30, a nearly perfect score.
Nev Schulman is up next, and then, someone goes home.
9:44 p.m.
Nev is here with partner Jenna Johnson for their 80s version of "Take On Me" by a-ha. In the pre-dance segment, Nev opened up about being diagnosed with ADHD as a child, and channeling his energy through dance.
The fact that Nev had dance training, even as a child, made sense to viewers who praised his quickstep on Twitter. Netizens also thanked the Catfish host for opening up about his diagnosis and spreading awareness for the attention disorder.
Now, Nev takes the stage. He's also rocking a mullet on Monday night's episode, of there wasn't already enough to think about, and we aren't sure how to feel about it. The quickstep ended the night on a joyful note, in the spirit of many of the Monday night dances. They were given a 26/30.
9:55 p.m.
It's time to see one celebrity go home, folks. Here's to hoping for no elimination flubs like last week. Remember, all scores are a combination of viewer scores and judges' scores. The final two on Monday night was Jesse Metcalfe and Vernon Davis.
The judges have a choice to save either. Jesse is going home after all three judges agreed that Vernon deserved another week to show off his skills.
Next week, judge Derek Hough is going to be dancing on the show, so tune in next Monday at 8 p.m. ET on ABC.