'Dancing With the Stars' Finale: Did Kaitlyn Bristowe Win the Mirrorball Trophy? Find Out in Tonight's Wrap-Up
Dancing With the Stars saw a lot of ups and downs in its 29th season. There were highs, like the emotional dance Disney star Skai Jackson performed in honor of late friend and former co-star Cameron Bryce, but then lows... like the ratings. Except for one brief uptick in viewers for episode five, the ABC reality competition steadily lost viewers by the week. After a strong start on September 14 with 8.12 million people tuning in, the show drew in a comparably weak 5.74 million last week.
But the overriding story of the season was the surprisingly great performances of Catfish host Nev Schulman and the excellent choreography of his partner, Jenna Johnson. Schulman became a favorite after receiving the first perfect score of the season in week seven for a Black Swan-inspired routine. He stayed on top of the score board every week that followed. However, there was the sudden emergence of The Bachelorette star Kaitlyn Bristowe as a contender, who, after a rocky start to the competition, improved to the point where her every performance seemed like a guaranteed score of three 10s.
So, who walked away with the mirrorball trophy?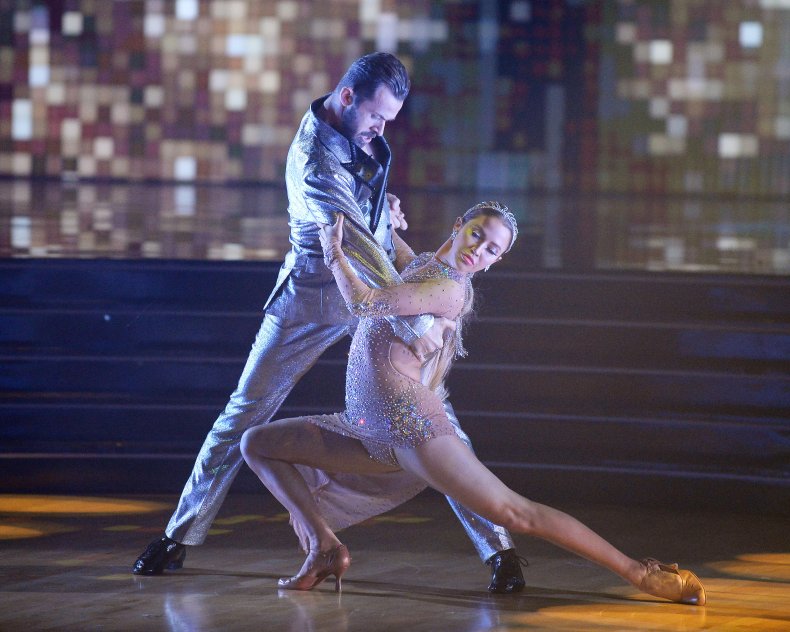 It was Kaitlyn Bristowe, in a somewhat surprising decision.
As usual, Tyra haters continued to light up Twitter on Monday with critiques of her line delivery and costumes, but she didn't stumble over her words as much as last week. As for her fashion, remember there's a wardrobe department responsible for the over-the-top outfits. But before her entrance, the show spared us from yet another awkward cold-open sketch and opted for the couples dancing. Then, in a wise bit of programming, all the pros from the entire season danced together.
All season long, there were judging controversies. Aside from questionable calls like the premature departures of Backstreet Boy A.J. McLean and Olympic skater Johnny Weir, there was rapper Nelly's lackluster moves somehow getting him into the finals. But on the judging end, Carrie Ann Inaba received the brunt of the criticism, mostly on social media, from fans of Bristowe unsatisfied with her initial mediocre scores. The two later made nice and hugged it out after Inaba gave Bristowe a perfect score, and the goodwill carried over into tonight, with Inaba (along with fellow judges Derek Hough and Bruno Tonioli) awarding Bristowe and her pro partner Artem Chigvintsev another perfect score for their show-opening repeat dance—an Argentine tango to "Toxic" by Britney Spears.
Yes, each couple began the night with a repeated performance of their best routine of the year. Nelly and pro Daniella Karagach returned to their samba, set to "Rhythm of the Night" by DeBarge, and brought in three 9s. Nev and Jenna treated viewers to that week seven performance that netted them their first perfect score, and the Black Swan delivered again with another set of three 10s.
At the opening of the season, actress Justina Machado (One Day at a Time) seemed like an unlikely finalist. First, she didn't have the name recognition of the other celebrities, then there's the fact that she's middle-aged with a figure more representative of most women. Undeterred as ever, she and pro Sasha Farber repeated their cha cha to Aretha Franklin's "Respect" and brought the house down once again. The duo received a well-deserved perfect score.
The first hour of the night ended with a Hough dance routine that on paper sounds unnecessary but was a showstopper. Later in the night, Nelly performed a medley following the conclusion of the dancing that benefitted from—what else?—choreographed dancing.
But before his nightcap, Nelly kicked off the last half of the show with a chance for redemption. He and Karagach danced a fairly risqué freestyle that incorporated West Coast swing and several big lifts to "Savage" by Megan Thee Stallion and "Hypnotize" by The Notorious B.I.G. It was a standout routine, performed well, and racked up three 10s.
They were followed by another perfect score-rewarded routine. Bristowe and Chigvintsev received three 10s for an enthusiastic freestyle dance to "Sparkling Diamonds" from Moulin Rouge. As impressive as that was, Nev Schulman conjured Gene Kelly with a "Singin' in the Rain" routine scored by District 78—complete with rain and aerial moves—that perfectly updated Old Hollywood for the 21st Century. There was no way they would get anything less than a perfect score. (And they did indeed get a perfect score.)
Just when it seemed like that performance would be impossible to top, Machado danced a freestyle to "Let's Get Loud" by Jennifer Lopez and "Bamboleo" by The Gypsy Kings. As Tonioli described it, the dance was like a "tonic for your soul"—passionate, high-energy, yet also precise. And, of course, the judges awarded it accordingly with a perfect score.
The final scores were three 60s and Nelly's 57. Unless the fans vote somehow could carry Nelly over, it was essentially a three-horse race. Honestly, what seemed like Schulman's competition to lose suddenly became a very tight photo finish. No one could really complain about any star becoming the winner, besides Nelly. (In the first shocker of the night, Machado came in fourth place, behind Nelly, meaning that fans' votes must have incredible sway.)
When it came to announce the winners, the fact that Kaitlyn Bristowe and Artem Chigvintsev's names were called was certainly not the obvious choice. However, in a year full of unpredictability, maybe they are the perfect champions after all.