'Dancing With the Stars' Contestant Terrell Owens Could Win if He Brings His Touchdown Dances to Season 25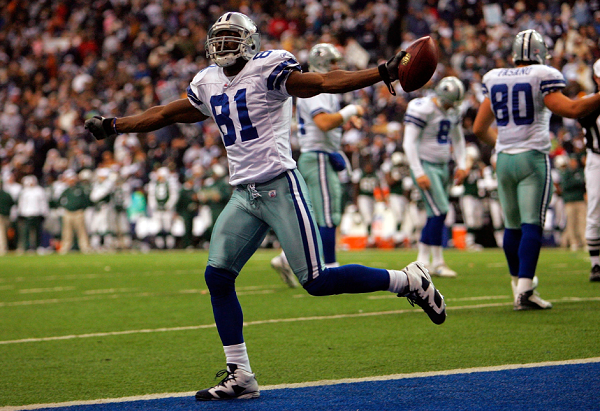 ABC has only just begun naming some of the contestants who will appear on the new season of Dancing With the Stars (DWTS). However, after the network's big reveal of one particular contestant paired with a returning (and long-reigning) champion pro dancer, we may already have an idea of who may claim the shiny mirror ball award as their own.
Former NFL superstar Terrell Owens has signed on to be a contestant on the 25th season of the dance competition. Owens, a six-time Pro Bowl winner, is set to hit the stage with dance partner Cheryl Burke, who already has some experience turning NFL pros into dancing champs. The professional dancer was partnered with Chad "Ochocino" Johnson during season 10 and won the competition with her former partner Emmitt Smith on season three of the ABC show. Burke is returning to the show after leaving to join Lifetime's Dance Moms earlier in the year.
Burke, who has won two DWTS mirror ball awards, said during a press conference on Monday that she was planning to use Owen's "lights, camera, action" attitude to magnetize their performances.
"He's a performer so I'm definitely going to use that to my advantage," Burke said. "As long as we do the work in the studio and really practice hard, then he'll do whatever he likes on the dance floor."
The former San Francisco 49ers and Dallas Cowboys star may not be familiar with the samba and other ballroom style dances that are performed on DWTS, but fans of the 43-year-old know all too well just how much Owens likes to shake his groove thang.
Football players, in particular, have always had a reputation for their interesting and hilarious celebratory dances performed after scoring a touchdown. But Owens's victory dances may be considered the most entertaining the NFL has ever seen.
Scoring 153 touchdowns over the course of his career, Owens's name became synonymous with dancing in the end zone. From stealing cheerleading pom poms to actually proposing to a cheerleader on the field, Owens always managed to keep audience members entertained with his improvised celebrations in the end zone after a touchdown.
Despite his love of putting on a show, Owens noted that his DWTS performance would be a game-changer.
"I'm hoping to put up some big numbers with this lovely lady right here," he said. "This is going to be a challenge for me, definitely. [It's] definitely not in my wheelhouse. I danced as a little kid but this is nothing like what I'm going to expect, I'm sure."
So far, ABC has only confirmed contestants Nick and Vanessa Lachey, former Los Angeles Lakers star Derek Fisher, WWE wrestler Nikki Bella, Property Brothers' Drew Scott and former paralympic swimmer Victoria Arlen. Dancing With the Stars season 25 premieres September 18 on ABC.