Tonight was the semifinals on Dancing With the Stars, as well as a Double Elimination Night, which means two couples went home. Therefore, next week is the big season finale after only one episode of semifinals. If that sounds a little odd, don't try to apply logic—this is about dancing.
Before we break down the show, let's get the business of the eliminations out of the way. This week, Olympic figure skater Johnny Weir and pro dancer Britt Stewart were the first couple announced to be cut from the competition. For the final couple to be eliminated, it came down between Disney Channel actress Skai Jackson  and her partner, Alan Bersten, versus actress Justina Machado of One Day at a Time and partner Sasha Farber.
Judges Derek Hough, Carrie Ann Inaba and Bruno Tonioli all agonized briefly about who to save for the finale. Hough and Inaba voted first, and they both chose Machado. Tonioli didn't have to vote, but he revealed he also would have chosen Machado, for the same reason Inaba did—consistency of performances throughout the season.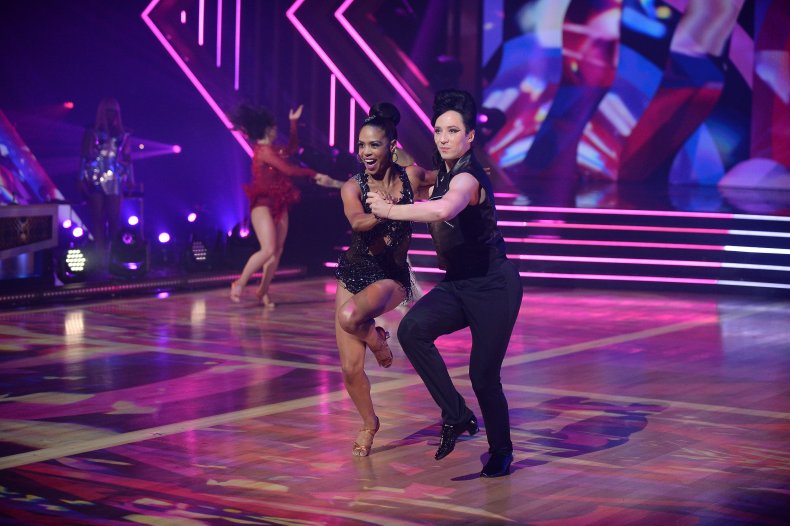 This season has been a story about judging controversies. First, there were the fans of Kaitlyn Bristowe (The Bachelorette) saying Inaba was unduly harsh on her. Then there was last week, when Backstreet Boy AJ McLean and pro Cheryl Burke were eliminated. The duo were early favorites and consistent each week, and Burke even voiced her frustration to Entertainment Tonight about the cut, saying she had already choreographed their routines for the semifinals.
To put it in perspective, while celebrities occasionally complain in interviews after eliminations, it's far rarer for professional dancers to do so. Burke pointedly noted that the judging this year is "just not consistent."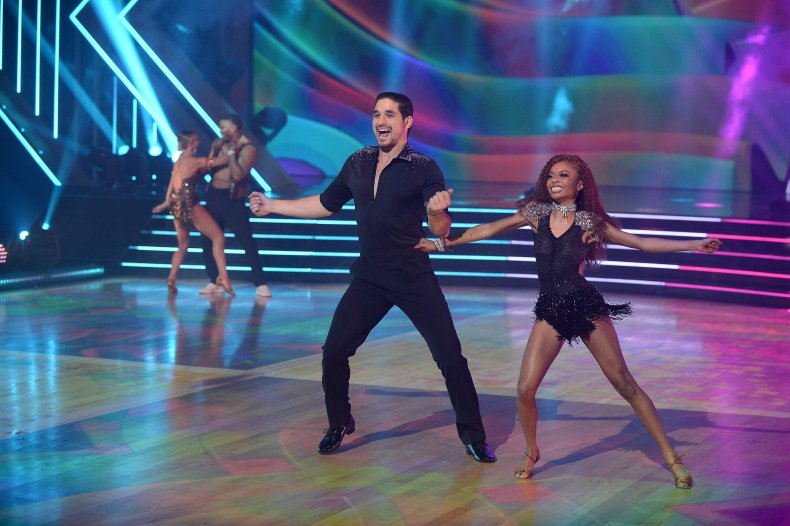 While the end of the show always brings an element of drama, the night started off on an uneven note. First, there was a forgettable cold open sketch, which found the stars in a call center, telephoning fans randomly and asking them who they were voting for. Host Tyra Banks soon entered the stage for the live start, strutting out in a high-concept outfit with a plexiglass to the sounds of "Gasolina" by Daddy Yankee. The music set an upbeat note for the night, however, Banks stumbling over her lines repeatedly throughout the night will likely only provide fuel for her social media critics.
Tonight's first round saw "redemption dances," during which the celebrities repeated a dance style they struggled with earlier the season. The judges helped the couples with some pointers during rehearsals—except for Inaba, who, for reasons unexplained, appeared via a video conference call. For their second routines, they performed a different style of dance.
The first round was close, with two couples receiving perfect 10s—Kaitlyn Bristowe and partner Artem Chigvintsev with a paso doble to "Hanuman" by Rodrigo Y Gabriela, and Catfish host Nev Schulman and pro Jenna Johnson for their foxtrot to "Sign of the Times" by Harry Styles.
Skai Jackson  and Alan Bersten received three 9s for their cha cha to "Move Your Feet" by Junior Senior, and Johnny Weir and Britt Stewart also received three 9s for their salsa to "X" by the Jonas Brothers featuring Karol G.
Justina Machado and partner Sasha Farber received two 9s and a 10 for their tango to "El Tango de Roxanne" from Moulin Rouge, while rapper Nelly and pro partner Daniella Karagach brought in two 9s and one 8 for their paso doble to "Run Boy Run" by Woodkid.
The second round started off on back-to-back highlights, with Machado and Farber bringing in a perfect score of 30 for a contemporary routine to "Holding Out for a Hero" by Ella Mae Bowen and Bonnie Tyler, before Jackson and Bersten continued elevating the competition with their own perfect score for a Viennese waltz to "Lonely" by Noah Cyrus.
Not to be outdone, Weir and Stewart also netted a perfect score for a jazz dance to "I Lived" by One Republic. It looked as though the second round would be all perfect scores, as Schulman and Johnson brought in three 10s for an exquisitely graceful contemporary routine to "If the World Was Ending" by JP Saxe and Julia Michaels.
Then, the almost unbelievable occurred: Nelly and Karagach brought the house down with a jive to "Jump Jive An' Wail" by The Brian Setzer Orchestra. Yep, three 10s for them. That left only Bristowe and partner Chigvintsev to keep the momentum going. They danced a contemporary routine to "Cowboy Take Me Away" by The Chicks. Guess what? It was impeccable, and the judges agreed—perfect score.
Going by the lowest scores on a high-scoring night would have sent Machado and Nelly home, but that's discounting the all-important viewer vote. Schulman and Bristowe were obviously safe with both of their routines scoring 30s, while the fans must love Nelly, because he was surprisingly saved again. Weir And Stewart were then quickly informed they would not be advancing to the finale. The judges saved Machado, which left Jackson saying goodbye after nine weeks of performances ranging from uncomfortably stiff to moving.
Next week is the finale, where the remaining celebrities and their partners will do their favorite dance and a freestyle. The night will also feature a new routine by Derek Hough (it must have been stipulated in his contract for him to dance two random routines this season), and Nelly will be performing music live. No word on if his partner Daniella Karagach will be choreographing that performance.