On 'Dancing With the Stars' Week 5, Disney Week, a Dance is a Wish your Foot Makes
Week five of Dancing With the Stars was Disney Week, which meant we opened up in Downtown Disneyland, featuring the dancers and costumed characters alike dancing to "Supercalifragilisticexpialidocious" from Mary Poppins, which turned into a mashup with "I Wanna Be Like You" from The Jungle Book. It was notable for being shot on high-definition film and was handsomely choreographed by Zach Woodley.
Onstage, all of Disney's iconic characters had gathered, and we were told that our dancers will be moving and grooving to Disney music tonight.
"From the 'if the shoe fits wear it department'," according to host Tom Bergeron, was Sailor Brinkley Cook, who would be dancing the Viennese waltz to "A Dream is a Wish your Heart Makes" from Cinderella.
Bruno Tonioli took a moment to tell us all about the Viennese waltz, and Sailor was excited to dance to the song, which was a classic of her childhood—she was a huge Disney fan. The park's Cinderella sent them a carriage, and they rode the flying teacups together.
Get your unlimited Newsweek trial >
Val Chmerkovskiy and Brinkley Cook managed to inhabit the character of the dance beautifully—it was elegant.
Len Goodman called it "bright and lovely like a souflé" and told her there's no way she won't be back on the strength of her performance. Tonioli said what he liked about her performance was that she applied herself to the character of the dance. Carrie Ann Inaba called the dance magical.
Score: 24 out of 30
Bergeron pointed out that we haven't seen a nine yet this season as he sent us to commercial break.
Get your unlimited Newsweek trial >
Karamo Brown was so emotional last week because he finally broke his streak of across the board 5s, and he's delighted when Jenna Johnson told him he's going to dance the samba to "I Just Can't Wait to be King" from The Lion King.
Brown learned that had fathered a child at fifteen with his last—and only—girlfriend. He'd had custody of him since he was 10 and adopted his younger brother when he was 8. He spoke about raising his sons and introducing his fiance to both boys, and they ride some rides in the park together.
Johnson's choreography was super bright and lively, but the dance felt messy.
Tonioli told Brown to work on his elasticity—the dance wasn't going through his body.
"The afro-cuban section was very tight", said Inaba, but it felt disjointed. Goodman said the dance was bright and lively, but Brown's feet were his problem—he was too stompy, but "because it's Disney night [he's] trying to be kind."
Scores: 21 out of 30.
Kate Flannery was a jazz dancer in college but, in her words, she "didn't win any awards for it." When she went to Disneyland, she took Pasha Kovalev right to Star Wars Galaxy and made a droid, then she and Kovalev had some ice cream.
They were dancing to "A Spoonful of Sugar" from Mary Poppins. More charming choreography with lots of variety—great work by Kovalev.
Inaba said that the choreography was great. Tom Bergeron reached down to remove a 'vibrating broom' and Inaba stood up to check it—then manages to miss the edge of her rolling chair and fall, laughing all the way, onto her bottom. She was fine and joked about it. Goodman called it a "sweet and delicious treat" and said Flannery and Kovalev were back in the game—pointing out the variety of dances that were slipped into the routine. Tonioli praised Flannery for bringing her own content to the song and her own personality, and praised Kovalev's choreography.
Score: 24 out of 30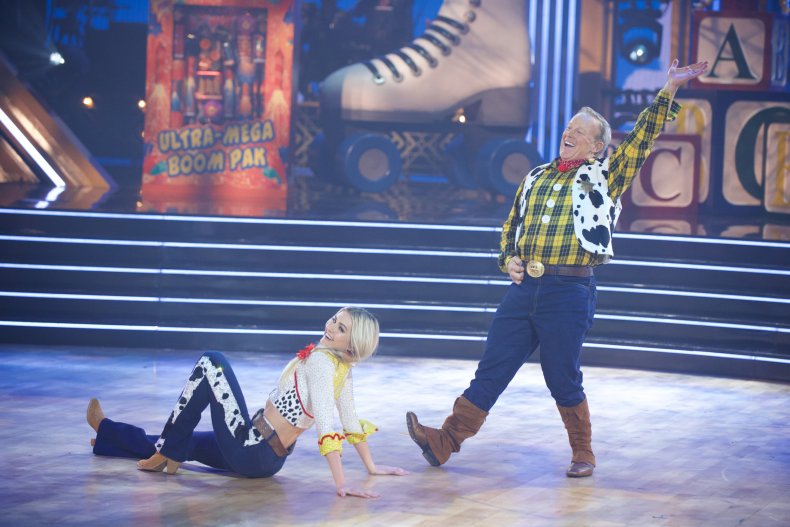 Sean Spicer managed to survive another elimination last week, and he and went to Disney's California Adventure. Lindsay Arnold informed him that they were going to be dancing the quickstep to "You've Got a Friend in Me" from the Toy Story series.
Spicer declared that the dance should be about his father, who died of pancreatic cancer in 2016. Spicer was moved to tears remembering him.
The dance was a little awkward, but properly light-footed with good content.
Goodman said that Spicer did okay in-hold but said it was "a proper dance." Tonioni said "Woody got you going" because it was "better," and gently roasted Arnold for loudly calling the steps to get them through the dance. Conversely, Inaba credited Arnold for not skimping on the choreography, said he took her breath away, adding he was "made to dance the quickstep as Woody."
Scores: 19 out of 30.
Ally Brooke and Sasha Farber danced to the title song from Beauty and the Beast, which was Brooke's favorite movie and song. It was so meaningful to her that she wanted it played at her wedding.
The dance was very gentle and pretty, and there was also a lift, which Inaba shockingly didn't call them on. Tonioni praised her honesty. Inaba said she must not have had professional training but by the way Brooke moved she could tell she doesn't. Goodman said it was emotional, soft, beautiful and charming. Tonioni laughed so hard during Goodman's comments that he snorted.
Scores: 27 out of 30; she got nines across the board, the first of the season.
After pausing for a choreographed dance preview set to a new dance to a song from Frozen 2, Lauren Alaina went to Disneyland. Alaina worshipped Ariel from The Little Mermaid as a child, so she was delighted to hear they were going to dance the samba to "Under the Sea." Alaina won her first talent contest by singing "Part of Your World" as a youth.
"Ariel became a human, and I became a country singer," she said.
Alaina had some good shoulder action in particular, and became concerned that she'd accidentally flashed the audience because her skirt stuck upward at one point. Gleb Savchenko was super into the routine.
Inaba said Alaina made a great Ariel, and that she nailed the samba. Goodman criticized her promenades and Alaina sassed him for making a word up. Tonioni said she was "hot in the water and on dry land."
Lauren said that she literally felt like she was "under the sea" praying and swimming to come up for air because the choreography was so hard.
Scores: 23 out of 30. Savchenko was notably relieved and Bergeron asked him what he was worried about—Savchenko said he didn't know.
Kel Mitchell and Witney Carson did a jazz number to a song from High School Musical, "We're All in This Together", and it was a high-energy routine. Kel was still floating on the high of doing well last week, and they had fun going to the park.
All the judges were suitably impressed with Kel's work—at this point they were rushing to beat the clock—and they said he brought it.
Scores: 26 out of 30
They rushed right to Hannah Brown's pretty waltz to the tune of Aladdin's "A Whole New World" instead of a production piece because of the time limitations. Again: pretty but not very substantial.
Goodman critiqued Alan Bersten's choreography and said he's "never seen so many swooshes in his life—you swooshed through America!" Tonioni, however, thought it was lovely. Inaba was moved.
Scores: 25 out of 30. The crowd was not happy with Goodman, who gave a 7.
Finally, James Van Der Beek was set to dance a waltz to the theme from Pirates of the Caribbean. He got a whole solo segment where he danced with big, broad sword swooshing gestures, which made the dance pretty visually interesting.
Goodman called it brilliant and strong, with a touch of aggression he liked. Bergeron pointed out the arm swooshing and Goodman called him out on it hard, explaining the differences between the gestures. Tonioni said the season had become unpredictable like Star Wars.
They were so slammed for time they had to rush to the results.
Scores: 26 out of 30
Even though the show was slammed for time, there was a long segment about how everyone didn't want to go home.
With one minute left, and the credits running over the eliminations, everyone was told they were safe because it was Disney night.
On 'Dancing With the Stars' Week 5, Disney Week, a Dance is a Wish your Foot Makes | Culture