Spoilers: Who Will Go Home on 'Dancing with the Stars' Week 4?
As contestants on Dancing with the Stars are continuously weeded out of the competition, Season 27 will only grow more competitive. The show's loyal devotees and judges will have to cast their votes Monday to decide which couples deserve to stay another week.
Season 27 enters Week Four on Monday, where the remaining 10 pairs will team up with a third person to perform "Trios." Oddsmakers suspected two couples are in danger of getting the boot. Spoiler's ahead, see which celebrity contestant could be sent home next.
Dancing with the Stars airs Mondays at 8 p.m. ET on ABC.
[SPOILER] Could Go Home in Week Four
Not all contestants will be lucky enough to win the coveted Mirror Ball Trophy by the end of Season 27. Ahead of Week Four's episode, Gold Derby's odds are tied for two celebrity contestants potential departure. Dukes of Hazards star John Schneider and his professional dance partner Emma Slater in addition to Bachelor in Paradise alum Joe Amabile and Jenna Johnson have been pegged as the couples likely exiting Season 27's competition next.
Unlike Week Two, Schneider survived Week Three without landing in jeopardy. Amabile has earned relatively low marks from the judges week after week, but he's received a wave of support from his loyal fanbase nonetheless.
Who Has Been Eliminated So Far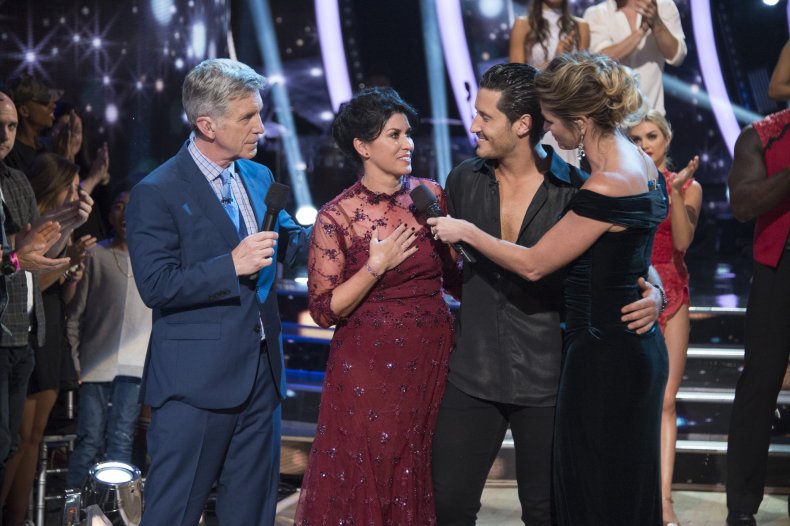 Before Week Three's episode premiered, Gold Derby predicted John Schneider and partner Emma Slater wouldn't make the cut. In a surprise elimination, it was The Facts of Life alum Nancy McKeon and her partner Val Chmerkovskiy who were sent packing. McKeon and Chmerkovskiy were in jeopardy alongside Tinashe and her partner Brandon Armstrong.
While McKeon was practically speechless at the time of her elimination, the pair's final performance was a rumba in honor of McKeon's "Most Memorable Year." She chose 2006, citing her family as the inspiration behind the number.
"Our family is everything," McKeon, 52, said ahead of her performance. "They make everything so much better. I'm the lucky one that gets to be there with them every day. This dance is very much a tribute to my family."
Before McKeon's exit, blind Paralympian Danelle Umstead was eliminated alongside partner Artem Chigvintsev. Comedian Nikki Glaser and her partner Gleb Savchenko were the first to leave the competition, however.
What to Expect in Monday's Episode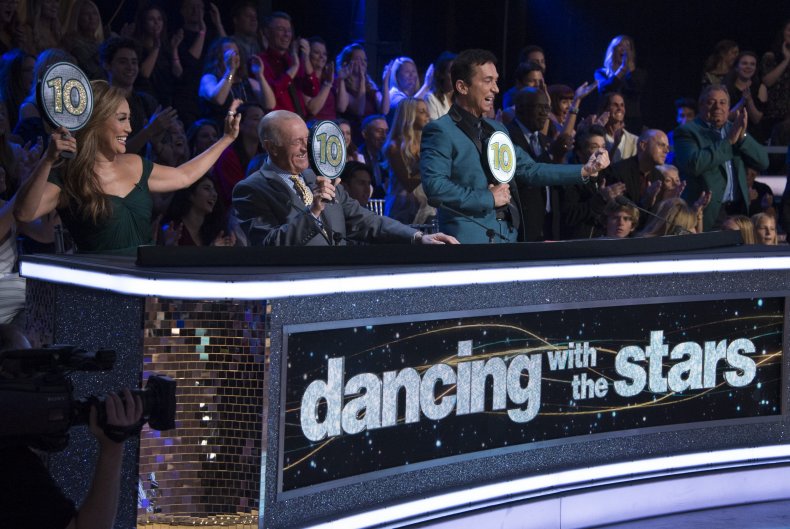 With "Trios" week in tow, anything is possible. Fan favorite contestants from Daning with the Stars past seasons and celebrity guest who've never danced on the show before will hit the ballroom Monday, where they will join pre-existing couples for a special routine. Here's what all couples will dance to:
Alexis Ren and Alan Bersten. The couple will be joined by dancer/actress/model Maddie Ziegler for a tango to "Move Your Body" by Sia.
Bobby Bones and Sharna Burgess. The couple will team up with violinist and Season 25 runner-up Lindsey Stirling for a cha-cha to "U Can't Touch This" by MC Hammer.
DeMarcus Ware and Lindsay Arnold. The duo is being joined by former NFL running back and Season 24 winner Rashad Jennings for a pasodoble to "Fire" by Barns Courtney.
Evanna Lynch and Keo Motsepe. The couple is teaming up with fellow Harry Potter alum Scarlett Byrne for a salsa to "Black Magic" by Little Mix.
Joe Amabile and Jenna Johnson. The couple is being joined by Bachelor in Paradise alum Jordan Kimball for a salsa to "I'm Too Sexy" by Right Said Fred.
John Schneider and Emma Slater. The duo is partnering with *NSYNC singer and Season 4 runner-up Joey Fatone for an Argentine tango to "Torn" by Nathan Lanier.
Juan Pablo Di Pace and Cheryl Burke. The pair will be joined by all-star season winner Melissa Rycroft for a cha-cha to "Wavey" by CliQ featuring Alika.
Mary Lou Retton and Sasha Farber. The pair will be teaming up with Olympian and Season 20 contestant Nastia Liukin for a Charleston to "V.E.S.P.A." by Dimie Cat.
Milo Manheim and Witney Carson. The duo will pair with R5 band member and Season 20 runner-up Riker Lynch for a salsa to "Adrenalina" by Wisin featuring Jennifer Lopez and Ricky Martin.
Tinashe and Brandon Armstrong. The couple will partner with Paralympic medalist and Season 18 runner-up Amy Purdy for a tango to "Hit Me with Your Best Shot" from Rock of Ages.
Who is the Likely Season 27 Winner
Prior to Season 27's debut, Tinashe and Brandon Armstrong were pegged as the likely winners of Season 27 by Gold Derby and SportsBettingDime.com. "Vegas sportsbooks are sleeping on Demarcus Ware: football players have a history of success on DWTS; his partner, Lindsay Arnold, won Season 25 and was second in Season 24; males have also won three straight," Sascha Paruk, an odds writer for SportsBettingDime.com, told Newsweek. "The only contestant with significant dance training [Tinashe] is paired with a neophyte pro [Armstrong]."
Tinashe and Armstrong, however, may not walk away with the Mirror Ball Trophy after all. As the couple landed in jeopardy alongside an unexpectedly eliminated McKeon and Chmerkovskiy, Fuller House star Juan Pablo Di Pace and his partner Cheryl Burke received a perfect score from judges. The duo's score of straight 10s also allowed the Pace and Burke to become the first pair to earn a 10 in Season 27. With this in mind, oddsmakers at Gold Derby upped Pace and Burke to be the likely couple to win Season 27. Tinahse and Armstrong were subsequently dropped to second place.
"R&B singer Tinashe led our Dancing with the Stars Mirror Ball predictions for the first three weeks of the competition," Gold Derby's Daniel Montgomery wrote Friday. "One perfect samba has knocked her off her perch...Juan Pablo Di Pace not only got the first 10s from the judges this season, he got all 10s, and it's only week three...That has moved him into first place on our predictions chart with leading odds of 39/10."
Added Montgomery, "But don't count out Tinashe. On Most Memorable Year Night she tied with Evanna Lynch and [Milo] Manheim as the judges' second favorite dance."