'Dancing With the Stars' Week Six Predictions: Here's Who Could Go Home and Who May Make The Finale
After a magical Disney Night, Dancing With The Stars is changing gears in week six. While Disney Night hosted some family-friendly nostalgia, week six will be a bit sexier. There's no identified theme for the week, which seems to leave room for creativity in the celebrity dances.
The week will host both the samba and the rumba for some celebrities, both of which are dances that focus on using the hips. They're likely to be a bit more adult than the Disney Night theme while showing off how far the celebrities have grown in the competition.
So who will go home during week six? The Disney Night magic saved all celebrities from elimination, meaning none of the remaining nine dancers have been sent home. It's difficult to predict who will go home this week, because fans are able to vote live during the performances. In past weeks, Karamo Brown, host of Queer Eye, has seemingly struggled along with country singer Lauren Alaina. The group in general, though, has an above-average skillset when it comes to dancing. It could be anyone's week if they truly mesh with the dance assigned to them.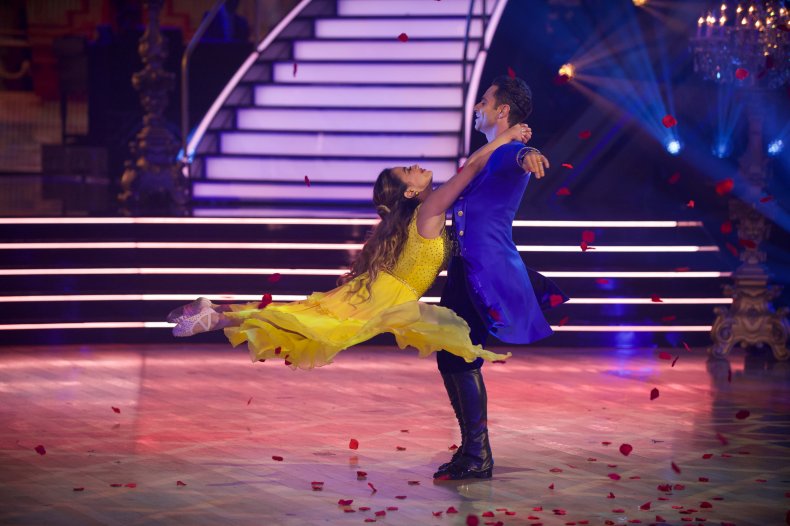 The leaderboard has consistently held actor James Van Der Beek, former Bachelorette Hannah Brown and former Fifth Harmony member Ally Brooke. These three are likely to remain in the competition. As always, if fans don't vote for the top performers, they could find themselves in the bottom two, even with high scores.
One controversial contestant is also expected to stay. Sean Spicer, former White House press secretary, has been slammed by fans who don't support his or President Donald Trump's politics. It's unlikely Spicer will be sent home this week because of the vocal support from Trump's fans, as well as his major improvement on the dancing competition.
During Disney Night, Spicer was praised by the judges for his Toy Story-themed moment. It appeared the judges saw major growth in Spicer's ability.
Some think this means Spicer could even make the finale. Professional dancer Cheryl Burke, who was Ray Lewis' dancing partner before he had to leave the competition due to injury, explained how Spicer may last the whole competition.
"I wouldn't be shocked if he made the final," she told Us Weekly. "Bristol Palin made the final in a gorilla suit. She wasn't the best dancer, but people wanted her there. So at the end of the day, you know, I wouldn't be shocked."
Burke even spoke of her conversation with Spicer's partner, Lindsay Arnold. "I said, 'Lindsay, just wait, you're gonna make the finals.' She's like, 'No way.' I'm like, 'Oh, for sure you are.' To have the President of the United States tweeting for every one vote for Sean Spicer?"
The comment referenced a tweet by Trump on Disney Night, which encouraged his followers to send in votes for Spicer's safety on the reality show.