Dandrae Martin Arrested in Sacramento Shooting in Which 6 Were Killed
An arrest has been made in Sunday morning's shooting in Sacramento, California, that left six people dead and at least 12 injured, police said Monday.
Dandrae Martin, 26, was arrested on assault and illegal firearm possession charges, police said. Search warrants were executed at three locations, and police recovered at least one handgun. Police said the investigation is ongoing and they are still investigating whether Martin acted alone or there were additional shooters.
The incident garnered national attention Sunday as state officials, from California Governor Gavin Newsom to the White House, condemned the shooting and again called for reform to the nation's gun laws.
"Today, America once again mourns for another community devastated by gun violence," President Joe Biden said in a Sunday statement. "In a single act in Sacramento, six individuals left dead and at least a dozen more injured. Families forever changed. Survivors left to heal wounds both visible and invisible."
Newsom called gun violence a "scourge" in the U.S., offered condolences to the families of the victims and said in a statement that "we must resolve to bring an end to this carnage."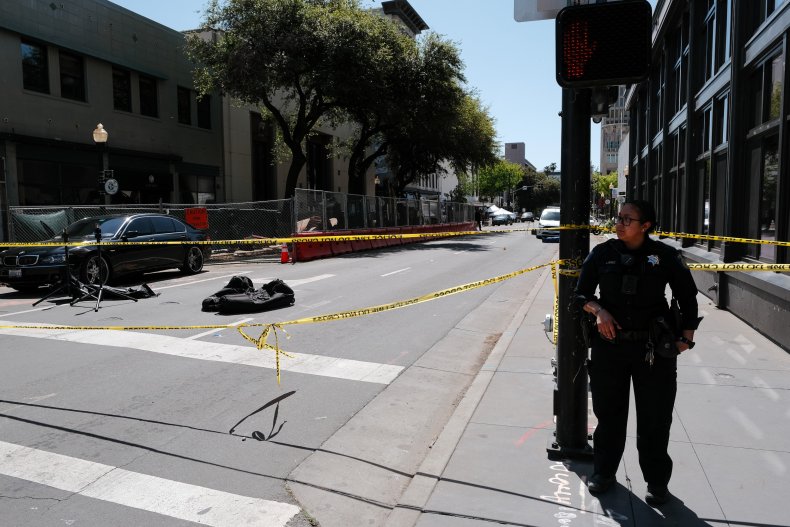 "This individual has not been arrested for any homicide related to this incident," Sacramento County District Attorney Anne Marie Schubert said in a statement after Martin's arrest. "The investigation is highly complex involving many witnesses, videos of numerous types and significant physical evidence.
"This is an ongoing investigation and we anticipate more arrests in this case. Our ethical obligations as prosecutors prevents us from commenting about the specifics of the case. We will be reviewing the evidence provided to our office and making a determination of what, if any, charges are appropriate. If charges are filed, the complaint will be released to the public."
More than 100 photos and videos have been submitted to the Sacramento Police Department through a community evidence portal, and police encouraged people with relevant information to continue to come forward.
Sacramento Police Chief Kathy Lester told local news station KCRA-TV that the department is working to identify what Martin's role was the night of the shooting, and who else may have been involved. Videos that circulated on social media in the hours following the shooting appeared to show people involved in a large fight outside. Shortly after, several gunshots can be heard in the background.
The county coroner's office also released the names of the victims who were killed in the Sunday shooting: Johntaya Alexander, 21; Melinda Davis, 57; Sergio Harris, 38; Joshua Hoye-Lucchesi, 32; Yamile Martinez-Andrade, 21; and Devazia Turner, 29.
Police said that at least three buildings and three vehicles were hit by the gunfire, and at least one firearm was recovered at the scene, along with over 100 shell casings from shots that had been fired. The victims' conditions range from minor to critical but stable, police said.
Update 4/4/22, 5:30 p.m. ET: This story has been updated with additional information.
Update 4/4/22, 5:08 p.m. ET: This story has been updated with additional information.