'Dangerous' Anti-Vaxx Warning Issued by Washington Officials as Cases in Measles Outbreak Continue to Rise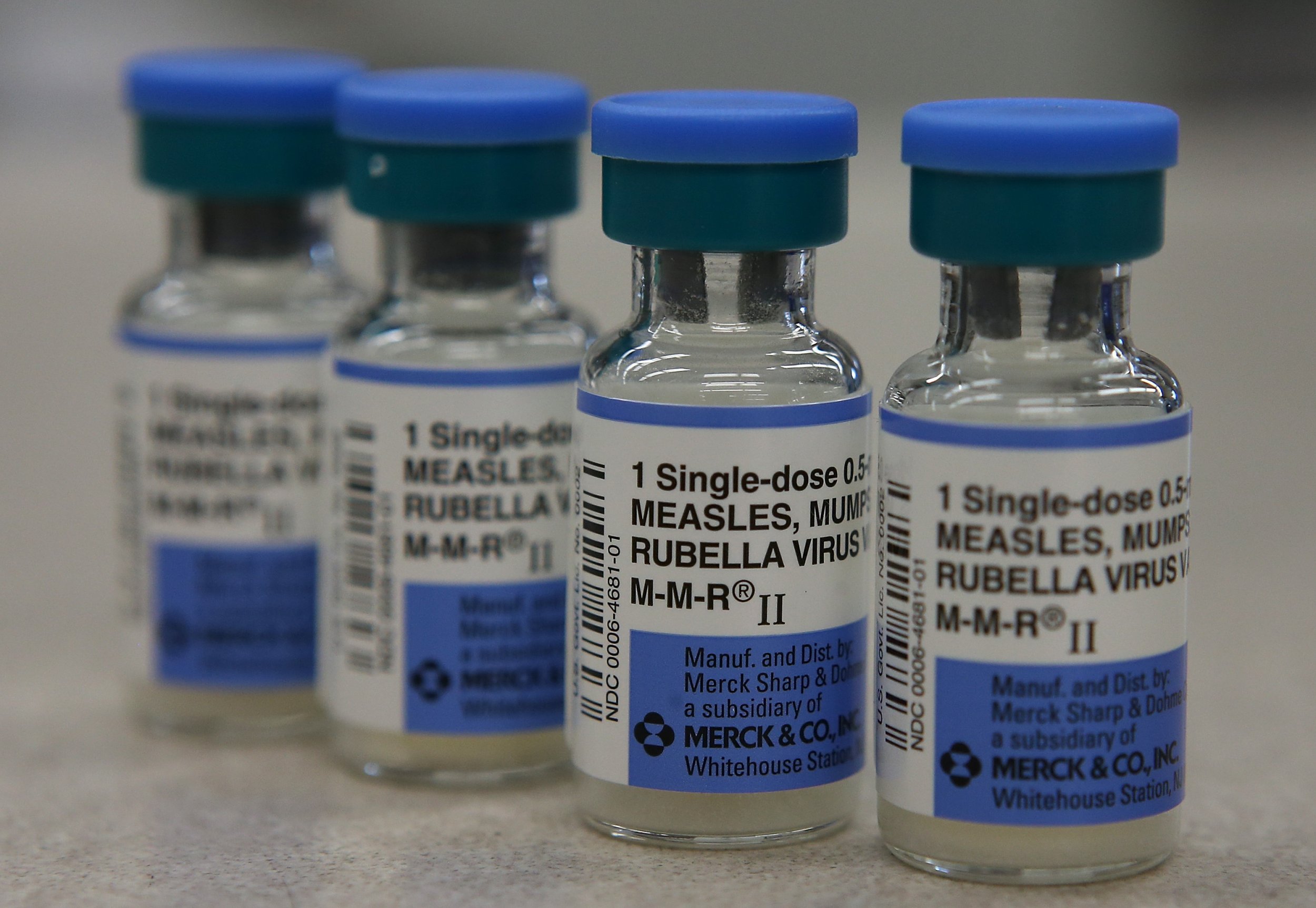 Measles cases in a corner of southwestern Washington that is suffering an outbreak of the potentially deadly disease have hit 34, according to health officials.
Clark County Public Health said in a statement Sunday that 34 cases have been confirmed, with a further nine suspected.
The latest cases come after the county declared the spike in incidences of the highly contagious disease amounted to a public health emergency on January 18. The measure is designed to ensure the body has the resources to tackle the outbreak. By January 25, Governor Jan Inseel had declared a state of emergency.
Of the total cases, 24 were in children under the age of 10; nine involved those aged between 11 to 18; and one related to an individual aged between 19 to 29 years. One individual was hospitalized. 30 of the patients had not been vaccinated against the disease. It was as yet unclear if the remaining four had received their shots.
The graphic below provided by Statista illustrates the number of cases of measles in the U.S. and the vaccination rate of children.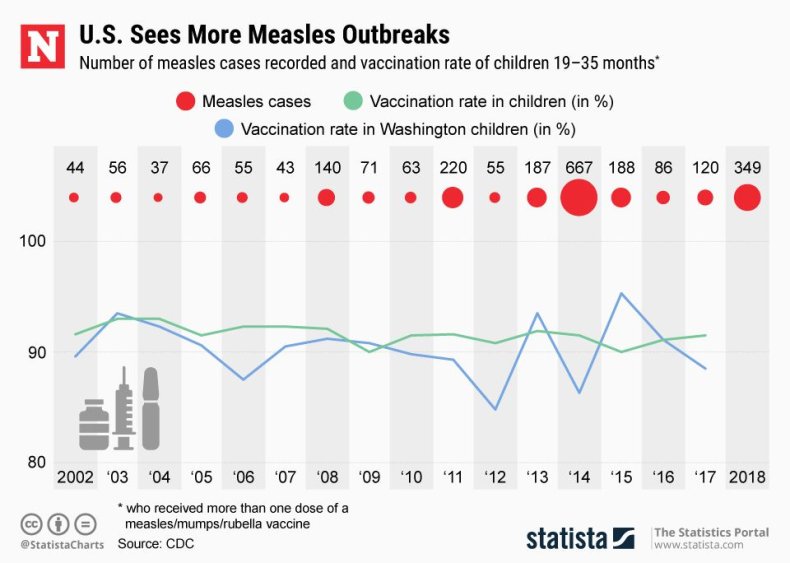 The health body urged anyone who has been exposed to measles and believes they have experienced its symptoms to "call their health care provider prior to visiting the medical office to make a plan that avoids exposing others in the waiting room."
"People who believe they have symptoms of measles should not go directly to medical offices, urgent care centers or emergency departments (unless experiencing a medical emergency) without calling in advance."
"Anyone with questions about measles immunity or the measles vaccine should contact their primary care provider. Clark County Public Health does not provide immunizations or testing for immunity," the body stated.
It also released a list of locations and times on its website—including hospitals, schools, and churches—where individuals may have been exposed to the virus.
Those with concerns about the investigation or public exposures are invited to use the dedicated line set up by Clark County Public Health: 360.397.8021.
Clark County Public Health Director Dr. Alan Melnick suggested the outbreak was linked to the spread of false claims online relating to the safety of vaccines and the severity of measles.
He told KomoNews.com: "I think that misinformation is doing a disservice and it's dangerous."
Melnick hit back at the myth that measles is a harmless condition which individuals don't need to be protected against.
"Before the vaccine became available in the '60s and we started mass vaccination, 400 to 500 people in the U.S. died every year," he said.
At the time the state of emergency was declared, Inslee stated: "measles is a highly contagious infectious disease that can be fatal in small children."
He described the number of cases as an "an extreme public health risk that may quickly spread to other counties."
Caused by a virus, measles is spread when an infected person coughs or sneezes and the virus enters another individual's eyes, nose or mouth.
The disease can remain in the air for as long as two hours, and is so contagious that 90 percent of people near an infected person who haven't got an immune defense (generally because they haven't been vaccinated) will be infected.
A carrier can pass on measles before they show the symptoms themselves. These can take between one to three weeks to appear.
The illness generally first causes a high fever, red eyes, a cough and a runny nose. A rash will then form on the skin, spreading from the head across the body. A sufferer can be contagious for four days either side of the rash hitting.
Clark County Public Health warned that while measles can be serious in all patients, it is particular dangerous for children below the age of five and adults aged 20 and above. Complications can include ear infections, pneumonia and diarrhea.
"As many as one out of every 20 children with measles gets pneumonia, the most common cause of death from measles in young children," the organization warned. "About one child out of every 1,000 who get measles will develop encephalitis (swelling of the brain) that can lead to convulsions and can leave the child deaf or with intellectual disability. Measles may cause pregnant women to give birth prematurely or to have a low-birth-weight baby."
The Centers for Disease Control and Prevention revealed earlier this month that 349 cases of measles were confirmed across 26 states and the District of Columbia in 2018: the second highest number since the disease was eliminated in the U.S. in 2000. The cases were documented across 17 outbreaks around the country.
The agency blamed the "further spread of measles in U.S. communities with pockets of unvaccinated people" and "an increase in the number of travelers who get measles abroad and bring it into the U.S."
Measles can be prevented by the MMR shot, which also protects against mumps and rubella. It is "very safe and effective," the CDC states.
Children should receive two shots of the vaccine, with the first between 12 to 15 months, with the second when they are 4 or 6 years old. "Teens and adults should also be up to date on their MMR vaccination," it said.
This article was updated to include an infographic.