'Dangerous to Democracy': Colin Allred Slams GOP Lawmaker's 'Quality of Votes' Comments
Comments about the weighing the "quality of votes" in elections from an Arizona Republican state lawmaker are "dangerous to democracy," according to Congressman Colin Allred (D-TX).
In an interview with CNN, Arizona State Representative John Kavanagh of Fountain Hills said: "Not everybody wants to vote, and if somebody is uninterested in voting, that probably means that they're totally uninformed on the issues. Quantity is important, but we have to look at the quality of votes, as well."
Allred, a former voting rights lawyer, responded to Kavanagh's comments on MSNBC on Friday. He said voting is a "right," no matter if someone is informed, and it's not up to an individual to determine whose votes value the most.
"These are the same justifications that we heard in the era of Jim Crow," Allred said. "This is an inflection point. If we don't do something, we may very well lose our democracy."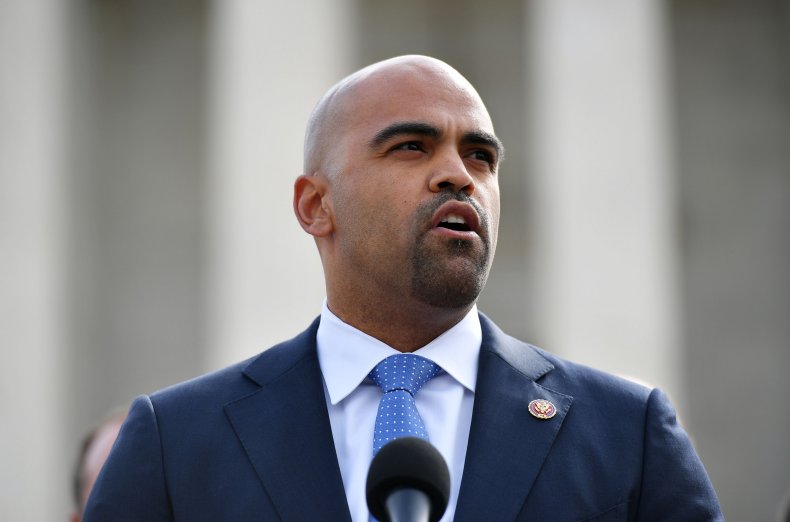 Kavanagh responded earlier this week to backlash against his comments, in which he said Republicans are "more concerned about fraud," so they don't mind measures that wouldn't let all people vote.
Democrats, he said, alternatively "value as many people as possible voting," even though "everybody shouldn't be voting."
Critics joined Allred in saying Kavanagh's rhetoric engendered minorities' voting rights.
"Everyone should be alarmed. It's a belief system that is fueling efforts to make it harder for people to vote and specifically for people of color to make sure their voices are heard in their democracy, too," State Representative Athena Salman (D), a ranking member to Kavanagh in the House Government and Elections Committee, said to 12 News.
Kavanagh told 12 News that his comments were distorted and he was specifically talking about voter fraud.
"I personally think that all legal eligible voters should vote. But I don't want to register people who are disinterested and do not want to register to vote," Kavanagh explained.
He added that by anyone who "shouldn't be voting," he meant fraudulent voters and that his use of "quality of votes" implied that only voters who want to be register should get registered.
But Allred saw more dangerous signals behind the Arizona statesman's words, referencing the violent mob which breached the Capitol building on January 6. He said that Kavanagh's language could be a threat to the future of the democratic process.
"If we don't do something, we may very well lose our democracy," Allred said. "Comments like this are just as dangerous to our democracy as the folks who broke into the House, and who tried to assassinate the vice president and Speaker of the House."
Allred's said something must be done to protect voting rights, especially as violence associated with election results in the U.S. is expected to rise. Over 71 percent of Americans say political violence in response to election results is somewhat likely, according to new CNN poll by SSRS. The majority of Democrats surveyed said they felt the attack on January 6 weakened democracy, while only 36 percent of Republicans said they felt so.
Arizona's GOP-controlled legislature is currently reviewing nearly two dozen bills that would make it more difficult for some people to cast ballots. CNN reported that the proposed laws would target voting by mail and narrow the state's early voting window.
Kavanagh said measures are being considered after the last election revealed flaws in the election system. "There are problems that popped up that aren't major conspiracies but they show problems with the system that need correction," he said to 12 News.
One "clean-up" bill would remove voters from permanent early voting lists if they have note voted in the last four elections and do not request to continue receiving ballots, CNN reported. Another proposed law would require residents to submit identification paperwork with a mail-in ballot.
To Allred, Kavanagh's language is just that—dangerous words that could hurt the voting process: "It is that damaging to try to talk about who should and should not be able to participate in our democracy."
Newsweek has reached out to Allred and Kavanagh for comment, but did not receive a reply by publication time.