Dangerous 'Forever Chemicals' Found in Florida Oysters: Study
A new study released Wednesday said that dangerous "forever chemicals" were discovered in oysters along Florida's coastline in the Biscayne Bay, Marco Island and Tampa Bay areas.
Scientists from Florida International University's Institute of Environment said they found perfluoroalkyl and polyfluoroalkyl (PFAS) and phthalate esters (PAEs) in the 156 oysters they sampled from those areas.
PAEs are typically used in consumer products such as cosmetics, pharmaceuticals, food packing and personal care products, according to the university's FIU News. People can be exposed to the substance through ingestion, inhalation and contact with dirt or soil. PFAS include thousands of man-made chemicals that are mainly used in industrial and consumer products.
The contaminants found in the oysters pose "serious" health risks to people and wildlife, FIU News said. Studies have identified an association between PAE exposure and diabetes, obesity, allergies and asthma, along with effects on reproductive health and immune functioning. PFAS can affect reproduction and human development, as well as immune system functioning; interfere with vaccine effectiveness; and lead to liver and kidney damage.
Biscayne Bay oysters had the highest concentrations of the chemicals, compared with oysters from other areas, which the scientists found surprising because they were among the smaller oysters sampled.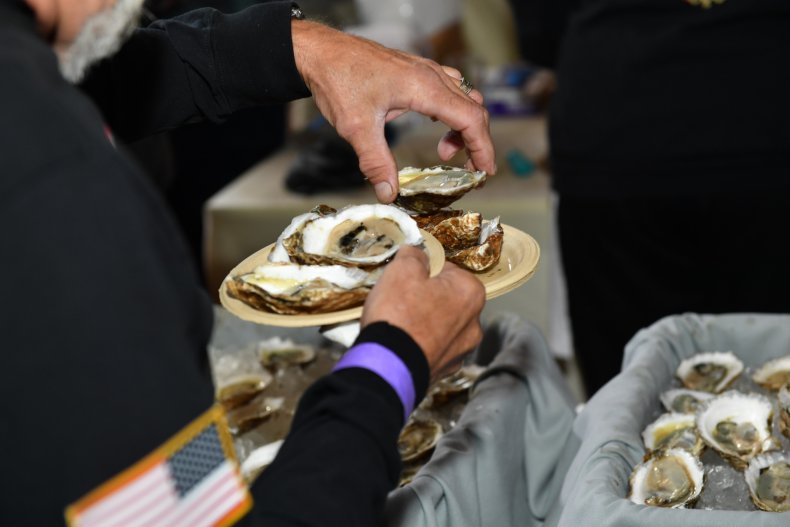 "These findings are definitely a red flag, especially for areas like Biscayne Bay," the study's lead author, Leila Lemos, said in the report.
Oysters can help in assessing the overall health of an ecosystem, including the levels of contamination, according to the study.
"Oysters are good indicators of environmental health. Thus, doing some research on the areas they are located and trying to find previous studies that assess these contaminants is a good way to determine if the oysters from that location would be contaminated or not. But in general the only way to assess contamination is if we monitor and analyze the water and the oysters from a specific location," Lemos and Natalia Soares Quinete, an assistant professor at the university's Institute of Environment, told Newsweek on Thursday.
Additionally, the small size of an oyster is a clue suggesting the presence of chemicals because "the contaminants are likely interfering with the oysters' growth," according to Lemos.
"The more time an oyster has to grow, the more time it also has to accumulate toxic chemicals," she said. "Tampa Bay oysters were among the largest in the study, but they didn't have nearly the amount of PFAS or PAEs as the tinier Biscayne Bay oysters," Lemos said.
"This means Biscayne Bay could be so contaminated, the oysters are bombarded with such high concentrations they accumulate contaminants more quickly," said Lemos, a postdoctoral associate at the university.
While the health risk of consuming the oysters at the moment is "low," Lemos noted that "it's important to also remember that there's so many other exposure paths for both PFAS and PAEs compounds, like drinking water."
The study said the number of contaminants in the area could affect oysters' development and therefore raises concerns about how chemicals could threaten oyster farming across the country.
Lemos and Quinete said that they believe all marine organisms inhabiting the Biscayne Bay, Marco Island and Tampa Bay areas are exposed to PFAS. The team of scientists has conducted studies, analyzing tap and surface waters from these locations.
"Ongoing studies on other individuals such as fish, lobster, dolphins will likely confirm this hypothesis," they added. "Overall, our goal is to have a bigger and more comprehensive picture of how these areas are contaminated and how these chemicals are affecting the marine life and also us."
The university's Institute of Environment said that PFAS have not been widely studied in Florida, but it noted that new findings can help with potential solutions and new regulations that would lead to their removal from the environment.
"The biggest dream is that the government can see these results and create new ways to clean our water and protect our environment," Lemos said in the study.
Newsweek reached out to Florida International University for additional information and comment.
Update 7/7/2022 at 5:55 p.m. ET: The story has been updated to include comments from Leila Lemos and Natalia Soares Quinete.