'Dangerous' MS-13 Gang Member Accused of Violent Texas Murder Caught in South Carolina
A member of the violent street gang MS-13 who is accused of brutally murdering a man in Texas has been found in a small town in South Carolina.
Franklin Platero-Rodriguez, 21, was arrested Tuesday while exiting a Subway restaurant in Ladson, South Carolina. According to the Berkeley Sheriff's Office (BCSO), Platero-Rodriguez was detained by members of the U.S. Marshals–led Operation Intercept (OPIN) Fugitive Task Force and BCSO's K9 unit.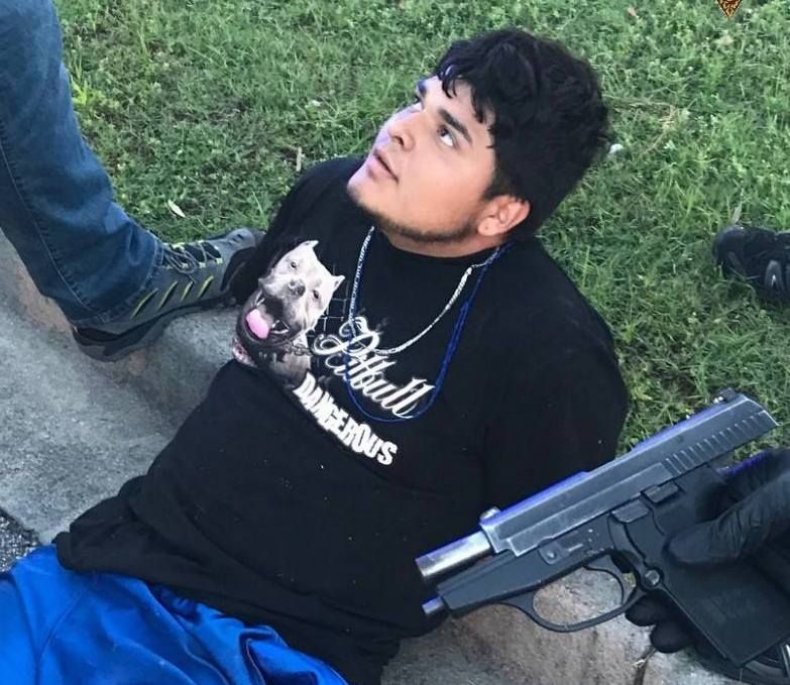 Authorities found a loaded 9 mm pistol in Platero-Rodriguez's front pocket, the sheriff's office said. The pistol had been stolen in Texas, where the 21-year-old was wanted in connection with a murder.
Platero-Rodriguez is accused of shooting the man, placing his body inside the trunk of a car and lighting the car on fire. He then fled to South Carolina. The Ford F-150 where Platero-Rodriguez was found matched the description of the car used in the murder, officials said.
According to Berkeley County Sheriff's Office, Platero-Rodriguez was charged with unlawful carrying of a firearm, possession of a stolen firearm and fugitive in possession of a firearm. A hold was placed on him for the Walker County Sheriff's Office in Texas and Immigration Customs Enforcement (ICE).
"We work closely with our federal partners and arrests like this are a result of it. Platero-Rodriguez is a dangerous MS-13 Gang member, and I am glad that we were able to locate and arrest him without him being able to cause further harm," Sheriff Duane Lewis said in a statement.
During a press conference, Lewis said Platero-Rodriguez had been deported at least once before re-entering the country illegally. ICE, which has placed a detainer on the suspect, had been searching for Platero-Rodriguez on a 2014 charge for failing to appear for a court hearing, The Post and Courier reported.
Detectives are also investigating whether Platero-Rodriguez was involved in a home invasion Tuesday on the same street where he had been living. The gunman in the home invasion reportedly injured a resident and stole valuables, according to the Post and Courier.
Lewis said he was unsure as to why or how Platero-Rodriguez ended up in the small South Carolina town. "I don't see an indication that the MS-13 gang is here in Berkeley County," the sheriff said. "I want the folks in Berkeley County to rest assured."
"The safety and peace of our communities and our citizens is paramount," Thomas Griffin, the U.S. marshal for the District of South Carolina, said in a statement, according to WYFF. "The collaboration between the Marshals Service and all of our law enforcement partners will continue to protect society against the violence of gangs like MS-13."
The Trump administration has taken a tough stance on the violent international gang, which originated in Los Angeles during the 1980s. Earlier this week, the White House said the administration "is working tirelessly to bring these violent animals to justice."