The Sweet, Unexpected and Top Secret Love Story of Daniel Craig and Rachel Weisz
Daniel Craig is taking over Saturday Night Live as host this weekend for the second time. And while he imparts his indestructible 007 habits on the SNL cast—breaking Beck Bennett's arm, giving Aidy Bryant a good punch in the chest and manhandling Chris Redd in the SNL promo—the actor's number one supporter will likely be cheering him on somewhere in the distance.
Yes, that's right. Our favorite MI6 agent has a forever-Bond girl—his wife, Rachel Weisz.
It's a lesser-known fact that longtime James Bond actor Craig is indeed married to Oscar-winner Weisz. In fact, they have been married for nearly 10 years. However, the pair were good friends for many years before they exchanged vows in 2011.
Long before they became members of the film industry's elite, Craig and Weisz were merely up-and-coming British actors looking to catch a big break. Both Craig and Weisz scored their first roles in 1992, but it was their performance at London's National Theater Studio that initially brought them together. The pair starred in the theater's production of Les Grandes Horizontales in 1994.
Back then, no one suspected their moment on the stage would one day blossom into a loving (and secretive) romance—although their roles in the play may have foreshadowed Craig and Weisz's future relationship.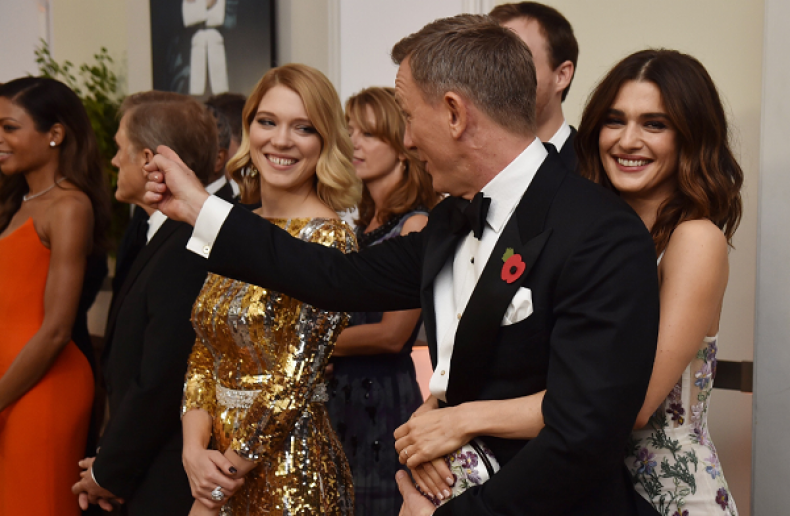 "Neither of them were famous then, so their first meeting went unrecorded," Rupert Christiansen, a historical consultant on the play told The Telegraph in 2011. "The plot put them into a number of amorous clinches and there was a lot of faked sexual congress and 'tasteful' nudity."
Craig and Weisz maintained a platonic friendship after the production wrapped. The No Time To Die actor was already married to Scottish actress Fiona Loudon when he first met Black Widow star Weisz, and Craig welcomed a daughter with Loudon before they eventually divorced in 1994. Meanwhile, Weisz spent much of the early 2000s partnered with American filmmaker and producer Darren Aronofsky, with whom she welcomed a son in 2006.
It wasn't until 2010 when romance sparked between Craig and Weisz after they were cast as a married couple in the psychological thriller film Dream House. A year later, they wed in real life in an incredibly private ceremony in New York. The only guests present at their intimate wedding were their respective children and two of their friends, according to a 2011 report by The Guardian.
Craig told GQ magazine he and Weisz were keen on keeping their marriage a secret. "We did it privately and we've got a lot of people to thank for that," he told the publication in 2015.
He added: "But that was the point; we did it for private reasons because we didn't want it f**ked up, because that would be sharing a secret. And the whole point is that it was a secret. A secret is a secret in my mind."
Since tying the knot, the couple has continued to keep the inner-workings of their marriage to themselves. They live a relatively low-profile life in the U.K., only giving the public a glimpse of their relationship when they appear on the red carpet together.
Their family has also grown since saying, "I do." Craig, 52, and Weisz, 49, welcomed their first child together—a daughter—in September 2018.